Convictions in doubt as more than 10,000 cases could be affected by data manipulation at forensics lab
Scandal has caused drug driving cases to be dropped and deaths referred to the Court of Appeal
Lizzie Dearden
Home Affairs Correspondent
Tuesday 21 November 2017 12:32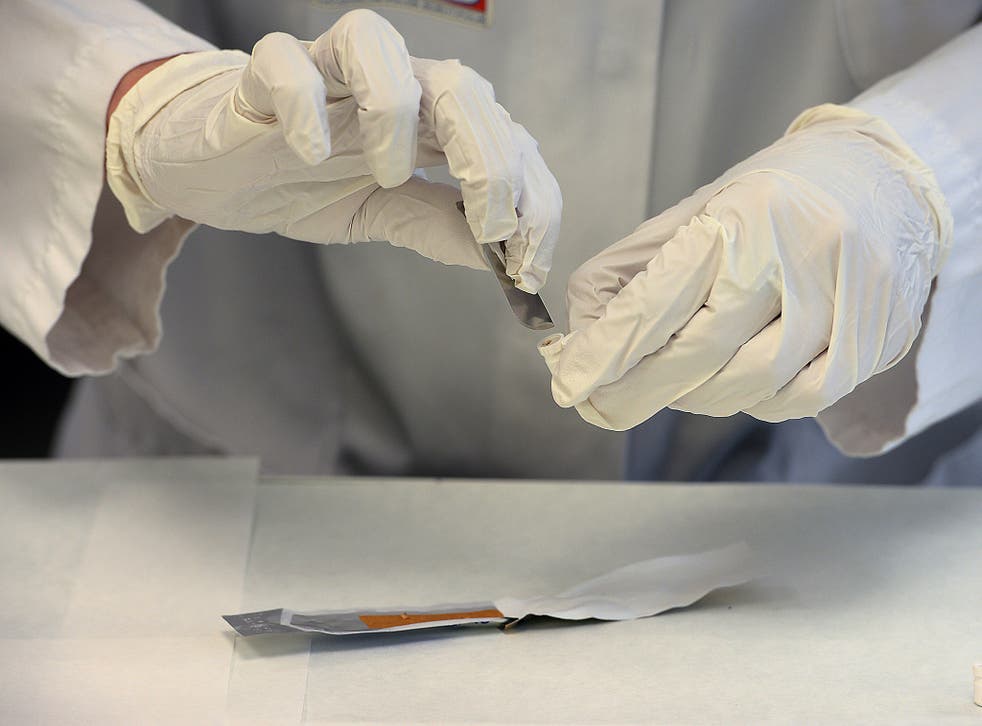 More than 10,000 criminal cases may have been affected by alleged manipulation at a forensics lab that analysed evidence of drug driving, violent crime, sexual offences and unexplained deaths, it has been revealed.
Around 50 cases that were due to go to trial have been dropped over the scandal at a Randox Testing Services laboratory in Manchester, the National Police Chiefs' Council (NPCC) said. Two road deaths have been referred to the Court of Appeal.
They are just a fraction of the alleged cases across 42 police force areas in England and Wales that could be affected by the alleged data manipulation, which dates back to 2013. The cases could result in court hearings being adjourned or thrown out because of the need for retesting.
Two men formerly employed by Randox Testing Services (RTS) have been arrested, and five interviewed under caution by Greater Manchester Police over the case.
The two arrested suspects are understood to have previously worked at another firm called Trimega Laboratories, which is also being investigated by police over potential manipulation that could affect child protection and family court cases.
Nick Hurd, the policing minister, said the same techniques seen at RTS may have occurred at Trimega between 2010 and 2014.
In a written statement, he said the tests involved were used to detect the presence of drugs or alcohol in hair, blood or urine – evidence that may later be relied upon in court.
"The Government recognises the seriousness of this issue, and the potential impact on public confidence in the use of forensic science within the justice system," Mr Hurd said.
"The senior judiciary are aware, and Government officials are working with the police to monitor the scale of the issue as information emerges."
The Ministry of Justice has not yet found any affected civil cases affected, but the results may also have been used by schools and local authorities making child protection decisions, or by private employers testing of their employees for banned substances.
Mr Hurd said it may never be possible to identify the true number of Trimega customers affected, due to poor record-keeping, and that its samples cannot be retested.
But he added: "It is unlikely that decisions about the welfare of children will have been taken solely on the basis of toxicology test results. However, the Department for Education has asked local authorities to assure themselves that the rationale for decisions made about children's safety and wellbeing is not now called into question."
RTS was mainly commissioned by individual police forces investigating criminal offences, as well as for hair-strand tests for drugs and alcohol in civil and family jurisdictions.
The NSPCC said 70 per cent of the highest priority criminal cases had already been submitted for retests, and the rest will be completed by mid-2018. Three quarters of those potentially affected are related to Road Traffic Act offences such as drug driving.
Deputy Chief Constable James Vaughan, the NPCC lead for forensics, said the system's integrity was vital for British policing.
"We have worked at pace to respond to this serious breach of standards and take action in cases where people's lives could have been affected," he added.
"We are striving to complete all cases requiring retesting as quickly as possible so we will continue to explore ways of speeding up the processes.
"Early results from retesting have identified no impact on crime cases such as sexual offences, violence or homicide. So far, fewer than 10 per cent of retests have resulted in drug driving cases being discontinued."
Mr Vaughan cautioned that although no murder and rape cases have yet been found unreliable, some could be in a lower priority band for testing which have yet to be reanalysed.
It is expected to take up to three years to retest the evidence in all 10,000 cases because of "limited specialist, independent capacity" in forensics – although assessments may conclude that the measure is not necessary in every incident.
All live cases will be subject to retests, with the new results being used in court, and defendants will be informed if investigations cast any doubt on their conviction.
The NPCC, which is working with the Forensic Science Regulator, Crown Prosecution Service (CPS), Home Office and local forces, does not expect to know the full impact on the criminal justice system for several months.
The alleged manipulation came to light in January, when a data anomaly in a drug driving case was reported to RTS and the company alerted Greater Manchester Police.
UK news in pictures

Show all 50
RTS, which is based in Northern Ireland and has offices in London and Manchester, describes itself as a "market leader in the drug and alcohol testing industry" and boasts of "state-of-the-art" work for police, family law, child services, aviation, maritime and construction industries on its website.
The company said it was supporting the ongoing investigation, while covering the costs of retesting samples at accredited external laboratories.
"The alleged manipulation in RTS involved changing data in testing methods which had been accredited by the United Kingdom Accreditation Service (UKAS)," a spokesperson added.
"The actual samples were not affected which has enabled retesting, and there is no evidence to suggest that the core purpose of the manipulation was intended to create positive or negative results in any specific tests."
The firm said it took on staff from other companies when it was founded in 2014, including the two arrested suspects who had worked at the now-defunct Trimega Laboratories Ltd.
Dr Mark Piper, the toxicology manager at RTS, said: "We have acted as whistleblower to ensure the integrity of the criminal justice system. We will continue to work with Greater Manchester Police and the appropriate authorities in the investigation.
"We will do all that we can to ensure this situation is resolved and deeply regret the distress that has been caused.
"We are now well-advanced in developing a foolproof testing system which would enhance the security of our operations in the future, to provide the necessary level of confidence."
Gillian Tully, of the Forensic Services Regulator, said all major forensic toxicology suppliers were asked to carry out a detailed audit to ensure the issue was not more widespread, but that investigations uncovered no data manipulation, adding: "I'm not going to speculate on any motives because obviously there is an ongoing criminal investigation, but we cannot just say it was a minor technical issue."
Register for free to continue reading
Registration is a free and easy way to support our truly independent journalism
By registering, you will also enjoy limited access to Premium articles, exclusive newsletters, commenting, and virtual events with our leading journalists
Already have an account? sign in
Register for free to continue reading
Registration is a free and easy way to support our truly independent journalism
By registering, you will also enjoy limited access to Premium articles, exclusive newsletters, commenting, and virtual events with our leading journalists
Already have an account? sign in