Former British soldier arrested over 1972 Bloody Sunday shootings
Thousands of civil rights protesters were marching through the Northern Irish city on 30 January 1972 when paratroopers opened fire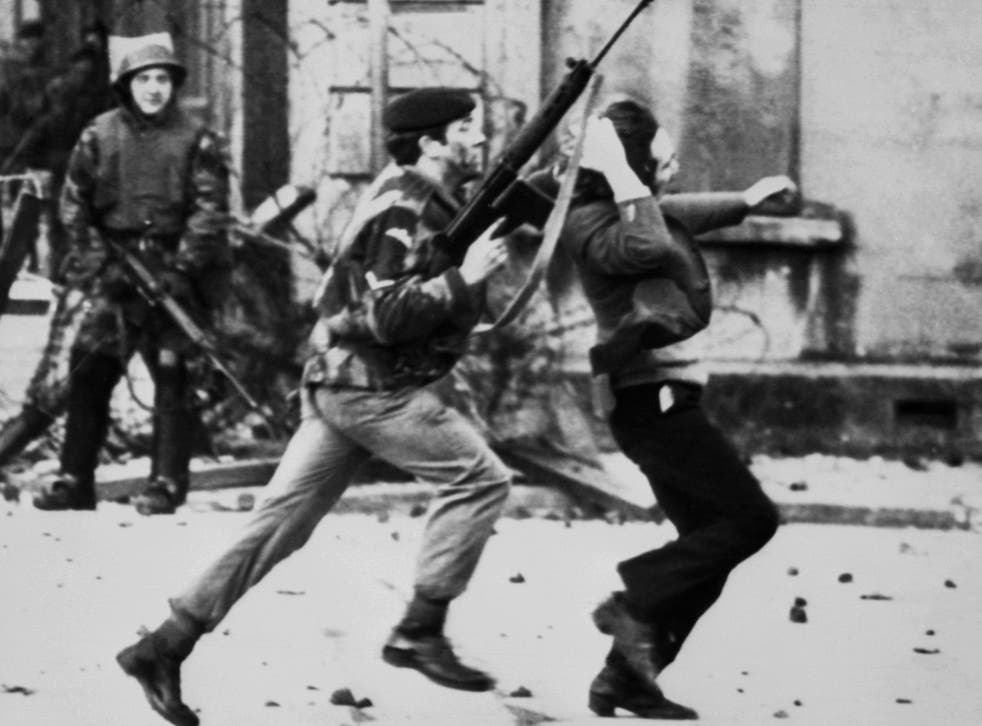 A former British soldier has been arrested by detectives investigating the 1972 Bloody Sunday massacre.
The 66-year-old man was arrested in County Antrim by officers from the Police Service of Northern Ireland's (PSNI) Legacy Investigation Branch.
A spokesperson said the suspect was being interviewed at a police station in Belfast over the deaths of 14 protesters.
Detective Chief Inspector Ian Harrison, who is leading the continuing investigation more than 40 years after the atrocity, said today's arrest marked a "new phase" in the probe, which will still continue for "some time".
In September, the PSNI announced their intention to interview seven former soldiers about their involvement but today marked the first arrest in the case.
Thousands of civil rights protesters were marching through Londonderry on 30 January 1972 when their route was blocked by the British Army.
While most of the demonstrators headed towards "Free Derry Corner" in the nationalist Bogside district, another group continued to a military barricade where clashes broke out with soldiers.
The army initially fired rubber bullets, CS, tear gas and water cannons to disperse the crowds of young local men, including some throwing rocks and other missiles.
As they began to disperse, paratroopers from the 1st Parachute Regiment were ordered to move in and make arrests.
Over the next few minutes, soldiers opened fire into the crowd, killing 13 men aged between 17 and 41, and injuring 13 others, including one man who died months later in hospital.
In the ensuing investigation, the British Army maintained its troops had responded reasonably after coming under fire but the incident was quickly labelled a massacre and provoked international outrage.
The British government of the time launched an official inquiry led by the Lord Chief Justice, Lord Widgery, whose controversial report exonerated the army and suggested that many of the victims may have possessed weapons including explosives and guns.
Tony Blair finally granted calls for a new public inquiry in 1998, which took 12 years to lay responsibility with the army and clear the victims of wrongdoing five years ago.
Lord Savile's inquiry raised the prospect of prosecutions and compensation for families of those killed and injured.
The report concluded that soldiers acted on an order that should never have been made, fired the first shot without warning and then attempted to cover up their actions, and that none of the killed protesters were armed, despite Republican paramilitaries shooting in the area.
Greeting the findings in 2010, David Cameron said he was "deeply sorry" and called the Bloody Sunday killings "unjustified and unjustifiable".
Register for free to continue reading
Registration is a free and easy way to support our truly independent journalism
By registering, you will also enjoy limited access to Premium articles, exclusive newsletters, commenting, and virtual events with our leading journalists
Already have an account? sign in