Former Met police officer Paul Flattley jailed for selling information about Kate Middleton and John Terry to The Sun
Flattley earned around £8,000 for information and investigating tip-offs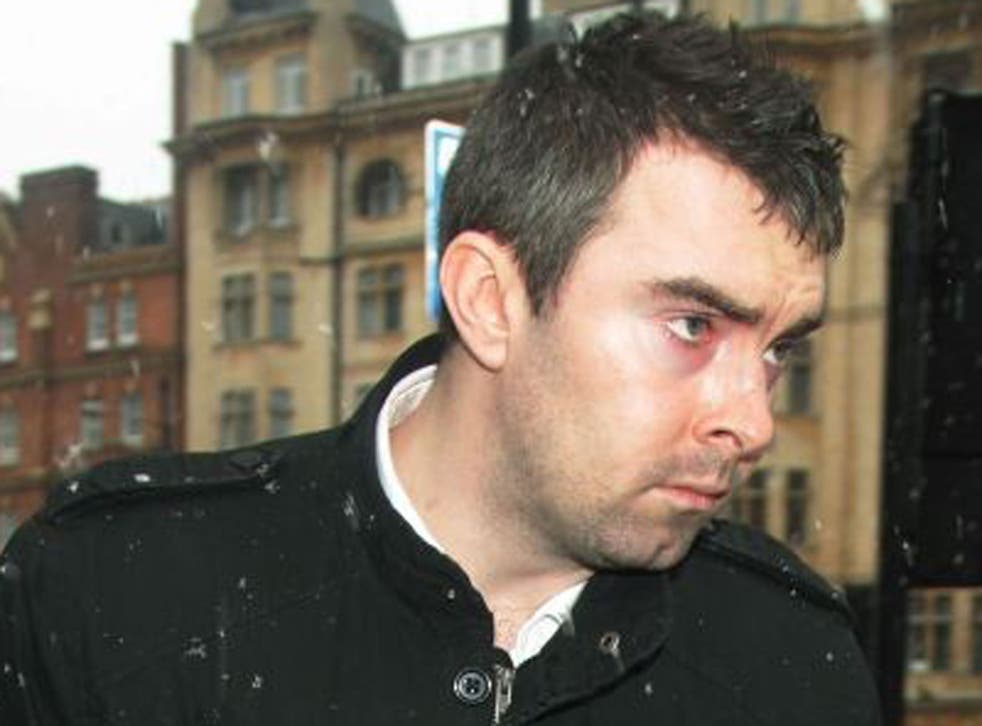 A convicted Scotland Yard constable awarded a coveted "baton of honour" during his training, but who went on to sell the Sun newspaper front-page secrets including the imminent proposal of Prince William to Kate Middleton, can be named today after legal restrictions were lifted in Southwark Crown Court.
Paul Flattley, 30, who was earlier this year jailed for two years at the Old Bailey after pleading guilty to charges of misconduct in a public office that took place between 2008 and 2011, had been jointly charged with the Sun's former defence correspondent, Virginia Wheeler.
The decision by the Crown Prosecution Service to end proceedings against Ms Wheeler for medical reasons, means Flattley's name can now be reported.
During PC Flattley's sentencing by Lord Justice Fulford, before he was promoted to the Appeal Court, it was revealed that the Sun had paid the Metropolitan Police officer nearly £8,000 for stories.
He was described as a police officer who had "developed an eye for celebrity stories."
He had passed on information held by the Met on 39 occasions, with 19 tip-offs resulting in lead stories appearing in the best-selling red top.
Counsel for Ms Wheeler insisted that although the CPS were ending its prosecution, she would nevertheless have defended the charges against her vigorously. An attempt to have her name removed from any association with Flattley was rejected.
The hearing which sentenced the police officer heard that at Ms Wheeler's instigation, Flattley, who came to London from Cheshire, had made calls to see if extra Met officers had been deployed to protect Prince William during a period when rumours were swirling about the royal engagement.
Flattley called one of his former sergeants who was then one of the Duchess of Cambridge's close protection officers to check the force's preparations and told the paper he would find out if "an extra old bill" had been sent which might indicate an announcement from Buckingham Palace.
Other royal stories - a key part of the Sun's signature reporting - included a tip-off that Zara Philips had had her handbag stolen from her car. The headlined the tip-off "Zara bag blag".
The court heard that emails between the Sun journalist and the Met officer revealed that a preferred payment method was cash in an envelope handed over after a meeting had taken place. On one occasion the officer was offered £750 as a tip fee, with a text stating there was "much more if it makes front page."
Flattley later replied that he was clear he was engaged in wrong-doing but wanted to be careful because he did not want to "risk losing" his police job.
Other stories Flattley handed to the Sun involved information on the mental health of the former England footballer, Paul Gascoigne, and the failure of the wealthy socialite, Hans Rausing, to stop after a road traffic accident.
Although working as a Met officer in Kensington and Chelsea, he assisted the Sun with enquiries across the entire force.
The Sun paid £400 in 2008 for information on incident at the O2 arena involving the boyfriend of a member of the group, So Solid Crew.
Another tip from Flattley concerned the Arsenal and England footballer, Jack Wilshere.
Ms Wheeler was said to have texted the Met officer back saying she hoped the information "stayed exclusive" so Flattley's fee would be larger.
Force information was also checked by Flattley that helped keep mistaken rumours from being published. These included untrue stories relating to the Chelsea and England footballer, John Terry, and the former government minister, Anne Widdecombe. Flattley was given £400 for assistance on the Tory MP story.
During the sentencing hearing three months ago, Lord Justice Fulford described Flattley's conduct as a police officer as "simply motivated by personal profit."
The judge said his actions were "utterly reprehensible" and would have a "corrosive effect on public trust and confidence."