'Hunt supporter' filmed hitting saboteurs' van with dead fox during Boxing Day meet
TV presenter Chris Packham says: 'This is the 21st century in a so-called civilised country and it's beyond belief'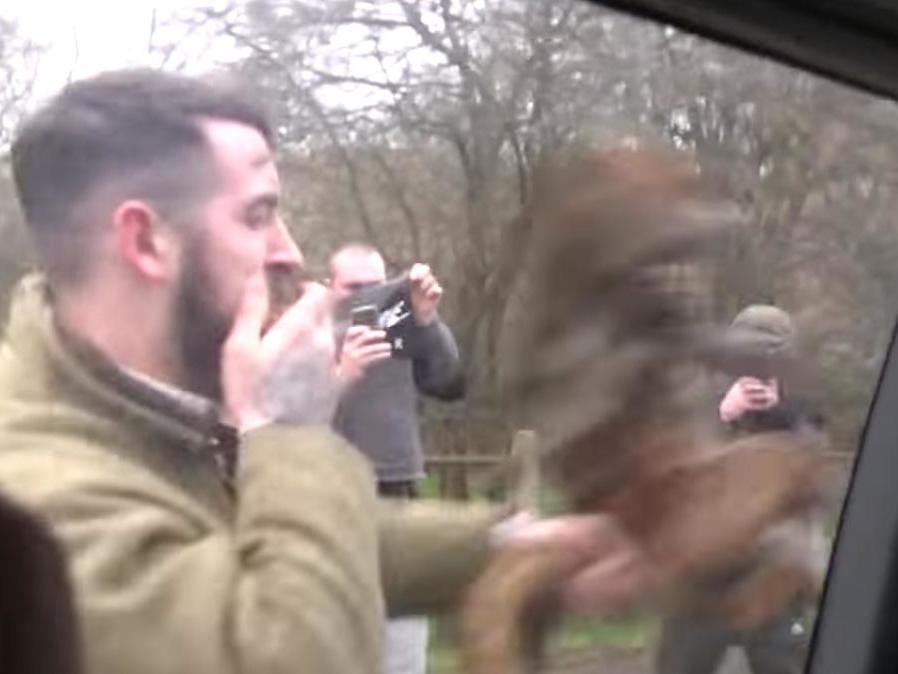 A man believed to be a hunting supporter has been filmed repeatedly using a dead fox to hit a van carrying animal rights activists.
Police are investigating footage showing a man battering a window of the vehicle with the animal's corpse as hunt saboteurs sought to disrupt a Boxing Day meet in North Yorkshire.
The video was posted on social media by Sheffield Hunt Saboteurs, a group that protests against blood sports.
The activists had travelled to Kirk Smeaton, a village near Pontefract, to help West Yorkshire Hunt Saboteurs monitor and disrupt the Badsworth Hunt.
But they decided to leave for another hunt after learning riders would only be "going for a bit of a trot" and no hounds would be released, the group said.
"We were just on the verge of leaving when two vehicles blocked one of our vans," one of the saboteurs, who asked to remain anonymous, told The Independent. "A guy got out of one of them and started bashing the van with a dead fox."
Warning: Some viewers may find the video below distressing
Video of the confrontation shows a 4x4 blocking the activists' path on a country road as two men – both covering their faces – film their hunt saboteurs' van on mobile phones.
As the activists reverse, three more vehicles pull up behind and several men climb out and run towards their van. One of them is holding what appears to be a dead fox, which he swings at the van's window at least five times.
"F**k, they've got a dead fox," one of the hunt saboteurs is heard saying, while another shouts "stop it" at the man holding the dead animal.
Wildlife television presenter and conservationist Chris Packham was among those who shared the footage of social media, where he tweeted: "If there is anyone in the UK left with any ambiguous ideas about whether we should end foxhunting immediately then watch this. This is the 21st century in a so called civilised country and it's beyond bloody belief."
Pictures taken by the hunt saboteurs following the confrontation showed the windows of their van smeared with blood.
The Sheffield activist who spoke to The Independent said the attack had damaged the group's Mitsubishi van and left some of group shaken.
"I've been doing this for 27 years so nothing really surprises me," the 54-year-old said. But he added: "We've have got some fairly new sabs who were obviously stressed and frightened."
He said they believed the man who hit the van to be a "car follower" of the hunt who may have brought a "roadkill fox" with him.
However, Badsworth and Bramham Moor Hounds (BBMH) said in a statement: "The individuals who have been connected with incidents at our Boxing Day meet at Kirk Smeaton are in no way supporters of or known to members of the BBMH."
A spokesperson for North Yorkshire Police said: "Police are investigating an incident in the Kirk Smeaton area that occurred at about 12pm on 26 December 2019. Enquiries are at an early stage."
Hunting wild animals with dogs was banned in England and Wales in 2005, but meets still continue legally with hounds following an artificial scent.
However, opponents say hunts regularly flout the law and saboteur groups across the county seek to disrupt activities and document cases of foxes being killed.