Free, woman who ended her daughter's ME misery
31-year-old stricken with chronic fatigue illness was given lethal dose of drugs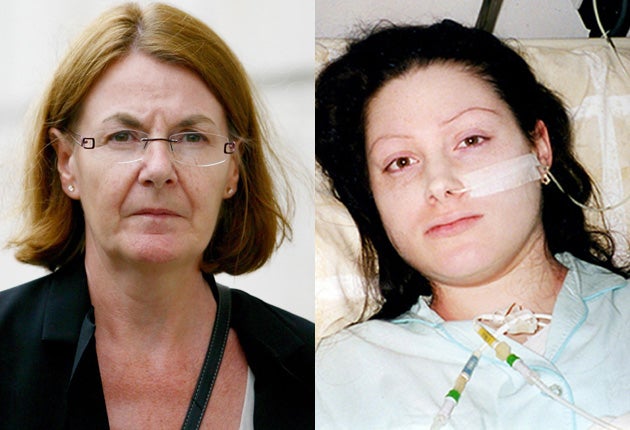 A mother walked free from court yesterday after being cleared of the attempted murder of her disabled daughter, in a case in which the judge personally praised the jury for its humane verdict.
Bridget Gilderdale, 55, faced a lifelong prison sentence for giving her daughter Lynn morphine and a cocktail of drugs to help end her life, which the court had been told had been wrecked by ME.
As the jury returned its not guilty verdict, Mrs Gilderdale shouted "yes" and was immediately besieged by family and friends, while the public gallery erupted in cheers. Mrs Gilderdale, known as Kay, then smiled and said: "Thank you, thank you".
Mr Justice Bean, the judge hearing the case, turned to the jury and said: "I do not normally comment on the verdicts of juries, but in this case their decision shows common sense, decency and humanity."
Speaking to Mrs Gilderdale he added: "Your daughter was intelligent and capable of making her own decisions. She had made a living will and contemplated suicide. You and your husband Richard respected her for it but did not encourage her. You only took any further action when you were concerned she would suffer."
Outside Lewes Crown Court, Mrs Gilderdale's son, Steve, said the verdict reflected the "selfless actions" of his mother after her 31-year-old daughter decided to end her life, saying her body had been left "broken" by the chronic fatigue illness ME.
The week-long trial heard Mrs Gilderdale was a loving and devoted mother to her daughter, who was struck down by ME at the age of 14 and required round-the-clock care at their home in Stonegate, near Heathfield, East Sussex.
Flanked by his mother and father outside court, Mr Gilderdale said: "These actions exhibit the same qualities of dedication, love and care that mum demonstrated throughout the 17 years of Lynn's illness."
Mr Justice Bean had earlier questioned the prosecution over whether it was in the public interest to pursue the case for attempted murder when Mrs Gilderdale had already admitted aiding and abetting suicide, for which she had been given a 12 month conditional discharge. The case offers a stark contrast with that of Frances Inglis, 57, who last week was sentenced to life imprisonment for killing her disabled son. Last night, law reform groups called for a change to homicide rules so that those who act out of compassion are not charged with murder, which carries a mandatory life sentence. Sarah Wootton, chief executive of Dignity in Dying, said: "As demonstrated here and in Frances Inglis's case last week, the existing law doesn't work in practice and is not in line with public opinion. We need a full public consultation on whether the law should change, to regulate and legalise assisted dying for terminally ill people and to create a specific or partial defence of 'mercy killing' for these offences.
"There is a clear ethical difference between assisted dying, assisted suicide, euthanasia and murder, yet the law makes little distinction between these acts," she said.
The trial in East Sussex heard that Miss Gilderdale, who was once an active, sporty and musical girl, led an "unimaginably wretched" life in her later years. She was paralysed from the waist down, unable to speak, eat or drink and was fed through a tube.
Communication with her parents, who were divorced but remained supportive of her, was achieved through a form of sign language they had devised themselves. Lynn was bed-bound, socially isolated, unable to sit up and developed suicidal thoughts, which she published on an online forum for people suffering from illnesses.
She had attempted suicide in the past, had drafted a "living will", placed a "Do Not Resuscitate" note on her medical records and considered ending her life at Dignitas, the Swiss-based assisted suicide clinic.
In the early hours of 3 December 2008, she took an overdose of morphine by injecting the pain-relieving medicine directly into her vein. Mrs Gilderdale said she only acted to help her daughter carry out her final wish.
Murder or mercy: How the law stands
*Murder is the intentional killing of another person, and a defendant found guilty of murder must be given a mandatory life sentence. But where the judge believes the actions amount to a mercy killing, or that the defendant was acting out of what they believed to be the best interests of the deceased, he can impose a minimum sentence of nine years in prison.
*Assisted suicide is the act of aiding, abetting, counselling or procuring a suicide of another person. If found guilty the maximum sentence for the offence is 14 years in prison. But it is very rare for assisted suicide to lead to a prison sentence.