G20 officer to face manslaughter charges over Ian Tomlinson's death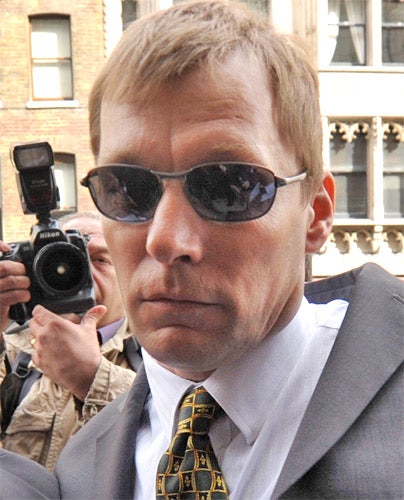 Simon Harwood, the police constable who is alleged to have given the news vendor Ian Tomlinson a fatal shove during a G20 demonstration, is to face a charge of manslaughter.
The decision is a turnabout for prosecutors who a year ago dismissed the possibility of criminal charges resulting from Mr Tomlinson's death. PC Harwood, a father of two from Carshalton, Surrey, is due to appear in court on 20 June.
Mr Tomlinson, who was 47 and had a drink problem, was walking past police at the demonstration, on 1 April 2009, on his way to a hostel for the homeless, when he was pushed to the ground. He died minutes later.
A five-week-long inquest, which began two years after his death, ended earlier this month. Keir Starmer QC, Director of Public Prosecutions, said new medical evidence at the inquest and the opinions of experts during the hearing helped change his mind.
He said: "The difficulties that would now confront any prosecution have changed in nature and scale from last year when a decision was taken not to prosecute, although it is clear that real difficulties remain.
"Taking the evidence as it now stands, we have concluded that, even with those remaining difficulties, there is now sufficient evidence to provide a realistic prospect of successfully prosecuting PC Simon Harwood for the manslaughter of Mr Tomlinson.
"That being the case, it is clearly in the public interest that criminal proceedings be brought. Accordingly, a summons charging PC Harwood with the manslaughter of Mr Tomlinson has been obtained from the City of Westminster Magistrates' Court."
Mr Tomlinson's stepson Paul King said relatives were delighted with the decision. "We are a big step closer to where we want to be. We should have been here two years ago but we are here now and we are more than happy," he said.
Mr Tomlinson's death blew up into a potential scandal after a New York businessman, Christopher La Jaunie, produced video footage of him being pushed. The incident took place after about 5,000 demonstrators were "kettled" by the police after they had gathered outside the Bank of England on the day when leaders of the world's 20 richest nations assembled for the first time since the banking crisis. A "Put People First" march the previous weekend attracted a crowd estimated at 350,000, and on the day of Mr Tomlinson's death, there was a series of demonstrations, marches and rallies across London.
The inquest saw CCTV and helicopter footage, which showed the shambling figure of Mr Tomlinson trying to find a way round the lines of police who were handling the protest outside the Bank of England. He reacted angrily to being shoved and hit with a baton, but got back to his feet, only to collapse nearby.
Metropolitan Police Commissioner Sir Paul Stephenson said: "This is clearly a very, very serious matter for all concerned. I have got to be very, very concerned at an inquest verdict that returns a verdict of unlawful killing involving, as the inquest did, one of my police officers. My sympathies continue to be with the Tomlinson family."