Driver left cyclist with 'catastrophic' injuries after pushing him under van in road rage fury
Gareth Marshall needed 10-hour spine operation after angry driver lashed out during overtake row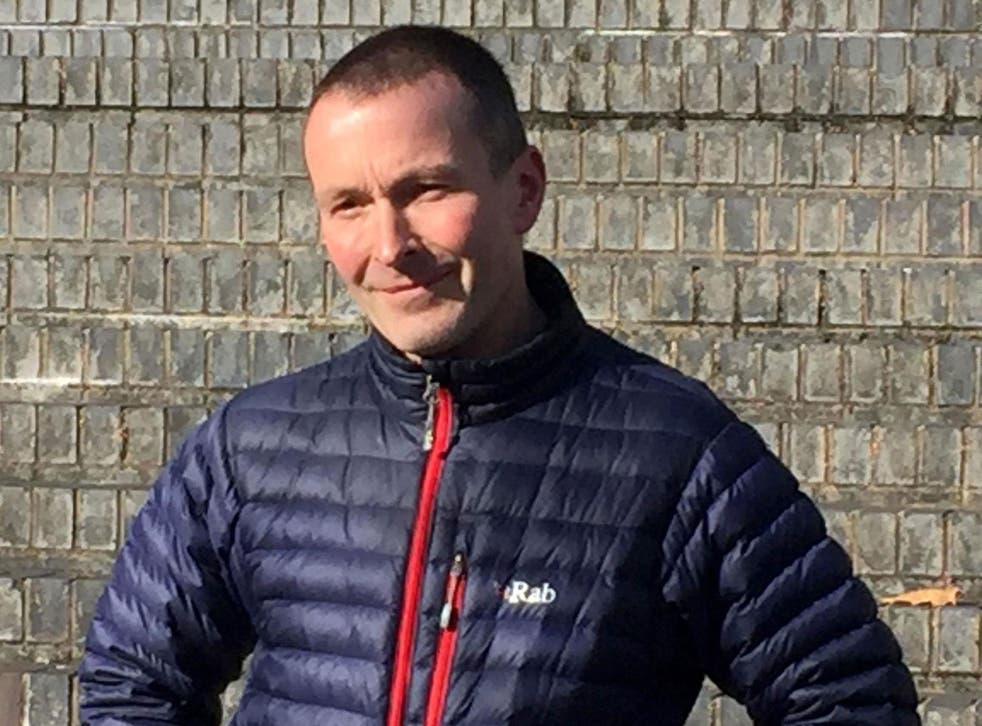 A motorist who left a cyclist with catastrophic injuries by pushing him into the path of an oncoming van has been jailed.
Driver Darren Hefferman, overtook Gareth Marshall, but took exception when the bike rider asked for more space.
Newport Crown Court heard how Hefferman, 37, stopped his car and waited for newsagent Mr Marshall further up the road.
He then pushed the cyclist off his £4,000 bike and into the path of a van driving in the opposite direction, leaving Mr Marshall with life-changing injuries.
The court heard how Hefferman had lashed out at the 43-year-old cyclist on a road in Blaenau Gwent, South Wales, in January this year after the driver's overtaking manoeuvre sparked a row.
"Mr Marshall noticed that the engine of a car was revving behind him, trying to overtake him and prevented from doing so as there is oncoming traffic," Stephen Donoghue, prosecuting, said.
"Eventually they did go past. As the car passed, the passenger window was open and Mr Marshall said 'Give me a bit more room, mate' because he had gone quite close.
"Whether it was that or some other reason, the defendant became angry.
"Not very far up the road the defendant stopped his car and when Mr Marshall went past the defendant punched him to the head or pushed him, in any event attacked him, and causing him to come off his bike and fall into the carriageway of the oncoming traffic.
"In summary this was an offence of road rage whether the defendant ended up punching or pushing the victim causing catastrophic and life-changing injuries,"
Mr Marshall, who had been wearing a cycle helmet, hit his head on the bonnet of the Ford Transit van before becoming trapped under its wheels.
Support free-thinking journalism and attend Independent events
He suffered a broken collar bone, two fractures to his shoulder, at least six broken ribs, a damaged lung, a shattered pelvis, a dislocated right hip, a major burn to his back and three fractured vertebrae.
Mr Marshall was taken to hospital, where he underwent three operations, including a spine procedure that lasted 10-and-a-half hours.
Initially confined to a wheelchair, he has since regained the ability to walk and has recently resumed cycling.
Hefferman denied punching the Mr Marshall and claimed he pushed the cyclist after he enraged him by swearing at his wife, who was a passenger in the car.
The driver, of Nantyglo, Ebbw Vale, had previously pleaded guilty to a charge of wounding or inflicting grievous bodily harm without intent and on Friday was jailed for two years.
UK news in pictures

Show all 50
Handing down his sentence, judge Richard Williams told Hefferman: "Your behaviour was arrogant, stupid and dangerous and it shows a total lack of self-control.
"Mr Marshall suffered catastrophic injuries from what you did and will have to live with the consequences of your actions for the rest of his life.
"This incident arose because of your total lack of ability to control your temper and the consequences for Mr Marshall will be life-long."
Speaking after the hearing, Mr Marshall said: "I am pleased he has gone to prison but will it teach him a lesson? I doubt it very much.
"I am disappointed with the sentence he received and would have liked him to receive longer as a deterrent. If I wasn't so fit, I would have died. I appreciate life a lot more."
Additional reporting by PA
Register for free to continue reading
Registration is a free and easy way to support our truly independent journalism
By registering, you will also enjoy limited access to Premium articles, exclusive newsletters, commenting, and virtual events with our leading journalists
Already have an account? sign in
Register for free to continue reading
Registration is a free and easy way to support our truly independent journalism
By registering, you will also enjoy limited access to Premium articles, exclusive newsletters, commenting, and virtual events with our leading journalists
Already have an account? sign in