Gatwick airport: Man told bus passenger he was 'going to kill them all' before suspect with two knives Tasered
Incident 'not terror related', police say after passengers evacuated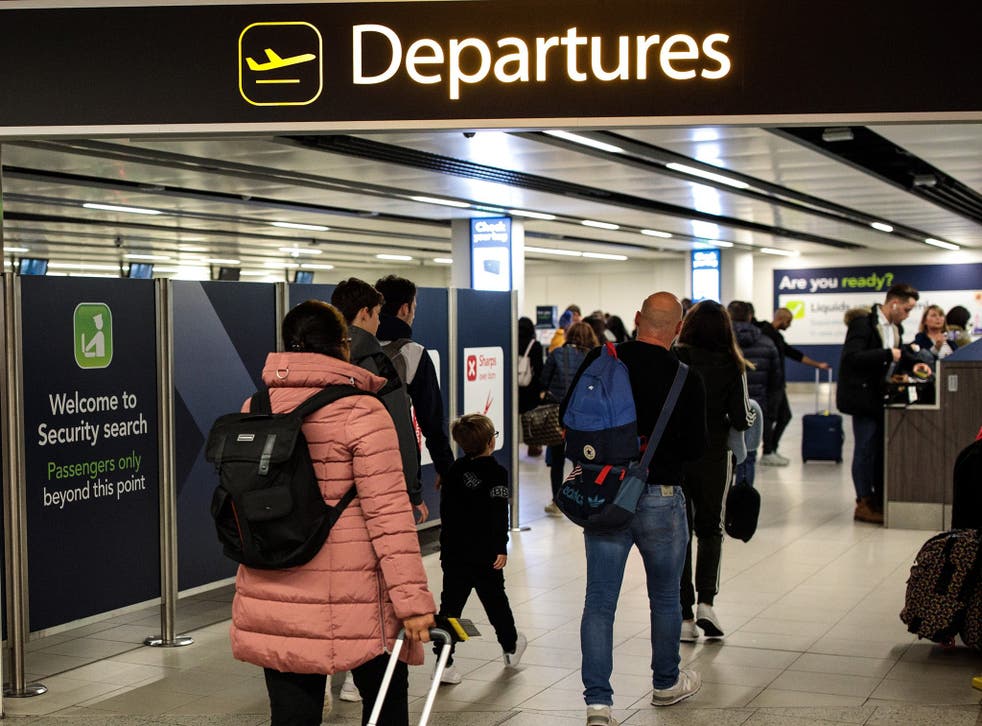 Police were warned a man was travelling towards Gatwick threatening "a massacre" shortly before an armed suspect was Tasered at the airport.
Callum Oldfield told The Independent he was waiting at a bus stop in Ifield, West Sussex, when he saw a man carrying a bag in the early hours of Monday morning.
"I just said 'you alright mate?' and then he was like 'yeah'," he said.
"I said 'what are you up to?' and he said: 'I'm going to Gatwick for a massacre, I'm going to kill them all'."
Mr Oldfield said that he initially did not believe the man but then noticed that his carrier bag contained a flat box that he feared could contain knives.
UK news in pictures

Show all 50
"I took a couple of steps back," the 21-year-old said. "He was grinning like he'd won a load of money. He looked really, really happy. It was like he wasn't all there."
Mr Oldfield, who was on his way to work at a parcel depot near Gatwick, described the man "smiling and nodding his head" on the bus, adding: "It was an uncomfortable looking at him."
Mr Oldfield alighted as the other passenger continued towards the airport and called police immediately.
A man armed with two knives was later arrested in a secure area of Gatwick airport while making "threats to kill", police said.
Armed police Tasered the suspect as he walked through a staff search zone carrying a large knife in each hand in the early hours of Monday morning.
CCTV footage obtained by The Sun shows the man brandishing the weapons as he walked through a metal detector, with three members of staff running away.
As he strode purposefully towards the exit of the search area, two armed police officers approached from behind and he turned to face them.
The man threw the knives to the ground before one officer shot him with a Taser, as a second officer kept his gun trained on the suspect as he fell to the floor.
The man was handcuffed face-down on the ground as other officers ran to the scene.
A spokesperson for Sussex Police said: "At 1.55am on Monday, police responded to an incident in the South Terminal at Gatwick Airport when a man attempted to go through a staff search area openly carrying a kitchen knife in each hand.
"The area was secured and the man was challenged by officers, who used Taser to detain him. This is not being treated as terrorist related.
"A 30-year-old man from Crawley, who was not a travelling passenger, has been arrested on suspicion of possessing offensive weapons and making threats to kill. He currently remains in police custody."
Passengers were evacuated from a nearby baggage reclaim area during the incident, but no one was injured.
"At Gatwick Airport, there was a security risk but [armed] police have just removed the guy, we've been told our lives were at risk," one traveller wrote.
The airport is the second busiest in the UK and eighth busiest in Europe.
Superintendent Justin Burtenshaw said: "Officers at Gatwick are there to keep passengers and staff safe. This incident was dealt with swiftly and no members of the public or police were harmed."
Anyone who saw what happened or who may have other relevant information is asked to contact Sussex Police online or phone 101, quoting serial 0089 of 03/06.
Register for free to continue reading
Registration is a free and easy way to support our truly independent journalism
By registering, you will also enjoy limited access to Premium articles, exclusive newsletters, commenting, and virtual events with our leading journalists
Already have an account? sign in