London teenager fights off armed robber at £5m home by chasing him with an umbrella
George Zelonka insists he is 'not a hero' and was just acting on adrenaline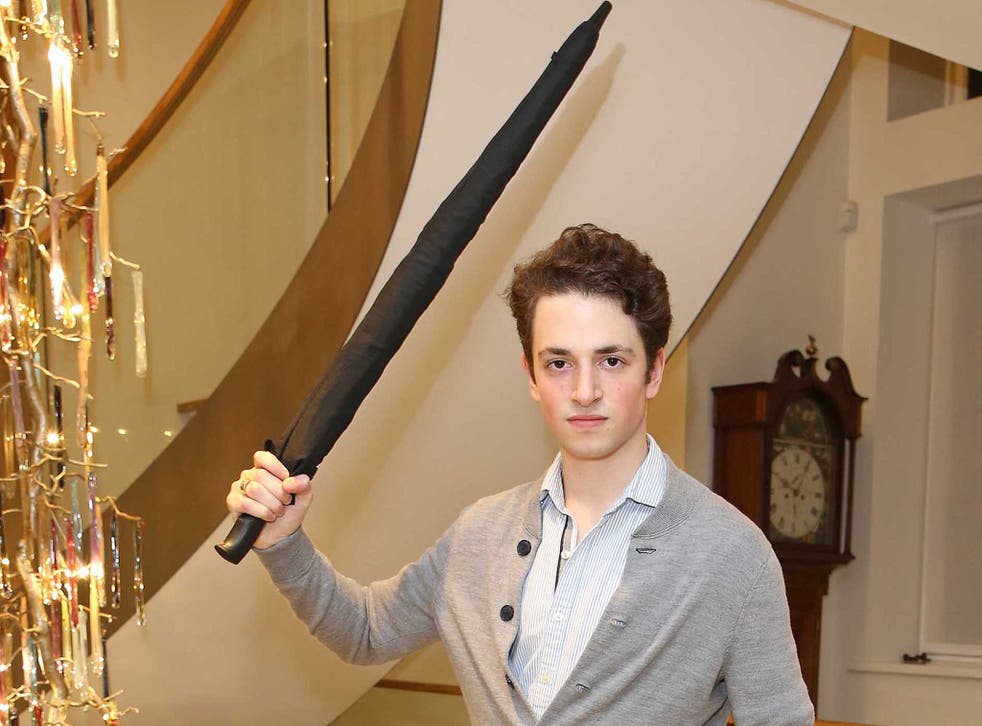 A London teenager has told of how the managed to fight off knife-wielding burglar while tied up at his £5m home - armed only with an umbrella.
George Zelonka, 19, said he was able to free himself after a masked raider burst into his bedroom in Hampstead, west London, bound his hands with cable ties and screamed: "I'm going to kill you".
Describing the incident as like a "Tarantino movie", the film studies student says he was forced to lie on the ground as a man waved a knife in his face.
Instead, he leapt to his feet, snapped the cable ties binding his hands and attacked him with the first thing the could find - the umbrella.
Footage from the family's CCTV camera shows Mr Zelonka battering the intruder as he ran from the property during the incident on Tuesday.
The teenager then returned home and called his father, a property developer working in the City, who contacted the police.
Officers arrived minutes later and carried out a major search of the area but were not able to locate the robber.
Mr Zelonka insists he is "not a hero" and "the adrenaline just kicked in".
He told the London Evening Standard that he had been in his bedroom revising for exams when the burglar, wearing a flesh-coloured mask, burst in brandishing a 9 inch knife at 5:45pm.
He said: "When he was tying me up I felt completely helpless, I couldn't contact anyone and I was totally at his disposal.
"He had this skin-coloured mask, so I could only see his eyes, and he kept saying he was going to kill me.
"It could be my paranoia from watching too many Quentin Tarantino movies, but I heard him going for plastic bags and something inside me just said 'get up'.
"I've no idea how I broke the cables but it definitely scared him. I shouted at him 'You have no idea who you're messing with' and the dynamic completely changed."
He said the intruder then began backing out and jabbing the knife at him to keep him away.
The man then ran away before being followed by Mr Zelonka carrying the umbrella.
Baby-holding bar owner fends off armed robber
The teenager said he chased him until he reached the Heath where he decided it was probably best to let him go.
His father, George Zelonka, praised his son's actions and said he had thought his son was playing a prank to get out of revision when he first answered the phone.
He said of his son: "I think he saved his own skin by being so aggressive and making a lot of noise, he didn't let himself become a victim.
"He turned the tables whereas most kids his age, even men my age, would have had a heart attack.
UK news in pictures

Show all 50
"This guy had him face down with a knife and suddenly within seconds it completely turned around. It's amazing, he's never even been in a fight before. I think this will be the making of him."
He said the family did not know what the intruder was looking for as he had passed Mr Zelonka Snr's study containing his laptop and his wallet to go to the bedroom.
"I hope they catch the guy who did this because it clearly wasn't his first time and he could do it again. He needs to be off the streets. Thankfully the police are all over it", he added.
Register for free to continue reading
Registration is a free and easy way to support our truly independent journalism
By registering, you will also enjoy limited access to Premium articles, exclusive newsletters, commenting, and virtual events with our leading journalists
Already have an account? sign in