Glasgow helicopter crash: Fleet of 22 air ambulance and police aircraft grounded after fault discovered
Another Bond EC135 craft 'experienced defect that requires further technical investigation'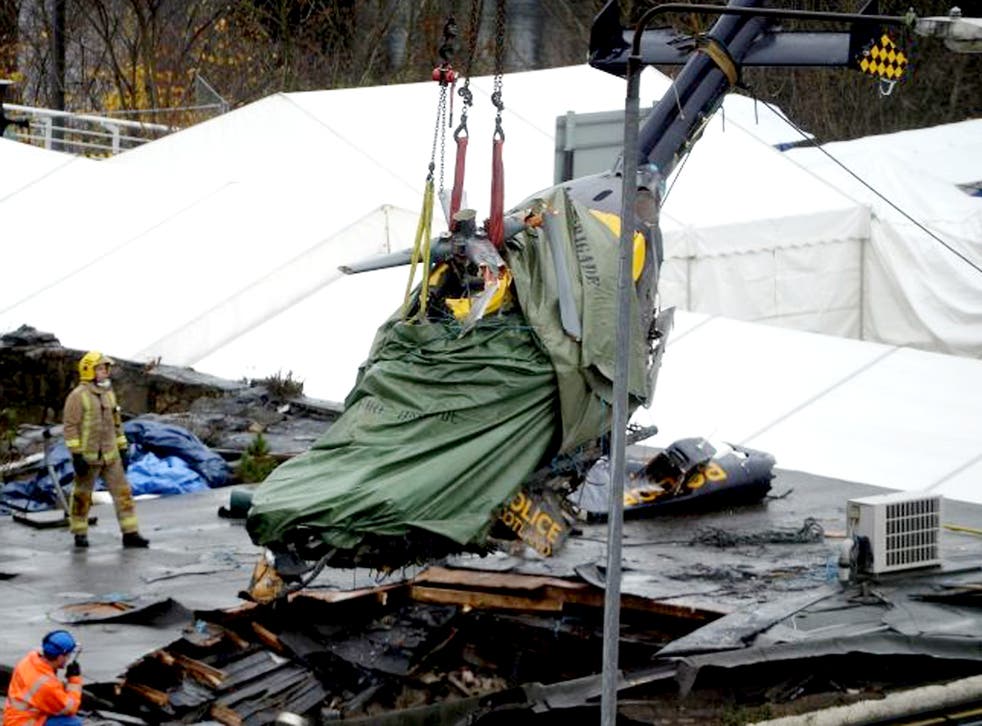 The aviation company Bond Air Services has suspended flights of its EC 135 helicopter, the same model as crashed into a Glasgow bar last week killing nine people, after a fault was discovered on an air ambulance.
Some 22 UK air ambulances and police force helicopters will be affected.
The Police Scotland helicopter that crashed into the roof of the Clutha bar in Glasgow on November 29 was a Bond-operated Eurocopter EC135 Type 2 aircraft.
A preliminary report from the Air Accidents Investigation Branch (AAIB) this week said there was "no evidence of major mechanical disruption of either engine" of the Police Scotland helicopter as it returned from an operation in Dalkeith, Midlothian, on the night of the crash.
A statement from Bond Air Services said: "During normal operations yesterday, one of our EC135 fleet has experienced an indication defect that requires further technical investigation.
"Therefore as a precautionary measure we have temporarily suspended service operations whilst we undertake detailed diagnosis. We commenced investigations overnight, are continuing this morning and are in close liaison with Eurocopter regarding this investigation."
A spokesman for the Scottish Ambulance Service said: "Bond Air Services advised on Wednesday evening that, as a precautionary measure, it was temporarily suspending flights of its fleet of Eurocopter EC135 helicopters, including Scotland's two air ambulance helicopters.
"The safety of patients and air ambulance staff is the number-one priority and Bond has taken the decision following a reported technical fault on one of the company's EC135s operating outside Scotland.
"Until the matter is resolved, the Scottish Ambulance Service is operating normal contingency measures whereby any patient that requires transfer by air will be taken by Coastguard and military helicopters, Scotland's Charity Air Ambulance helicopter or SAS fixed-wing aircraft."
An investigation is continuing into what caused the Police Scotland helicopter to crash into the Clutha Vaults pub in Glasgow with a high rate of descent and with low or negligible forward speed.
The weather was good and the helicopter still had 95 litres of the 400kg of fuel that it had taken off with from Glasgow City Heliport.
The pilot of the helicopter, David Traill, and his two passengers - police officers Kirsty Nelis and Tony Collins - were killed in the crash along with six people inside the pub.
Additional reporting by Press Association
Register for free to continue reading
Registration is a free and easy way to support our truly independent journalism
By registering, you will also enjoy limited access to Premium articles, exclusive newsletters, commenting, and virtual events with our leading journalists
Already have an account? sign in
Register for free to continue reading
Registration is a free and easy way to support our truly independent journalism
By registering, you will also enjoy limited access to Premium articles, exclusive newsletters, commenting, and virtual events with our leading journalists
Already have an account? sign in