Green Party MP Caroline Lucas denies Balcombe fracking charges
MP charged with one count of breaching section 14 of the Public Order Act and one count of wilful obstruction of the highway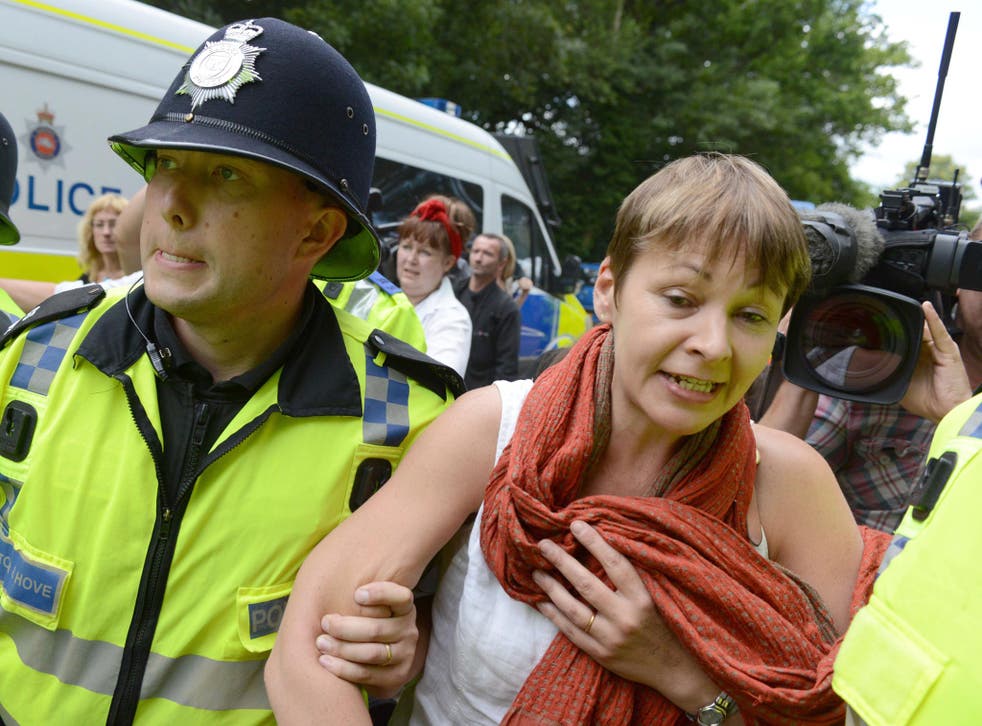 Green Party MP Caroline Lucas has pleaded not guilty to offences she allegedly committed during anti-fracking protests.
The MP for Brighton Pavilion appeared at Crawley Magistrates' Court today charged with one count of breaching section 14 of the Public Order Act and one count of wilful obstruction of the highway. Both offences are alleged to have taken place outside the Cuadrilla exploratory drilling site in Balcombe, West Sussex, on August 19.
Ms Lucas, 52, wearing a brown dress and plum-coloured cardigan smiled as she entered the dock.
She confirmed her name, date of birth and Brighton address before entering her not guilty pleas.
Ms Lucas was released on unconditional bail and was told she could leave the dock while a trial date was fixed.
A handful of supporters, including former page three girl-turned politician Marina Baker listened to proceedings at the back of the court.
Ms Lucas was one of at least 25 protesters arrested during the day of direct action.
In an open letter to her constituents, posted on her blog, the Brighton Pavilion MP said she wanted them to be the first to know that she would be pleading not guilty to the charges.
Ms Lucas said there was "a proud tradition of non-violent direct action in this country".
She said: "In joining the peaceful protest I wanted to send a clear message to the Government, and to support the people at the proposed fracking site in Balcombe who were standing up to be counted.
"It's likely that there will be a trial next year. I want to reassure you that you will be able to contact me as usual, and I will continue to hold my weekly surgeries, attend local meetings and represent Brighton Pavilion in parliamentary debates.
"Thanks to everyone who's been in touch to offer their support, and I hope this open letter goes some way towards explaining why I believe in the importance of "speaking out the whole truth and acting accordingly" - a phrase from Gandhi that continues to resonate today."
PA