Grenfell: Met Police investigating 'stay put' policy used by London Fire Brigade during blaze
Public inquiry hears there was 'no obvious safe and alternative strategy' to controversial advice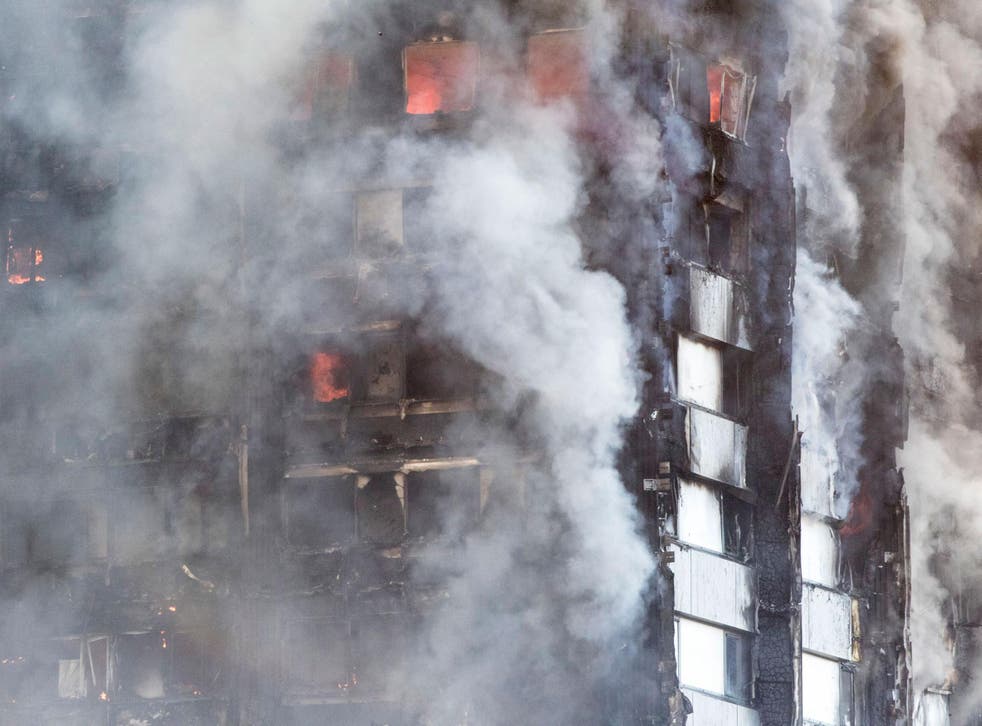 Police are investigating the use of a "stay put" policy by the London Fire Brigade (LFB) during the Grenfell Tower fire.
Health and safety offences are being considered as part of an ongoing criminal inquiry, Detective Superintendent Matt Bonner said.
"The LFB would, as any other organisation involved, have an obligation to conduct their activity in a manner that doesn't place people at risk," he added.
"It doesn't mean that at the moment they have or they haven't, but that's where the legislation is most likely to arise if that was an eventuality."
Police first announced that "stay put" advice was a key element of their investigation in July last year and Det Supt Bonner said it was one of a broad range of aspects being examined.
Relatives of some of the blaze's 72 victims have previously blamed advice telling families not to leave their flats for their deaths.
Paulos Tekle, whose son Isaac Paulos died, told the Grenfell Tower inquiry he was plagued with guilt over listening to the authorities instead of fleeing the building as his neighbours begged him to get out.
He said he kept ringing the fire brigade, who repeatedly told the family to stay put even as neighbours were calling them, telling them to get out.
At around 2am a firefighter at the door told them again to stay in the 18th-floor flat, and 45 minutes went by before they were advised to leave.
"Why we were kept inside for so long? I want answers," he said last week. "If I had not listened to the fire brigade my son would have likely been alive today."
A report by Dr Barbara Lane found the "stay put" advice to residents had failed less than 40 minutes after the outbreak of the fire, and there was "an early need for a total evacuation".
A second report, by Professor José Torero, another fire engineer, found that LFB's "stay put" advice was appropriate only in the first phase of the fire, before the external cladding panels caught alight.
By 2.47am when "stay put" was officially abandoned, 187 Grenfell occupants – about 64 per cent – had escaped. Only 36 people made it out after the guidance was changed.
A public inquiry into the disaster heard that firefighters had "no obvious and safe alternative strategy" than telling residents to stay put on 14 June last year.
The LFB has been criticised for taking two hours to abandon the policy as the flames spread.
But officials said the advice is set by the building owners, not the fire service, meaning it accords with the design specifications and escape capabilities.
Grenfell: Lawyer for man from flat where fire started condemns 'nasty tabloid lie' that he packed bags before fleeing but didn't alert neighbours
Stephen Walsh QC, representing the LFB, told the inquiry: "It is a fundamental misunderstanding of the events of the fire and of fire service capability to assume the building's stay put policy can be changed to a simultaneous evacuation, at the stroke of a fire incident commander, at whatever time.
"If there is no policy applied by the building owner which provides for a policy of simultaneous evacuation and there are no evacuation plans and there are no general fire alarms – what is an incident commander on the ground to do?"
He said that despite the "stay put" policy, firefighters evacuated residents at an early stage, but there was only one staircase and no way to communicate updated advice to everyone in the building.
Representatives of the Fire Brigades Union (FBU) said both commanders and firefighters were left in an "impossible situation" and did not have the knowledge or training to deal with the impact of cladding that made the tower block a "highly combustible death trap".
Martin Seaward, for the FBU, used his opening statement to ask "what alternative strategy might have been implemented" in the fast-moving situation.
"There remains no obvious and safe alternative strategy nor detailed plan," he added.
Mr Seaward said call operators and firefighters on the scene still suffer from the physical and emotional repercussions of responding to the disaster.
He called on Sir Martin Moore-Bick, chair of the Grenfell Tower Inquiry, to consider whether early incident commanders had adequate training and procedure for cladding fires, looking out for signs of a breach of anti-fire compartmentation and when to abandon a "stay put" policy.
"We submit on the evidence so far that there were no such procedures, nor had firefighters received any such training," he added.
Grenfell Tower memorial service: in pictures

Show all 31
Mr Walsh said the LFB believes the scale of failures at Grenfell Tower "created a unique and unprecedented set of challenges for the fire service nationally".
The inquiry continues alongside a separate criminal investigation by the Metropolitan Police into responsibility for the disaster.
More than 500 organisations have been identified for their involvement in the tower's construction, refurbishment and management, and officers are focusing efforts on 36 that "played the most significant part" as potential corporate manslaughter charges are considered.
Almost 200 officers and staff are working full time on the Grenfell investigation and the Met said it remains a priority for the force.
Police raided 11 addresses, predominantly in west London, at around 7am on Thursday over alleged fraud in connection with the fire.
Eight men and one woman were arrested, including some living in hotels, for allegedly posing as victims to benefit from housing or allowances worth between £20,000 and £100,000.
Det Supt Bonner said: "It is completely unacceptable that people would seek to profit from such a human tragedy, and try to attach themselves to a community that they are not part of."
​Several people have already been jailed for attempting to profit from the disaster.
Last week a man who claimed his father had died on the 24th floor was jailed for 18 months, while a serial fraudster who pretended his wife and son were killed was handed 21 months in February and a woman posing as a widow from the blaze was jailed for four-and-a-half years in April.
The London Assembly agreed a unanimous motion calling for urgent safeguards for residents on Thursday.
Tom Copley AM, who proposed the motion, said: "One year on, it is extremely concerning to see that a significant number of Londoners are still exposed to the risks and dangers of highly combustible cladding in their homes. This is absolutely unacceptable."
The assembly called on the government to accelerate the replacement of dangerous cladding used by councils and housing associations, to end the use of "desktop studies" that award fire safety certificates, and make sprinklers compulsory for tall buildings, care homes and sheltered housing.
Additional reporting by PA
Register for free to continue reading
Registration is a free and easy way to support our truly independent journalism
By registering, you will also enjoy limited access to Premium articles, exclusive newsletters, commenting, and virtual events with our leading journalists
Already have an account? sign in