Hacking trial: 'Feasible' I left Daniel Craig message but it wasn't a declaration of love, says Sienna Miller
Former reporter Dan Evans alleges he intercepted a voicemail for model Kate Moss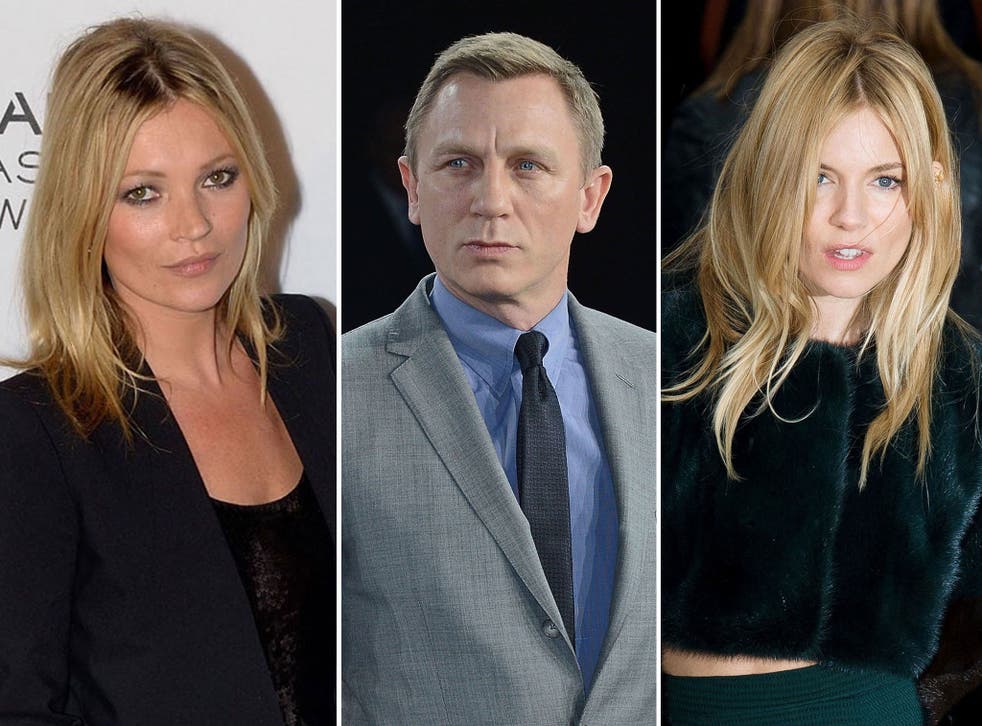 Sienna Miller's voicemail message to Daniel Craig in which she said she loved the James Bond star was not "an important declaration" but something she said to all her close friends, the actress told the phone hacking trial.
Ms Miller, who was giving evidence to the Old Bailey via a video link from New Orleans where she is currently shooting a new film, told the court it was "absolutely feasible" that she had left the message in 2005, when it is alleged the News of the World accessed Mr Craig's phone and decided that the two actors were having an affair.
The court also Dan Evans, a former NOTW and Sunday Mirror journalist who has pleaded guilty to phone hacking, hacked into the phone of the supermodel Kate Moss and listened to an apparent declaration of love from Mr Craig.
Evans, a former tabloid journalist, admitted intercepting a message from Mr Craig while working at The Sunday Mirror. The message, according to Timothy Langdale QC, defending Mr Coulson, said: "I love you, I love you, I love you," the Old Bailey heard.
Evans denied that the message could have been mixed up in his mind with the Sienna Miller affair, saying they were "two completely separate events".
The trial has spent a substantial part of the past week analysing evidence connected to communications between Ms Miller and Mr Craig at the time when Ms Miller's relationship with actor Jude Law was breaking up.
Evans has told the court that his discovery of the message was seen by senior figures at the News International title, then edited by Andy Coulson, as confirming the start of a new romance involving the actor and his former co-star in the film Layer Cake.
However, speaking to Court 12 from an office in the United States, where she was accompanied by an FBI agent, Ms Miller said: "The thing that's been slightly misconstrued about this voicemail message is the fact that I said 'I love you' and that this was some incredibly important declaration of love. I've always ended my phone calls to Daniel saying 'I love you'.''
Evans claimed he played a recording of the Miller-Craig voicemail to Mr Coulson, whom he said knew it had been illegally obtained. Mr Coulson's lawyer has said his client was not in London at the time Evans claimed the tape was played.
The court has heard that the NOTW ran a story in 2005 about the actors' alleged affair. The hacked voicemail was claimed by Evans to be a key source for the story.
Ms Miller, wearing a black sweater and with her blonde hair dyed brown for her film role, told the court she had only had a "brief encounter" with Mr Craig, whom she described repeatedly as her "best friend".
Evans, who gave evidence for a fifth day today and will return again on Monday, also claimed that in another hack he had heard Ms Miller crying during a message she left on the phone of her then step-mother, the designer Kelly Hoppen. The hack was claimed to be part of Evans' investigation of the Miller-Craig affair.
The court heard that Ms Miller had told police she would not have cried in such circumstance, but giving evidence she qualified her statement, saying: "It's a difficult time for me to remember. It's not possible for me to say whether or not with any certainty [that she cried]. I think I was crying a lot at the time."
Responding to questioning from Mr Coulson's counsel, Timothy Langdale QC, Ms Miller accepted that she had met a NOTW journalist at a pre-Bafta awards party, with whom she had agreed to be photographed. However she described a news article that followed the event as "completely misconstruing" what she had said, claiming that the quotes it contained had been "invented".
She told Mr Langdale she had spoken to the journalist and asked him, off the record, to "please give Jude a break" and to "leave him alone". But she added: "There is no way I would have said 'I love Jude so much and I can't wait to marry him' to a News of the World journalist."
Asked if she was prone to telling the media where she was going in order to ensure publicity, she replied: "Absolutely never, not once, never ever. Hand on my heart. I have taken an oath." She told the court she was not aware of anyone associated with her or Mr Law communicating with the NOTW in 2005.
Mr Couson denies conspiring to hack phones, bribing public officials and of conspiring to pervert the course of justice. Six others defendants also deny all hacking-related charges against them.
The case continues.
Register for free to continue reading
Registration is a free and easy way to support our truly independent journalism
By registering, you will also enjoy limited access to Premium articles, exclusive newsletters, commenting, and virtual events with our leading journalists
Already have an account? sign in
Register for free to continue reading
Registration is a free and easy way to support our truly independent journalism
By registering, you will also enjoy limited access to Premium articles, exclusive newsletters, commenting, and virtual events with our leading journalists
Already have an account? sign in