London rave turns violent as Halloween party-goers clash with riot police in Lambeth
Some party-goers are reported to have walked down railway tracks to attend the 'Scumoween' event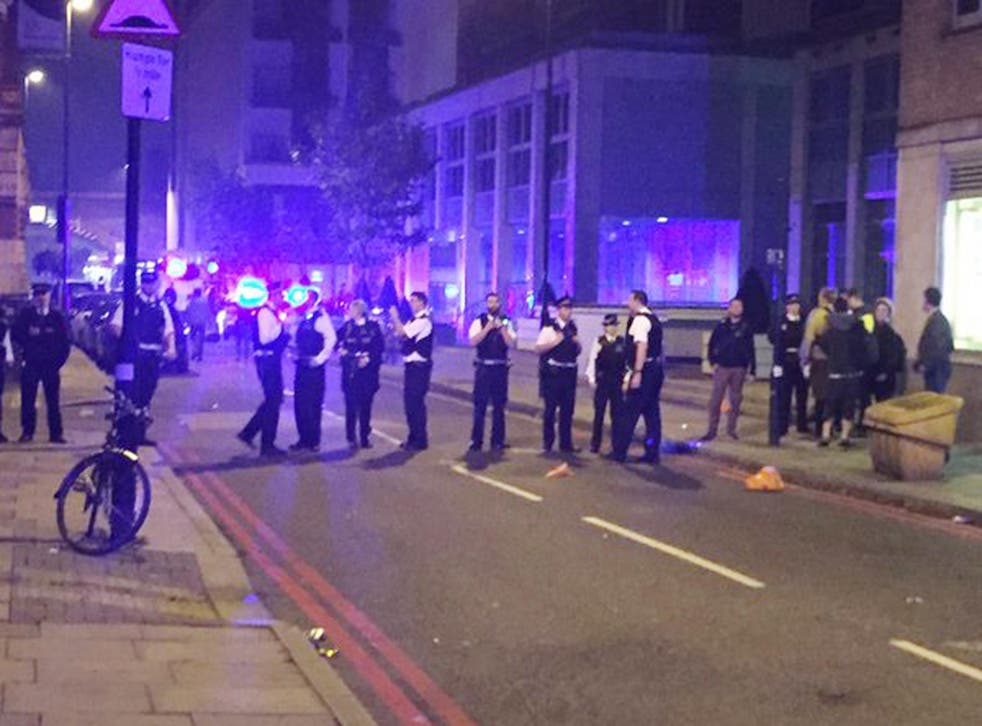 Revellers hurled chairs, fire extinguishers and a suspected petrol bomb as they clashed with riot police at a rave in London.
A number of people were arrested at the "Scumoween" event at a property in Lambeth, which was attended by hundreds.
Some of the revellers appeared to have walked down Vauxhall railway tracks to gain access, the Evening Standard reported.
Heavy propane tanks were also used as missiles, according to Southwark Metropolitan Police. The number of arrests has not yet been confirmed.
The free event was set to feature music from the "full spectrum of underground dance", organisers Scum Tek said ahead of the event.
"This is party is going ahead, stay peaceful, stay calm," a statement had said.
"Patience and numbers is in our favour. Do not antagonise the police.
"At the end of the day we want to leave them remembering our good attitudes, we just came to dance, we are not the enemy."
Police said they posted officers at junctions to nearby road Whitgift Street after crowds gathered on Black Prince Road at Albert Embankment, to "prevent any escalation of the trouble".
The disorder began after riot police were called in and people were shown in footage throwing chairs, bottles and a possible petrol bomb whilst chanting "scum" and "pigs".
Bins were set alight on some surrounding streets.
Facebook user Izz Holmes said: "Giving ravers a bad name. Sort it out you lot."
But a reporter at the scene tweeted: "Girls of 16/17 [...] told me there would have been no trouble if police had just let everybody in."
Another commentator, Emma Fasth, said the 'Scumoween' event had happened in previous years without the police stopping the party.
The party was eventually shut down at 6am on Sunday when police entered the building using the Criminal Justice and Public Order Act, according to the Metropolitan Police.
Register for free to continue reading
Registration is a free and easy way to support our truly independent journalism
By registering, you will also enjoy limited access to Premium articles, exclusive newsletters, commenting, and virtual events with our leading journalists
Already have an account? sign in