Three prisoners launched 'animalistic' attack on officer in high-security wing of HMP Belmarsh, court hears
Hashem Abedi, Ahmed Hassan and Muhammed Saeed are charged with assaulting officer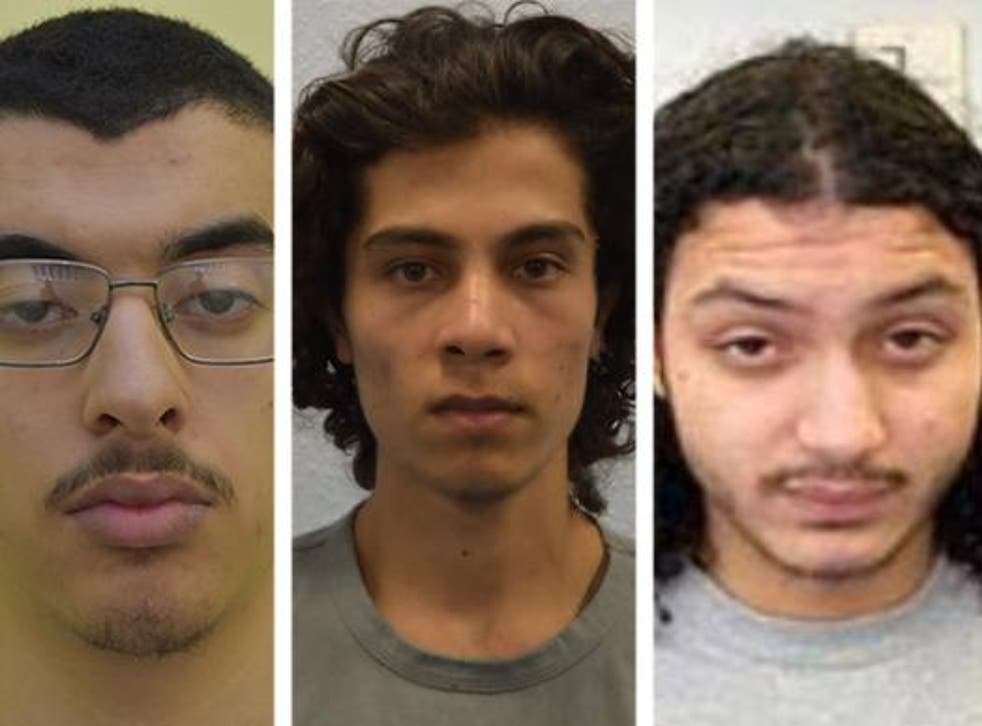 A prison officer thought he was going to be killed in an "animalistic" attack by three prisoners in the high-security unit of HMP Belmarsh, a court has heard.
Hashem Abedi, 24, Ahmed Hassan, 22, and Muhammed Saeed, 23, are charged with inflicting actual bodily harm on Paul Edwards during the May 2020 incident.
The defendants deny the charges. All three appeared at their trial on Monday with long, unruly, hair and did not rise to their feet when asked.
Woolwich Crown Court heard that Mr Edwards was the custodian manager for the jail's High Security Unit, described as a "prison within a prison", where the three defendants were held.
Jurors were told that the three inmates were returning from an exercise session when one of them shouted "go" or "now" and they charged into Mr Edwards' office.
Prosecutor Sasha Wass QC said: "Mr Edwards heard a commotion coming from behind him and turned to see Mr Saeed come into the office and kick him in the back of the head.
"It was a sudden assault, no build-up, no conversation."
The court heard that Mr Edwards saw Mr Abedi swing a chair towards his head and fell to the floor, where he was punched and kicked by all three defendants.
"Mr Edwards couldn't say who exactly was doing what at that point but all three defendants were acting in concert, they were acting as a team," Ms Wass added.
"Mr Edwards genuinely felt that they were going to kill him. He started to defend himself by punching and kicking to try to get these three men off him."
Several prison officers could be seen on CCTV running into the office, where they fought the inmates and managed to restrain them.
Paul Langridge, one of the staff who ran to help his colleague, described the attack as "frenzied" and "animalistic".
Jurors were shown CCTV where Mr Edwards was being helped out of his office, with blood on his face and shirt.
He suffered lacerations to his head and bruising to his back and ribcage, as well as damage to his hearing.
Nick Barnett, who was injured while trying to defend Mr Edwards, was left with bruising to his left shin, thigh, and right forearm.
The court heard that at the time of the incident, Mr Abedi and Mr Hasan were serving sentences of imprisonment and Mr Saeed was on remand awaiting trial.
Because of an incident in March 2020 on the high-security unit, all three defendants were disciplined and had their level of privileges downgraded to "basic".
It was raised back to standard after a review the following month, but Mr Abedi and Mr Hassan were then downgraded again after shaving their hair without permission.
UK news in pictures

Show all 50
The court heard that it was Mr Edwards who downgraded their status, and that he was also present at a meeting on the morning of the attack where Mr Abedi asked for changes to the prison regime and was refused.
Angela Gissing, the third person present at the meeting, was the governor of the high-security unit at the time.
Giving evidence in court, she recalled the meeting taking place at around 10.30am on 11 May 2020.
Ms Gissing said Mr Abedi had asked why high-security unit inmates had not yet received in-cell telephones like other parts of the prison, and complained about his reduction in privileges.
"Category A and high-risk prisoners are entitled to change their appearance, like having a hair cut or growing beard, but have to put in written applications," she told the court.
"It's because of photographs we take and keep on record for security reasons, so we can identify them."
Ms Gissing said Mr Abedi alleged that a non-Muslim prisoner had been given greater exercise rights, and she said she would look into the case.
He also asked for himself, Mr Hassan, Mr Saeed and another prisoner to have access to interpreters for phone calls, but she said it was not possible due to the pandemic.
She told the court that it emerged during the meeting that Mr Abedi had told other prisoners to put in identical written applications.
"Mr Edwards asked if he was now acting as a leader for certain prisoners in the unit," Ms Gissing said. "Mr Abedi just said he couldn't be a leader because he was the youngest of the group."
She said the inmate appeared to accept what she said and thanked her for her time. The attack took place at around 3pm that day, as the inmates returned from an exercise session for Muslim prisoners.
The three defendants have been charged with assault occasioning actual bodily harm against Mr Edwards.
Mr Abedi was also charged with assaulting an emergency worker over Mr Barnett. They deny all charges. The trial continues.
Register for free to continue reading
Registration is a free and easy way to support our truly independent journalism
By registering, you will also enjoy limited access to Premium articles, exclusive newsletters, commenting, and virtual events with our leading journalists
Already have an account? sign in
Register for free to continue reading
Registration is a free and easy way to support our truly independent journalism
By registering, you will also enjoy limited access to Premium articles, exclusive newsletters, commenting, and virtual events with our leading journalists
Already have an account? sign in