New hate crime record after racial attacks rocket during Black Lives Matter protests and far-right backlash
Only 10% of hate crimes result in a prosecution and suspects not identified in a quarter of cases, figures show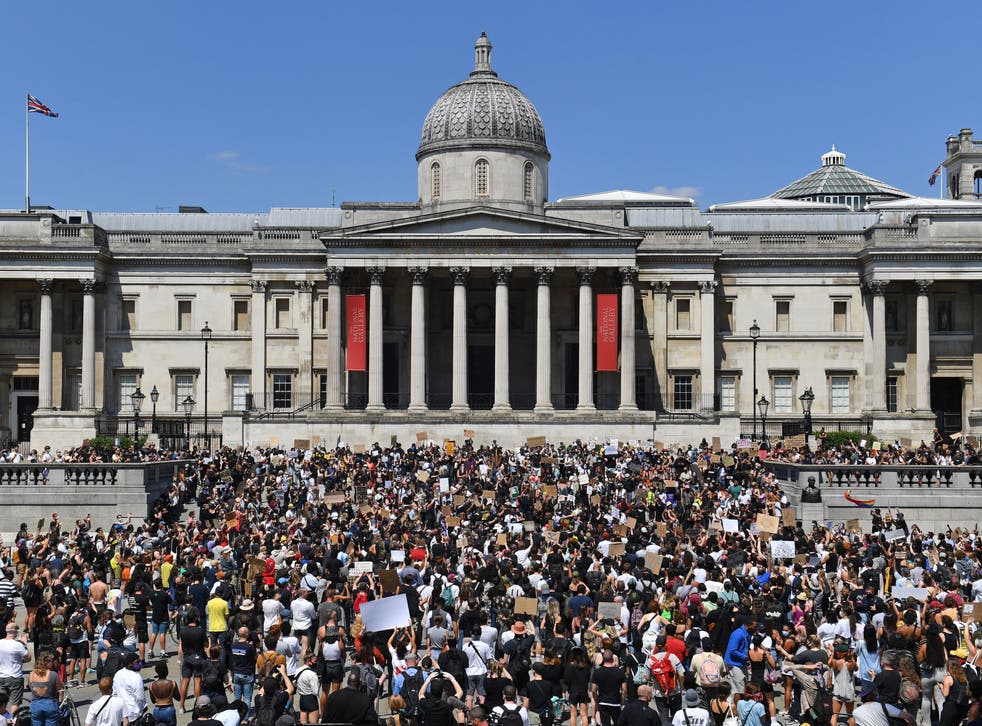 Hate crime has hit a new record after racially-motivated incidents rocketed during Black Lives Matter protests and a far-right backlash.
Police recorded over 124,000 hate crimes across England and Wales in the year to March, of which three-quarters were racial.
A Home Office report published on Tuesday said police have improved the way the crimes are recorded, but there have also been "short-term genuine rises in hate crime following certain trigger events".
It added: "Increases in hate crime were seen around the EU referendum in June 2016 and the terrorist attacks in 2017. There was also an increase in public order hate crimes during the summer of 2020 following the widespread Black Lives Matter protests and far-right counter-protests."
The death of George Floyd, who was killed by a police officer in the US in May 2020, triggered huge demonstrations in London and towns and cities across the UK.
In response, some far-right groups took up the slogan "white lives matter" and mounted counter-protests that saw clashes.
The vandalism of statues linked with slavery and colonialism during some Black Lives Matter protests sparked rallies by people claiming to defend monuments, including one that saw police attacked in London in June 2020.
More than 92,000 race hate crimes were recorded in the year (74 per cent of all hate crimes), as well as 18,500 motivated by sexual orientation (15 per cent), 9,943 disability (8 per cent), 6,377 religion (5 per cent) and 2,799 transgender (2 per cent).
The overall number of hate crimes increased by 9 per cent on the previous year, which was itself a record.
But only 10 per cent of all hate crimes resulted in a prosecution, figures show, and a suspect is not identified by police in a quarter of cases.
Labour said the statistics "must be a wake-up call for urgent change".
The shadow home secretary, Nick Thomas-Symonds, added: "The shamefully small number of offenders being brought to justice shows how damaging Tory police cuts have been, allowing vile criminals to escape justice yet again.
"The backlash against people standing up to racial injustice shows how far we have to go as a country to defeat hatred."
The Race Equality Foundation said the figures "paint a bleak picture for equality in the UK".
Chief executive Jabeer Butt OBE added: "The fact that almost three quarters of hate crimes were racially motivated shows just how far is left to go towards building a society that is truly tolerant and anti-racist.
"It is all too clear that too many people still face horrific attacks simply on the basis of who they are. The government's Hate Crime Action Plan has clearly fallen short and needs to be revisited as a matter of urgency."
The largest proportionate rise was to race hate crime, up 12 per cent, while disability hate crimes increased by 9 per cent, sexual orientation hate crimes by 7 per cent and transgender identity hate crimes by 3 per cent.
Black Lives Matter protesters gather across the UK

Show all 79
Religious hate crimes fell by 18 per cent, in the second successive annual drop since a peak in 2019.
Figures showed that more than half of the hate crimes recorded by the police were for public order offences, including threatening and abusing people in public places, 40 per cent were for violence and 5 per cent were criminal damage and arson.
The figures came amid calls to make misogyny a hate crime, after the murder of Sarah Everard sparked discussion over wider violence against women and girls.
A Law Commission report released in September 2020 said sex or gender should be made a "protected characteristic" to protect women and ensure offenders are properly punished, but the government has not taken up the recommendation.
The government said it had a strong legal framework in place to deal with the perpetrators of hate crime.
A Home Office spokesperson said: "All forms of hate crime are completely unacceptable. The cowards who commit them should feel the full force of the law.
"Whilst the biggest driver for the increase in recorded crime is general improvements in police recording, along with increased victim willingness to come forward, we cannot be complacent. That is why we have committed to publishing a new Hate Crime Strategy later this year."