Hatton Garden burglar jailed for extra seven years after failing to pay back £7.6m
'He chose not to have a quiet retirement but participated with others in a serious criminal enterprise,' says judge
Lizzie Dearden
Home Affairs Correspondent
Thursday 01 August 2019 16:09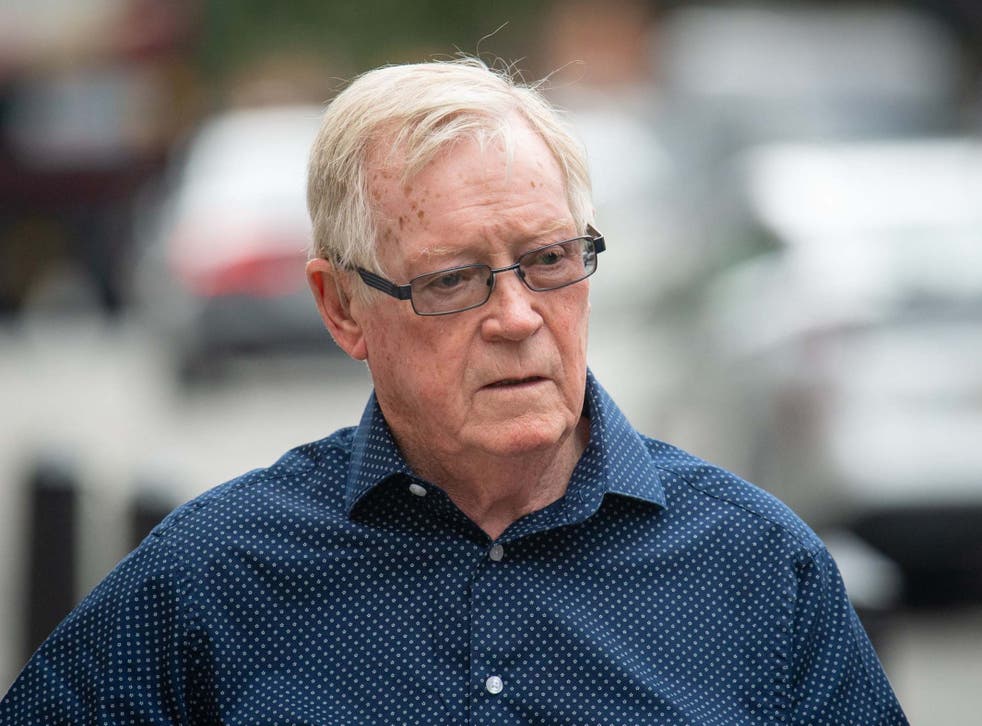 A ringleader of the Hatton Garden heist has been jailed for another seven years for failing to pay back £7.6m.
John "Kenny" Collins, now 78, was handed one of the largest confiscation orders in British history alongside accomplices Brian Reader, Daniel Jones and Terry Perkins, who died in prison last year aged 69.
They were among six men who broke into the Hatton Garden Safe Deposit Company over the 2015 Easter bank holiday.
Posing as workmen in high-visibility jackets, they drilled their way into an underground safety deposit vault and got away with around £13.69m of gold, jewellery and precious stones – smuggling the loot outside in wheelie bins.
Three of the experienced thieves were jailed in March 2016, followed last year by Michael "Basil" Seed, who was caught following a lengthy police investigation.
Two other men, Carl Wood and William Lincoln, were also jailed for conspiracy to commit burglary, and Hugh Doyle was handed a suspended sentence for concealing or transferring criminal property.
Hatton Garden jewellery heist

Show all 14
Collins had been released at the end of last year after serving half of his seven-year prison sentence, but was returned to jail on Thursday.
District Judge Richard Blake sentenced him to 2,309 days imprisonment and told him he would be automatically released after serving half the term.
"I recognise that Mr Collins is in his 70s," he told Westminster Magistrates' Court. "It was entirely his decision to commit that crime at a time in his life when most people hope to enjoy a quiet retirement.
"He chose not to have a quiet retirement but participated with others in a serious criminal enterprise to make substantial gain.
"The consequences of his crime were to cause very significant loss, amounting to many millions of pounds worth of property to the victims."
Collins's friends and family called out, "We love you Kenny", and, "Stay strong, you'll get through this", as he was taken down to the cells.
District Judge Blake said it was "important that perpetrators of crime do not profit from their conduct", whatever their age.
"I am satisfied Mr Collins has wilfully refused and culpably neglected to cooperate in the realisation of his identifiable assets and in what the learned judge has found as the hidden assets," he added.
Collins had been ordered to pay authorities £7.6m in 2018, comprised of his portion of stolen goods and proceeds of his share of a house in Islington, north London, and a property in Spain.
Hatton Garden gang sentenced
An earlier hearing was told he had handed over £732,000 and recently received an offer of £742,500 for his London home, while his Spanish flat is now worth just €99,000 (£90,000) rather than the £350,000 estimated last year.
The audacious burglary has so far inspired three films and a television serial.
Adrian Foster, chief crown prosecutor for the proceeds of crime, said: "John Collins was a key player in the Hatton Garden burglary and benefited from millions of pounds from his crimes.
"The CPS [Crown Prosecution Service] showed the court that Collins still had assets and funds to pay the order but had chosen not to do so and it followed that his default sentence should be activated.
"Collins will now face this extra time in prison while his confiscation order still stands to be paid."
Jones was previously handed a six-and-a-half-year sentence after failing to pay back his allotted amount of cash.
Perkins died in prison in February last year and the CPS said steps were being taken to recover funds from his estate.
Reader, who was freed from jail last year, has also failed to answer the order but could avoid going back to jail because of poor health and the onset of dementia.
Prosecutors will instruct their own medical experts before a confiscation hearing in October.
Additional reporting by PA
Register for free to continue reading
Registration is a free and easy way to support our truly independent journalism
By registering, you will also enjoy limited access to Premium articles, exclusive newsletters, commenting, and virtual events with our leading journalists
Already have an account? sign in