Hatton Garden heist: How a gang of 'old school villains' turned out to be far from Ealing comedy characters
It was a victimless crime worthy of a cracking heist movie, or so the popular wisdom goes – but is that actually true?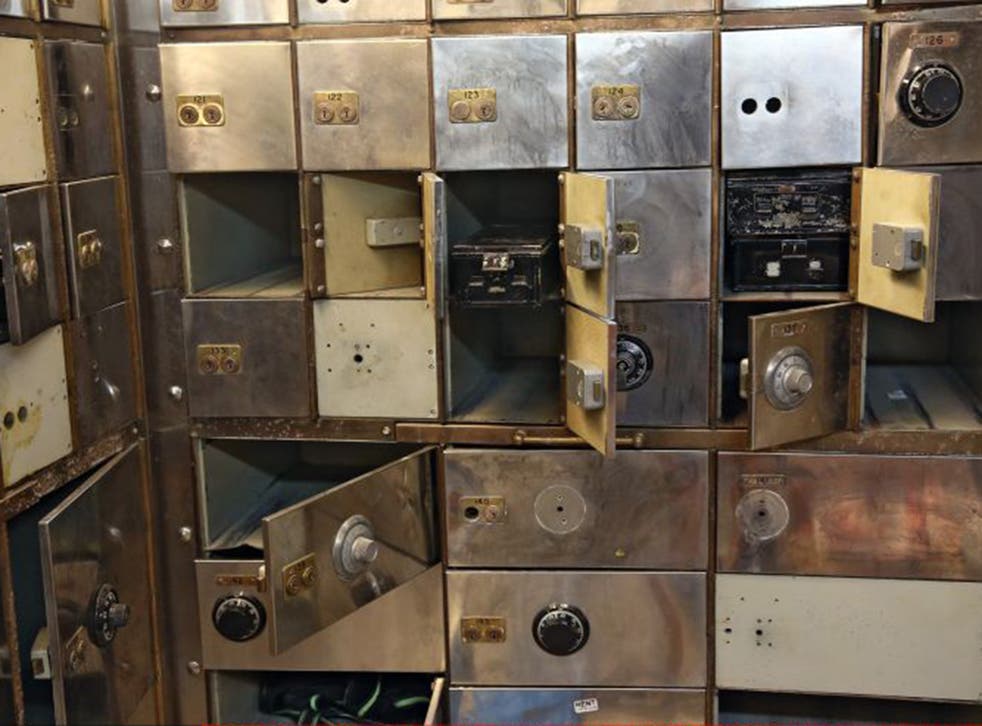 A bunch of old geezers walk into a bank … it sounds like the start of a joke, and the exploits of the Hatton Garden gang do make many people smile.
They never hurt nobody, guv, or so it is said. This creaky gang of elderly lags managed to pull off the biggest burglary in English history, breaking into a super-secure vault and running off with cash, gold and jewels worth a staggering £14m. It was a victimless crime worthy of a cracking heist movie, or so the popular wisdom goes this weekend, but is any of that actually true?
There are many such questions still to be asked as six of the gang members start their prison sentences and a seventh walks around on bail.
Who, for example, is Basil, the mysterious missing member of the gang who has never been caught, after police said he faded into obscurity like a ghost? Seen on security cameras in a flat cap and a wig, he had a key to the Hatton Garden Security Company and strong links to the Adams family, the most notorious crime syndicate in London. That's not very funny.
And what has the raid got to do with the killing of a villain nicknamed Goldfinger, who was shot at close range in the grounds of his Essex estate last summer, only a few weeks after most of the gang were arrested?
"Would I be surprised if he had a link to Hatton Garden? No," said former Flying Squad commander Roy Ramm. "It is almost inconceivable he would not have known about it. If you look at the kind of criminal network that the Hatton Garden gang were part of, there is no reason to think Palmer would not have been involved in trying to handle the stolen gold."
The victim's real name was John Palmer, but he got his nickname Goldfinger from smelting down bullion from the massive Brinks-Mat raid in 1983 – only to be acquitted after claiming he didn't know where the gold had come from.
Incredibly, police said he had died of natural causes. And then a post-mortem revealed that he had been shot six times in the chest. How did they miss that?
Underworld expert Wensley Clarkson – author of a new book Sexy Beasts: The Inside Story of the Hatton Garden Mob (Quercus) – suspects they kept the truth quiet to give them more time to go after his killer. "The trouble is it made the police look either stupid or incredibly dishonest," he said.
He said the Adams family let the raid go ahead on its turf – and even imposed its lock expert Basil on the raiders – in order to get hold of a particular security deposit box. "Essentially, the contents of that box led to John Palmer's death."
If you ignore the murder for a moment, then the plot does read like an Ealing comedy, with a bunch of "old‑school villains" – in the words of the judge – getting together for one last spectacular job.
They dressed up as gas repair men and spent two days over the quiet Easter weekend working away in secret with a diamond drill to get into the vault and ransack 73 safety boxes.
Judge Christopher Kinch QC said the raid was in "a class of its own" in terms of the ambition, preparation, and the value of the loot. They were the Dad's Army of crime, but they didn't panic. "Far from stumbling into 21st-century crime as relics of a past era, the conspirators were clearly highly aware of the dangers of leaving traces that could lead to their identification," the judge said.
But they got caught because they made silly mistakes, such as missing a security camera – and one of the gang driving his own distinctive white Mercedes past the premises during the raid.
And when the case reached court, the criminals' lawyers made much of their age and infirmity. The ringleader Brian Reader, 77, was too ill to come to Woolwich Crown Court for sentencing on Thursday after suffering a stroke in hospital. He is now deaf, half-blind and at death's door, according to his lawyer. He had turned up to the raid on the bus, using somebody else's pensioner Freedom Pass.
The getaway driver John Collins, 75, suffers from arthritis, diabetes and memory loss. Terry Perkins, 67, takes 29 pills a day for various ailments, the court was told. The gang's quartermaster, William "Billy the Fish" Lincoln (he used to like shopping at Billingsgate fish market), is a 60-year-old with two replacement hips who had to keep leaving the dock to go to the loo during the trial.
Danny Jones, 61, declared that he was going straight after his arrest, and took police officers to a cemetery in Edmonton, north London, where he showed them a stash of jewels hidden under a headstone in a Sainsbury's bag-for-life. "That's all I had," he said, hoping for leniency. Unfortunately, the judge was less than impressed when it turned out Jones had walked straight past an even bigger stash under a different headstone, and which the police already knew about.
All these men were given seven-year sentences for conspiracy to commit burglary, but they are likely to be out in three because of guilty pleas, good behaviour and the 10 months they have already spent on remand in Belmarsh prison.
Carl Wood, 59, the "hired muscle" who quit halfway through the raid, was given six years. He intends to appeal against his conviction. So does Hugh Doyle, the Irish plumber who said he was "sucked in" to concealing the stolen jewels because of his friendship with the others. He was given a 21-month sentence suspended for two years. The judge said he was "in awe of these old-school villains".
Doyle shook the hands of the jurors who had just found him guilty and walked free from court, but only after offering to fit a new boiler for each of them – and reporters – at a bargain price.
The robbers have their admirers, because there is something about the British psyche that loves a rogue, as long as nobody gets hurt. The trouble is, in this case, people did.
Those who lost the most were small business people such as Kjeld Jacobsen, a 73-year-old retired jeweller who put his life's treasures in a safety deposit box after closing down his store on the Fulham Road. The jewels, worth hundreds of thousands of pounds, were to be his pension.
Hatton Garden jewellery heist: The evidence

Show all 30
"There is absolutely nothing you can do about it," he said. "I could have insured it with ease and it wouldn't have been expensive, but you don't normally insure when you put things into a safe-deposit box."
It was a fair assumption, but Hatton Garden turned all such assumptions upside down. A bunch of comedy villains performed a spectacular heist. Only silly mistakes undid brilliant planning. Then a man said to have died of natural causes was found to have been shot six times.
John Palmer, 65, was burning documents in a garden incinerator at his high-security property in the Essex countryside last summer when a professional hitman shot him at close range. Astonishingly, police and paramedics called to the scene somehow mistook his wounds for a problem with the scars from a recent chest operation.
Detective chief inspector Stephen Jennings insisted the absence of clues showed how professional the hit was: "To assume we missed anything would be speculation."
Perhaps. Former Metropolitan police chief John O'Connor put it another way: "What a joke. It's one of the most terrible mistakes in policing I've ever heard of."
Police appealed for information on Crimewatch on Thursday, when Palmer's partner Christina Ketley said: "There may be some people that don't have a tremendous amount of empathy towards our situation, but there is someone out there prepared to assassinate someone."
So was there a connection between the killing of Goldfinger and the Hatton Garden mob? After extensive research, Wensley Clarkson said the gang went to ask for permission to carry out the audacious raid on Adams family territory and got more than they bargained for.
"The answer was, 'Thanks, lads. By the way, there's one box we need and our man Basil is going to get you in.'" He was their lock man, with specialist local knowledge.
Hatton Garden gang sentenced
"Basil was forced on the gang, but they didn't argue because he already had the keys to the building containing the vault, which happens to stand 25 yards away from the office where the Adams empire was run for near on 30 years," added Clarkson.
Security cameras saw Basil, in a red wig, enter through the front double doors of the building with a key and disable the first alarm. He waited for the last jeweller to leave for the evening, then let the rest of the gang in through a fire escape.
The Adams crime syndicate wanted a particular deposit box because it contained evidence that implicated family members in a murder, said Clarkson. John Palmer had fallen out with them; a feud had started and he was allegedly using the contents of the box as self-protection, saying it would be released to the police if anything bad happened to him.
His knowledge of Adams family members went back at least to the Brinks-Mat robbery of 1983, when Tommy Adams was accused but acquitted of transporting the stolen gold to him.
Brian Reader, the apparent leader of the Hatton Garden mob, was convicted of conspiracy to handle stolen goods in that same case. John Palmer was acquitted that time. However, he was jailed in 2001 for the largest time-share fraud ever seen. Somehow Goldfinger is said to have kept hold of an estimated £300m fortune, with a chateau in France and an estate in Tenerife as well as a home near Brentwood. Palmer was facing up to 15 years for fraud, firearms possession and money laundering in Tenerife. Did he do a deal with Spanish police to prevent his extradition? Was he about to turn supergrass? If so, there were people in Spain and Russia who might have wanted him gone.
However, Wensley Clarkson's theory is that once the Adams family had its hands on the incriminating evidence in the security box, it felt free to have Palmer shot. Basil is said to have taken not only the evidence but also the best jewels, which are still missing. The police are not the only ones desperate to speak to him, said Clarkson. "He's got the police, the Adams family, friends of the Hatton Garden mob, and a bunch of opportunistic criminals who just want to get hold of some of the gems, all after him," he said.
Suddenly the story of the Hatton Garden mob doesn't seem so charming or funny. Not for Basil, anyway. "If he's lucky, the police will find him." If not, then somebody really will get hurt.