High-profile judge Constance Briscoe plotted to 'go for the kill' against Chris Huhne in speeding row with Vicky Pryce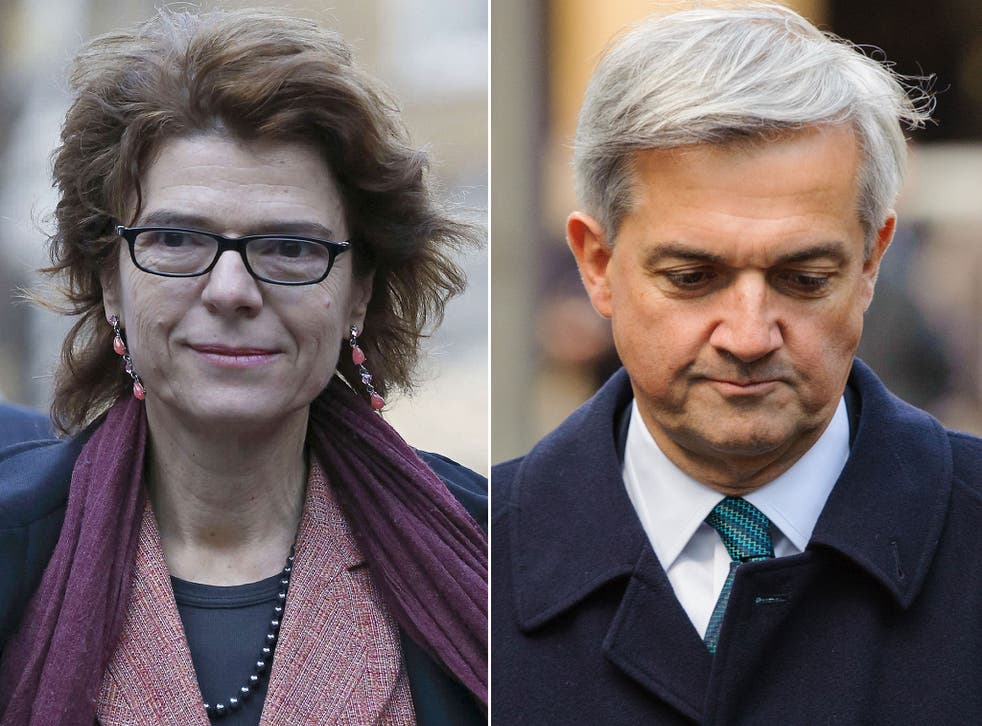 Britain's most high-profile black woman judge worked with a Sunday newspaper to bring down Chris Huhne over his decision to pass speeding penalty points to his wife and avoid a driving ban, a court heard today.
Constance Briscoe, 55, a barrister and part-time judge, was "determined to go for the kill" after the former Energy Secretary was first publicly identified for the 2003 crime, according to a journalist's email read out in court.
Ms Briscoe had been in contact with The Mail on Sunday for months before the first stories came to light about Huhne's deception, Southwark Crown Court heard. The decision to swap points eventually resulted in Huhne's disgrace and his resignation as an MP.
His ex-wife, Vicky Pryce, 60, told the barrister – who lives three doors from the Huhne family home in Clapham, south London – about taking the penalty points in 2003, the trial of the economist has heard. The court heard that Ms Briscoe met journalists from The Mail on Sunday in 2010, after the bitter break-up of Huhne's 26-year marriage following revelations of his affair with an aide, Carina Trimingham.
The court heard that in December 2010, freelance reporter Andrew Alderson sent an email to the barrister which asked if we have "lift off" and added: "If so, I suspect he will be an ex-minister by Sunday lunchtime."
However, stories did not appear about the crime until 8 May 2011, when articles appeared in both The Sunday Times and The Mail on Sunday suggesting that Huhne had passed points to someone "close to him", the court has heard.
The next day, Mr Alderson sent an email to an executive at The Mail on Sunday, the court heard today. "OK, you have got my email re Constance," it said. "She is determined to go for the kill."
Another email followed in the same month to the executive, David Dillon, which said: "We can both take her (Ms Briscoe) for a 'farewell to Huhne' drink when he bows to the inevitable in the next few days."
Huhne finally stepped down from the Cabinet in February 2012 after a police investigation led to both him and his wife being charged with perverting the course of justice. He pleaded guilty on Monday and faces jail but his ex-wife denied the charge saying she was "coerced" into signing the form by the politician.
Ms Pryce told the Court today that Mr Huhne demanded that she have a second abortion, which she refused. She had previously told the court that the former Energy Secretary forced her to terminate her pregnancy in 1990 because it was "bad for his career".
Today, she said he made the same demand two years later when she accidentally fell pregnant, but said: "I couldn't bring myself to do it."
Ms Pryce, who already had two children from a previous marriage and two with Huhne, said of the abortion: "It was all booked and I was meant to go that morning. I woke up and knew how I had felt about the previous one and knew I couldn't do it. I just couldn't bring myself to do it and I had learned from the previous one."
Asked how Huhne pressured her to have the first abortion, Ms Pryce said: "He didn't say, 'I will divorce you if you carry on', but it was obvious that the environment in the house would be pretty bad if I carried on and that of course would simply have added to the strain."
She told the court: "Mr Huhne was somebody who wanted to achieve his aims and nothing could come in his way of doing so."
She said that she wished she could have turned the clock back.
Andrew Edis QC, for the prosecution said: "It was a six-month press campaign designed to ruin him. You had been striking from behind a safe wall so you couldn't be harmed, that's true isn't it?"
Ms Pryce replied: "That's not true."
Ms Pryce insisted that her family came first despite the firestorm that followed the initial publication of the story but said that she felt "quite ashamed and upset" about the story. "2010 was a very difficult circumstance when the family had really been torn apart and where the person they were relying on, who was me, was actually very fragile. I am not proud of what happened. Now of course I would never ever have gone down that road."
Sir John Scarlett, the former head of MI6, had sent a letter to Ms Pryce's defence team saying that she was a person of integrity, the court heard. "In our personal contact, I have found her to be exceptionally well informed and of good judgement. I regard her as a person of clear integrity in whom I have confidence," according to part of his letter read out to the court.
The case continues.
Register for free to continue reading
Registration is a free and easy way to support our truly independent journalism
By registering, you will also enjoy limited access to Premium articles, exclusive newsletters, commenting, and virtual events with our leading journalists
Already have an account? sign in