Hillsborough disaster: CPS will not charge five police officers over deaths of 96 Liverpool fans
Prosecutors say there is not enough evidence to charge former West Midlands Police and South Yorkshire Police officers over alleged cover-up
Lizzie Dearden
Home Affairs Correspondent
Wednesday 14 March 2018 11:06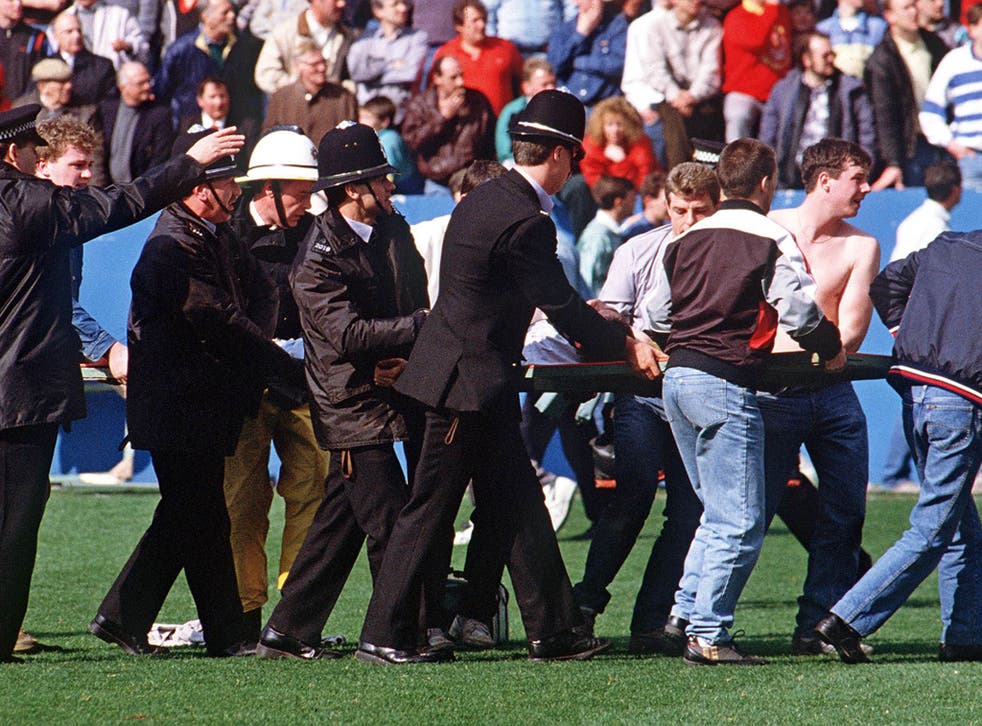 Five police officers involved in the Hillsborough disaster and subsequent investigation will not be charged over an alleged "cover-up" over the deaths of 96 Liverpool fans.
Three former South Yorkshire Police Officers were investigated by a watchdog, but the Crown Prosecution Service (CPS) said it did not recommend prosecution.
The Independent Office for Police Conduct (IOPC) handed over its files on two retired senior police officers from West Midlands Police, who were linked to the first criminal investigation following the FA Cup semi-final in 1989.
They were accused of failing to investigate the cause of the disaster properly, either negligently or to deliberately to help South Yorkshire Police, and submitting a misleading or incomplete file to prosecutors.
The CPS said it had carefully considered tens of thousands of pages of evidence over whether the unnamed men had perverted the course of justice or committed misconduct in public office, but the "evidential threshold for criminal prosecution is not met".
"Whilst there was found to be some cause for concern in the actions of both suspects, there is insufficient to reach the high threshold required to prove a criminal offence," a spokesperson added.
The IOPC, formerly the Independent Police Complaints Commission, passed 73,000 pages of evidence to the CPS after probing West Midlands Police's systems and files, searching one of the suspect's homes and holding a new witness appeal.
Six people charged over Hillsborough disaster
The CPS concluded that parts of the investigation were not carried out to a "high standard", but there was not enough evidence to show a deliberate plan to thwart investigations against fellow police officers.
Prosecutors said they could not attribute responsibility for the failings to the two suspects alone, and that there was no evidence to support claims that one of them intentionally presented misleading evidence to the Director of Public Prosecutions.
In a letter to families of the 96 victims killed in the disaster, Sue Hemming of the CPS wrote: "I appreciate that my decision will be disappointing to you, but I would like to reassure you that in reaching this conclusion, we have spent a significant amount of time reviewing and considering the evidence that was submitted to us.
"As you know, the standard of evidence required for any criminal prosecution is high."
Families were separately informed that the IOPC was not pursuing actions against the three South Yorkshire Police officers.
It investigated claims that they were involved in a "cover-up" of the causes of the disaster, and participated in attempts to minimise the force's culpability by blaming Liverpool fans in the Lord Justice Taylor inquiry, contributions hearing and original inquests.
After reviewing the evidence, the IOPC's lead for Hillsborough said there was "some indication" two of the former officers may have committed a criminal offence, but there was no new evidence since the CPS rejected the possibility of charges in 2016.
Hillsborough Disaster 1989

Show all 8
Rachel Cerfontyne said: "At the core of my decision not to refer these SYP officers for formal charging decisions is the CPS's clear view that charges would not be brought and the risk that a referral could cause disruption to the forthcoming Hillsborough trials.
"The evidence gathered by the investigation team has been wide ranging and thorough. I have reviewed it very carefully, as I know the CPS have done.
"This will now be used to determine if any officer involved in Hillsborough would have had a case to answer for misconduct if they were still serving."
The findings will be published in the Hillsborough final investigation report. The CPS said it was not considering files on any other suspects, meaning further prosecutions are unlikely.
It has already decided to charge six people over the deaths of 95 men, women and children killed in a crush at the FA Cup semi-final between Liverpool and Nottingham Forest in 1989.
No prosecution was brought for the 96th victim, Tony Bland, who suffered severe brain damage and died in 1993 – after the statute of limitations had expired.
The original inquests returned a verdict of accidental death, but the findings were quashed and in April 2016, a jury found they had been unlawfully killed.
Six suspects are due to stand trial for offences linked to the disaster and its aftermath, including the match commander David Duckenfield, although a legal dispute has delayed proceedings.
No pleas have been formally entered, but Mr Duckenfield, former Chief Constable Norman Bettison, retired officers Donald Denton and Alan Foster, Sheffield Wednesday club secretary Graham Mackrell and solicitor Peter Metcalf have indicated through their lawyers that they will plead not guilty.
Register for free to continue reading
Registration is a free and easy way to support our truly independent journalism
By registering, you will also enjoy limited access to Premium articles, exclusive newsletters, commenting, and virtual events with our leading journalists
Already have an account? sign in