'I felt a loose grip, and then the hand let go': Harrowing Hillsborough testimony from survivors and victims' families
Witnesses in the trial of match commander David Duckenfield spoke of feeling helpless as they watched the 1989 disaster unfold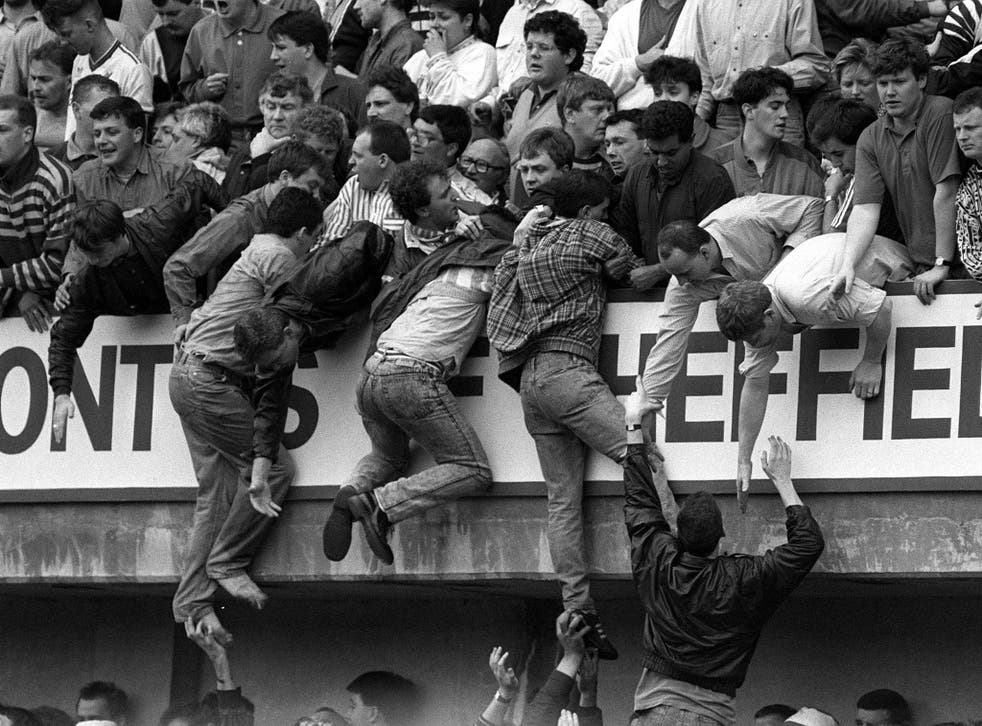 The Hillsborough trial, in which jurors were unable to reach a verdict, heard harrowing testimony from survivors of the disaster, victims' relatives and police officers that guarded the stadium.
Dolores Steele
A Liverpool fan whose 15-year-old son Philip was killed
Philip and his brother Brian, 13, had tickets for the Leppings Lane terrace and Ms Steele and their father were in the stand above.
"It just didn't look right at all, it suddenly looked very crowded down there," she said.
"What I did see was somebody being carried, I don't know whether they were male or female, but somebody was carried on to the pitch and then I saw a jacket being put over that person's face."
Hillsborough disaster: in pictures

Show all 20
She said she could hear the crowd shouting for the gates to be opened because people were dying.
"I seem to remember about four police officers standing looking in towards the pens but nothing seemed to be getting done about it."
When a gate was opened, the football pitch suddenly looked like a battleground, Ms Steele said.
"I saw that first ambulance come along and by that time it all seemed like it was just slow motion."
Trevor Hicks
A Liverpool fan whose daughters Sarah, 19, and Victoria, 15, died
He said the two girls had been in the central pens of the Leppings Lane terrace while he had been in a pen to the side and his wife Jenni was in the North Stand.
Mr Hicks recalled that the girls – "being teenagers who didn't want Dad hanging around" – went down the central tunnel together as he went to buy a match programme, adding: "I remember them glancing back and laughing at me."
He said as kick-off approached the pens seemed "very full" and it was clear there were problems.
Mr Hicks said he and another man, whose son was in one of the pens, shouted up to a police officer on the gantry next to the police control box.
"We were basically shouting, 'Look, can't you see things are going badly wrong,'" he said, but the officer allegedly told him to shut his "f***ing prattle".
He said he later spoke to a second police officer who did not respond, adding: "We were helpless, we were just the crowd and were in the hands of the organisers and the policemen obviously."
Mr Hicks thought he saw Victoria being carried out of the terrace so he left the pen and then found both girls on the pitch. "They were almost side by side."
Barry Devonside
A Liverpool fan whose 18-year-old Christopher died in the crush
Mr Devonside described being "frozen in fear" as he saw the disaster unfold on the Leppings Lane terrace from his seat in the North Stand.
He told the court he saw a police officer "pounding the chest" of a Liverpool supporter on the pitch and spoke to a man sitting next to him who had a transistor radio.
He said: "I just said, 'What the bloody hell's going on, what are they saying?' and he said, 'There's two dead.'"
Mr Devonside saw fans climbing over the gates of the pens and some police officers on the pitch track.
He said: "There were only a few police officers there and some of those police officers were endeavouring to help those who were in distress, those who were dying and those who were dead.
"I also saw police officers pushing back into pen three those who were fighting for their life to get out of that pen."
He described seeing another group of police officers come onto the pitch and form a line across the halfway line.
"They did absolutely nothing, stood there doing absolutely nothing to help those who were injured, dying or helping with the removal of those who were killed."
'Seriously, open the gates' Police audio released from the 1989 Hillsborough disaster
Timothy Knowles
A Liverpool fan who survived the crush
He described feeling paralysed from the neck down and unable to breathe.
"I thought this was the end of me, I recall I lost control of my bodily functions. The fear left me as I began to slip away."
Deborah Routledge
A Liverpool fan who survived the crush
She was pushed against the fence and was only able to take "short gasping breaths".
"I recall someone holding on to one of my ankles. I felt a loose grip for about two minutes and then the hand let go."
Frederick Eccleston
Liverpool supporter who attended with his son and a family friend
He he had been standing on the North West terrace when he noticed the central pens of the Leppings Lane terrace were "ram-packed full of people" whereas the pens to the side were "half-empty".
When the match was stopped he went on to the pitch to help and joined a police officer pulling fans out: "We both were pulling people out of that human cascade, it was like a waterfall with people tumbling on each other. I can remember pulling people by their arms, their legs, their hair, their cheeks."
Colin Moneypenny
A Liverpool supporter who was in a central pen
"I had no longer come to see a football match, I was having to concentrate on staying alive," he said, recalling becoming aware of a body underneath him before he escaped back through the tunnel.
"On leaving the ground on to Leppings Lane I saw a group of policemen laughing and joking between themselves."
Mr Moneypenny said he told one officer: "There are people dying in there."
He added: "He was obviously totally oblivious to problems inside the ground."
David Bullas
A police inspector who was on duty in the West Stand, above the terrace
He described seeing a "river of people" entering the central pens at about 3pm.
"The scene reminded me of the kind of pictures seen on television on nature programmes when molten lava is shown running down a hillside from an active volcano."
David Cannon
A photographer who documented the disaster
Mr Cannon said he could hear screaming and see people pushed against the perimeter fence, but police were not actively trying to help.
"They couldn't really have done anything at that point, it got to such a point," he added: "They weren't helpless, but the game shouldn't have started."
He walked along the pitch to tell Superintendent Bernard Murray to "f***ing stop the game" at 3.05pm.
Mr Cannon accepted police may have been "hard wired" to believe a pitch invasion was under way but "to layman like me it was so clear it was far beyond that".
Edward Higgins
Police sergeant who witnessed the first crush outside the Leppings Lane turnstiles
Mr Higgins helped alleviate the pressure and then received orders to go to the pitch, where he realised fans were injured behind the perimeter fences of pens three and four on the terraces.
"I know a couple of my serial [group of police officers] went to the metal barriers and tried to pull them, a couple of my stronger lads tried to pull the barriers down, the perimeter fence."
Additional reporting by PA