Birmingham prison was a 'ticking time-bomb waiting to happen', says former prisoner
The mass riot - across four wings of the prison - was eventually subdued by authorities after 12 hours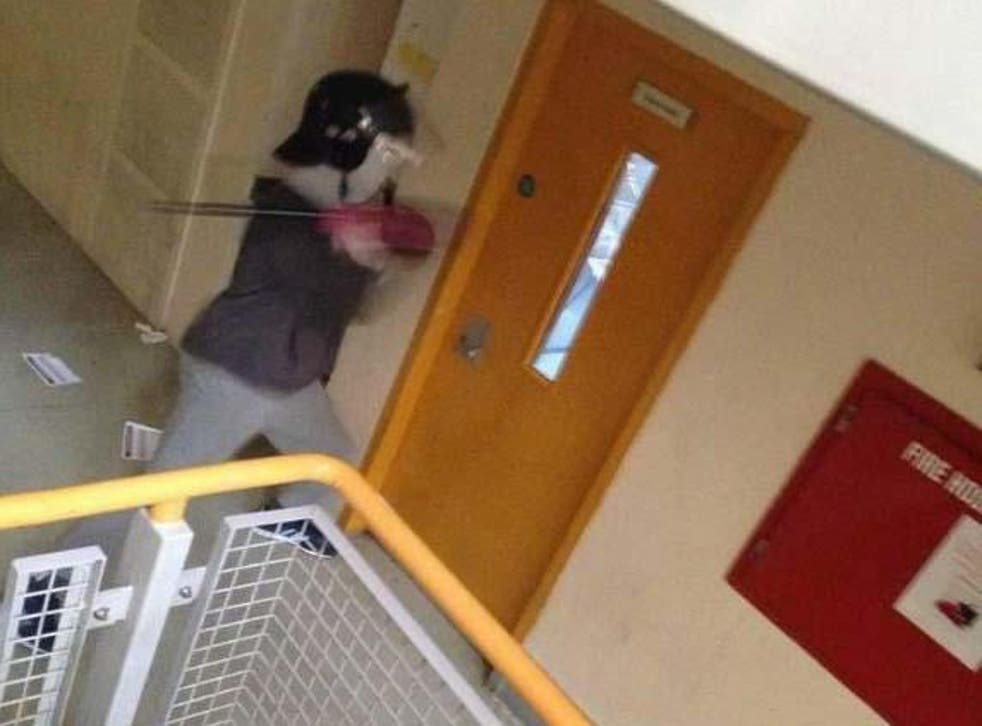 A mass riot that broke out at one of the UK's largest prisons on Friday was "a ticking time bomb waiting to happen", according to a former inmate and prison experts.
The disturbance at G4S-owned HMP Birmingham saw up to 600 inmates run riot across four wings after keys were reportedly taken from a member of staff at the jail.
Managers were forced to deploy "Tornado" team and riot squads from other parts of the country in an effort to contain the chaos, which raged for more than 12 hours before officers eventually regained control of all four wings just after 10:30pm.
One prisoner was reported to be "badly injured" as banging, barking dogs, firecrackers and the sound of cheering could be heard beyond the walls of the privately-run category B jail as authorities assembled outside. Inmates reportedly burned prisoner records and threw computers out of windows after gaining access to the jail's offender managment unit.
Images posted on social media, purportedly from inside the prison, showed inmates wearing officers' helmets and brandishing riot gear. They could not be independently verified.
While the direct cause of the riot was unclear, the Howard League of Penal Reform said overcrowding, under-staffing and under-resourcing had been "breeding frustration and violence" among prisoners, while the Conservative Chairman of the Commons Justice Committee said the "time bomb was ticking" as UK prisons were in "crisis".
Shadow justice secretary Richard Burgon meanwhile said the disturbances at the Birmingham jail were "hugely concerning", and accused Justice Secretary Liz Truss of "failing to get this crisis under control".
"It must be hoped that order can be swiftly and peacefully restored. This is only the latest in a number of disturbances across the prison estate," Mr Burgon added.
Wayne Broomfield, 43, a former prisoner at HMP Birmingham who spent three years behind bars, told The Independent he believed anger over poor conditions in the prison has been mounting for a long time.
Mr Broomfield, who was released in 2000, said: "These riots don't surprise me at all. It was awful in there. We would be banged up for 23 hours a day.
"You were supposed to go for an hour of exercise, but if they were short-staffed then you don't even get your exercise. If there was one officer short then you wouldn't go out. It was terrible being stuck in a cell all day just looking at the painted bricks.
"On my very first day in there I asked whether they had coffee instead of tea, and the officer said: 'f**k of you little tw** I'm not your mate, and no, you're having tea'. All you are in there is a number.
"The riots have been building up for a long time. It was a ticking time bomb waiting to happen."
Alex Cavendish, former prisoner and prison affairs academic, described the riot as "probably the most serious riot in a B category prison since Strangeways went up" in 1990, but said it was a predictable incident.
He told The Independent: "I've been predicting that this was going to happen in Birmingham for some months. It's terribly dysfunctional. There are too few staff, too many prisoners, and too many who have serious drugs problems who are being ignored and not provided with enough support.
"There have recently been problems with hot water and people being locked up for most of the day. There is also a lot of disquiet among prisoners over the very high rates of self-harm and suicide at the prison and a concern that officers aren't doing anything and that mental health support is virtually non-existent."
Andrew Neilson, director of campaigns at the Howard League for Penal Reform, said they had been warning of such outbreaks in recent months. "We've been saying for some time now that overcrowding, understaffing and under-resourcing the prisons was causing huge problems," he told The Independent.
"It has been self-evident in recent weeks from the fact that we've had more suicides behind bars in 2016 than in any other year on record, and that we've escapes from closed condition.
"Because of overcrowding and because of a lack of staff, prisoners are spending up to 23 hours a day locked in their cells doing nothing, and that is going to breed this kind of frustration, it's going to breed violence.
"It's a false economy, because the money that the Ministry of Justice will have to spend on these sorts of disturbances will run into the millions."
Conservative chairman of the Commons Justice Committee, Robert Neill, told Channel Four News the Government had been warned by his watchdog group of MPs that a "time bomb was ticking" as prisons were in "crisis".
"I think, frankly, we probably did reduce guards too many in the past, and it is good news, in response to our report, the current Justice Secretary has published a very comprehensive reform and safety plan, and is actually now recruiting extra guards, and that takes time to get them trained up," said Mr Neill.
"And, of course the emergency problem is now."
When it was suggested this could be the worst prison riot in years, Mr Neill said: "Certainly looking that way, yeah, and this is a problem which has happened both in privately and publicly-run systems, so it applies across the piece.
"I think that does indicate that we have got a situation where if people are locked down 22/23 hours a day, as we have discovered, that breeds tension, that breeds violence, and, as you rightly say, we are not actually keeping prisons secure enough to stop contraband getting in."
Mike Rolfe, national chairman of the Prison Officers Association, who last month protested over safety concerns, said the "serious incident" at the prison is "another stark warning to the Ministry of Justice that the service is in crisis".
A spokesman from the Prison Governors Association said the disturbance at the Birmingham jail "comes at a very difficult time for Noms on the back of recent riots and at a time when the prison estate is already bursting at the seams".
Managing director for G4S custodial and detention services, Jerry Petherick, said given the "scale of the incident and deployment of national resources" they had transferred "overall operational responsibility" to the Prison Service.
"Our command team remains on site and our staff will be actively involved in the recovery of the affected wings," he added.
The Ministry of Justice said the trouble was "contained, the perimeter is secure and there is no risk to public", adding that prisoners who "behave in this way" could spend "significantly longer behind bars".
Register for free to continue reading
Registration is a free and easy way to support our truly independent journalism
By registering, you will also enjoy limited access to Premium articles, exclusive newsletters, commenting, and virtual events with our leading journalists
Already have an account? sign in