I've never hit anyone, Justin Lee Collins tells court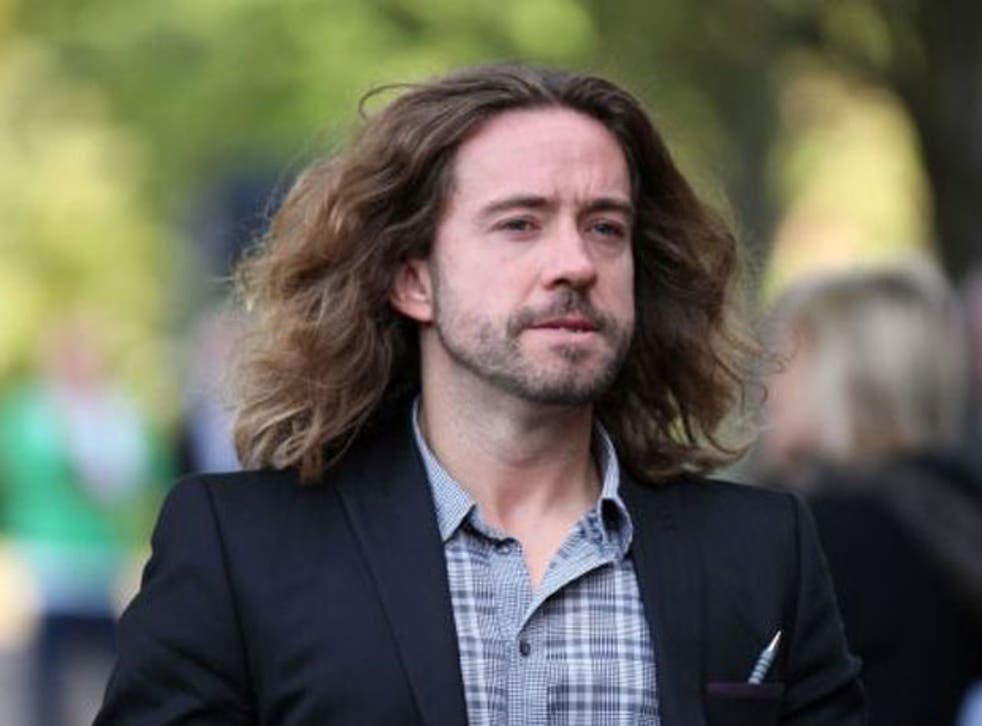 Comedian and television presenter Justin Lee Collins has never hit anyone in his life, he told his trial for domestic and emotional abuse today.
The 38-year-old is accused of slapping and harassing his ex-girlfriend, Anna Larke, during their nine-month relationship.
Today, police interviews the star gave after his arrest were read to the jury at St Albans Crown Court.
In them Collins told officers that Ms Larke, a recovering alcoholic, was possessive of him and believed he was going to go off with other women.
Ms Larke has claimed Collins attacked her in their Miami hotel room in March 2011.
Today, Collins said he had only ever slapped Ms Larke to calm her down when she was self-harming, which he claimed she did, once gouging her wrists and threatening to commit suicide.
Saying "she had a screaming fit" during a relapse in the hotel room, he said: "She would have episodes and I would try to calm her down.
"She was saying 'You are going to hit me, you are going to hit me', and I was saying 'What are you talking about?'
"I have never hit anyone in my life.
"I don't know where what she was saying comes from.
"A man came to the hotel room to ask if everything was all right."
Collins, who shot to fame with The Friday Night Project, denies harassing Ms Larke, a former video games public relations worker.
Collins said he spent £25,000 on Ms Larke during their relationship, "a ridiculous amount of money".
He told the nine women and three men of the jury that he was described as her "rescuer" by someone who attended Ms Larke's Alcoholics Anonymous meetings because he wanted to help her so much.
The prosecution has alleged that Collins, who met Ms Larke and began an extra-marital affair with her in 2006, made her write down every sexual experience she had ever had.
But today, in Collins's police interview, he said it was her idea as she had a "checquered colourful history" with sex and drugs and she "wanted to offload".
Describing her as "a very sexual creature", the comedian said he did not want to write down the sex details, which were meant to be burned after completion.
"I sat there with her but it was her idea," he said, describing it as "as graphic as it comes".
"Her way of therapy in some way, her decision."
Collins said he did not care if Ms Larke had slept with thousands of people, but he was interested to know what she had done because he was worried for his health.
She allegedly had unprotected sex with a man on a train and "arranged to meet people on the net for sex in hotels", Collins said.
The long-haired star betrayed his wife with Ms Larke after they met at a corporate event.
The pair continued their affair, but did not have sex, the defendant said, and ended their affair in autumn 2008.
But the couple resumed their relationship at the end of 2010 after the defendant's marriage finally broke down.
The pair moved in together in January last year in a rented property in Kew, south west London, but problems quickly developed between them.
In July last year they had a row at a pub which continued at home with Ms Larke recording it.
In it, Collins calls her a "dirty vile slag" and a "f****** sex addict".
After police played the recording to him in custody he said it was "not nice to hear" and was "weird to defend".
He said: "It is not nice to hear because I was clearly at the end of my tether," he added: "I was very angry, there were clearly lots of 'effs'."
"I have never heard her so quiet," he added.
"Because it is usually much more of a two-way thing but what she knew and I didn't know was she was recording it and letting me rant for the recording device...I was very angry, lots of bad words. I was right at the end of the line with it."
Asked by the interviewing officer if he had a temper, he answered: "I am not a temperamental person.
"Speak to my wife, family, anybody I have worked with it's incredibly rare to lose my temper."
Collins said towards the end of the relationship he was desperate for Ms Larke, whom he called "a compulsive liar", to leave.
When she did, the night after the pub row, he said it was a "release".
Collins defended his comments in the recording by saying: "I am sure we have all said far worse."
Collins has also alleged that Ms Larke tried to blackmail him for £20,000 saying if he did not pay she would report him to police.
When officers arrested him, originally on suspicion of assault, Collins said he was not surprised.
Collins said he had "a very significant issue" with Ms Larke's sexual history and that she would change her story about what she had done with some partners.
She told him a man she had sex with on a train wore a condom but three months later said they had not used protection, he said.
"Some of the things she told me made my hair stand on end," he said.
On the night of the pub row, the court heard Collins was also angry that Ms Larke had not come good on an offer to massage psoriasis steroid cream on him.
"It's in a few of my hard to reach regions," he said.
PA