Imam warns 'tentacles of Isis are spreading quickly' after Rochdale family arrested in Turkey
A baby and three-year-old child were among the group detained near the Syrian border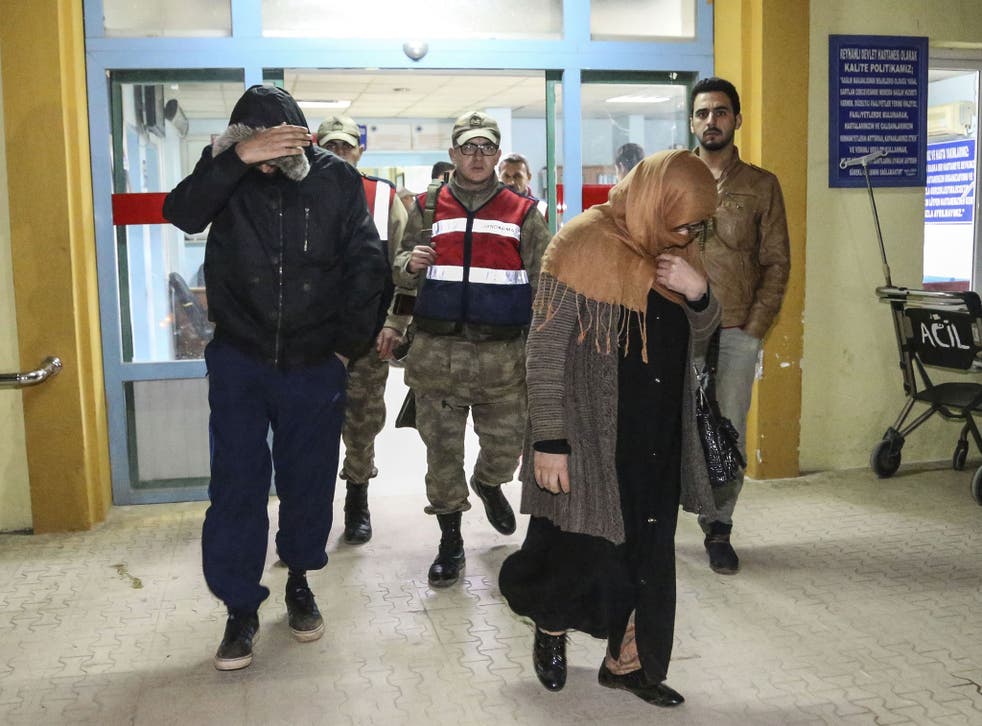 A British imam has warned that the "tentacles of Isis are spreading" after a family from Rochdale were arrested on suspicion of trying to reach Syria.
Waheed Ahmed, the 21-year-old son of a local councillor, was among the nine people detained in Turkey on Wednesday to be deported back to the UK.
Irfan Chishti, an imam from the Rochdale Council of Mosques, told the Guardian he would warn worshippers against radicalisation both by recruiters from the so-called Islamic State and online.
"No one is immune to it," he told the newspaper.
"The tentacles of Isis really are spreading so quickly, not just into homes but into palms, via the internet on phones."
Imam Chishti, who has worked with government anti-extremism programme Prevent, said the militant group was "not in any way Islamic" and that its violent narrative must be countered.
In a statement released after the group's arrest last week, he had called the involvement of young children in the alleged plot to reach Isis-controlled territory "extremely shocking" and said local mosques would continue working closely with police.
"We are confident that none of our member mosques are implicated in spreading the hate message of the extremists rather many are working hard to provide the counter narrative to extremism," the statement continued, according to Rochdale Online.
"Our message to the community at large has always been one of awareness - many parents still are oblivious to the dangers of the internet where grooming of all forms is rife."
Police were yesterday searching the home of Labour councillor Shakil Ahmed, who said he believed his son Waheed had been in Birmingham on a work placement.
Greater Manchester Police (GMP) said officers were trying to establish the group's reason for travelling to the Syrian border in Hatay province.
Waheed was detained along with two other men aged 24 and 22, two women aged 47 and 22 and four children aged one, three, eight and 11, police said, adding that they were all related and from Rochdale.
"No evidence whatsoever" of any imminent threat to the Rochdale community or elsewhere in the UK has been uncovered, officers stressed.
Mr Ahmed, a councillor who represents the Kingsway ward on Rochdale Borough Council, said he was "shocked, worried and extremely upset" to hear news of his son's arrest.
"It's a total mystery to me why he's there," he added.
"My son is a good Muslim and his loyalties belong to Britain, so I don't understand what he's doing there. If I thought for a second that he was in danger of being radicalised, I would have reported him to the authorities."
Waheed had been studying for a degree in politics and sociology at Manchester University.
Assistant Chief Constable Ian Wiggett said: "What is obviously concerning is why a family were seemingly attempting to take very young and vulnerable children into a war zone. Such a volatile and dangerous environment is no place for them whatsoever."
On Friday, five men and a woman aged between 23 and 28 were arrested at the port of Dover on suspicion of Syria-related terror offences.
Around 600 Britons have travelled to Syria and Iraq since the conflict began, the Metropolitan Police believe, while around half are believed to have returned to the UK.
Additional reporting by PA
Register for free to continue reading
Registration is a free and easy way to support our truly independent journalism
By registering, you will also enjoy limited access to Premium articles, exclusive newsletters, commenting, and virtual events with our leading journalists
Already have an account? sign in
Register for free to continue reading
Registration is a free and easy way to support our truly independent journalism
By registering, you will also enjoy limited access to Premium articles, exclusive newsletters, commenting, and virtual events with our leading journalists
Already have an account? sign in