Smugglers 'abusing' soft Ireland border checks to get people into UK, National Crime Agency warns
Exclusive: Organised criminals moving human cargo to Ireland via Schengen zone and then exploiting common travel area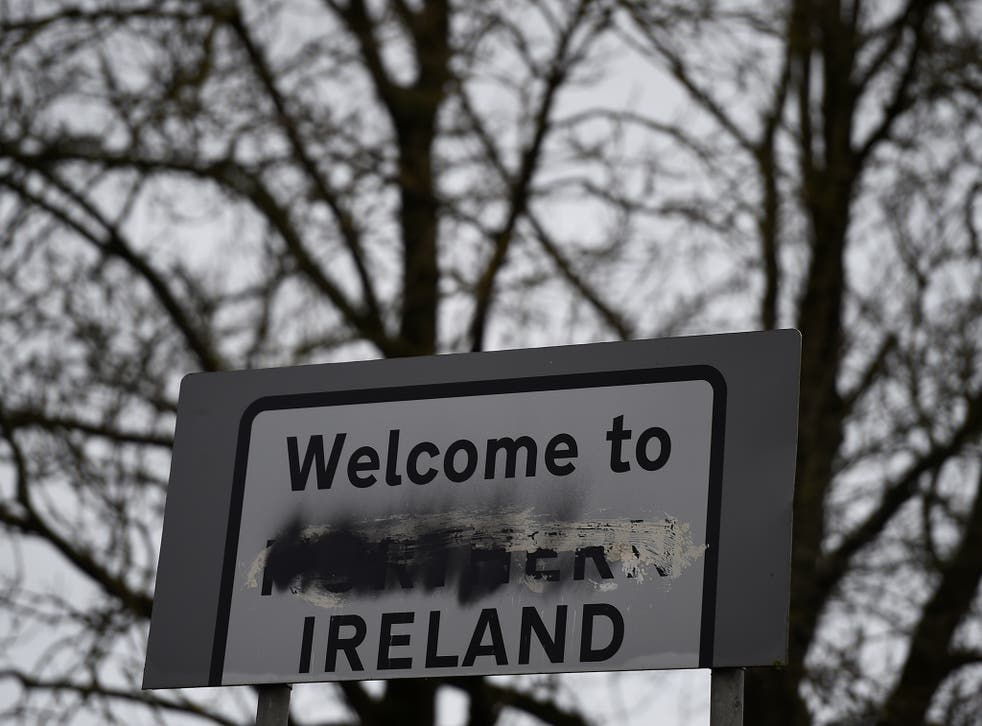 People smugglers are "abusing" soft border controls between Ireland and the UK to get their human cargo past authorities, the National Crime Agency (NCA) has warned.
Officials told The Independent they were concerned about an increase in the number of gangs found to be working through the common travel area, which the government has said it wants to maintain after Brexit.
Passports are not currently required for British and Irish citizens travelling between the two countries, and although air and sea carriers say they require some form of identification, documents are not always checked.
In January, six Indian nationals were arrested as they attempted to board flights to the UK from Ireland using counterfeit passports supplied by a man in Dublin.
In another recent case, a gang stands accused of smuggling people from Georgia into Britain from Ireland, while a Vietnamese group was found to be trafficking workers into nail bars along the same route and several factories producing counterfeit documents have been seized.
House of Lords vote out proposal for 'checks and controls' at Irish border after Brexit
Tom Dowdall, deputy director of the NCA who leads on human trafficking, said organised crime groups are "changing their modus operandi".
"People from eastern Europe and further afield are coming into the UK via the common travel area through the Republic of Ireland," he said.
"Some are flying into Ireland and travelling into the UK by air or ferry, and we have also seen coaches going to Ireland."
In several cases discovered so far, gangs have been giving migrants fake passports, with some instructed to destroy them mid-flight to cover their tracks.
Earlier this year the NCA led an international operation that saw 12 members of a gang arrested for providing false documents and cash from a factory in eastern Europe.
In the Georgia case, migrants were allegedly given forged identity papers that allowed them to work in Britain.
Officials are monitoring a wider flow of clandestine Georgian migrants since the European parliament voted to allow them to travel into the Schengen zone without visas last year.
"They would fly into Dublin and seek asylum in the knowledge that they would not be detained before any onward movement into the UK," an NCA official said.
The agency says it is also aware of groups who exploit the common travel area by giving illegal migrants false evidence of a history of living in Ireland, and therefore allowing them to enter Britain.
"Certain nationalities are already coming into the UK inadequately documented," Mr Dowdall said. "They get on a plane with documents but come off without, they destroy them. Iranians are paying £20,000 to £30,000 to get to the UK. It's a very expensive way of doing it."
Mr Dowdall said organised crime groups were moving people directly from source countries or attempting to disguise their routes.
"Quite often we see movements from the likes of Vietnam for example flying via Moscow, then into western Europe and on into the UK," he added.
"These are not new routings but organised crime groups and use those that have perhaps become more fashionable for them, more easy or because they are able to eliminate barriers on those routes.
"There are examples of where they are able to corrupt either public officials or people involved in the transport industry along that routing.
"We will see things spring up very quickly and then we work to stem that with partners in host countries."
Mr Dowdall said he could not yet estimate the number of immigrants illegally entering the UK via the common travel area, but stressed that the main route for clandestine arrival was still sea ports in southern England.
"You can simply get lost in the traffic that comes through the likes of Dover or the Channel Tunnel," he added. "Although we see episodes of people coming to other ports and abuses of things like small vessels, rigid inflatable boats and yachts, these are not methods that would be used in significant volume."
On Thursday an Albanian people smuggler was jailed for six years for trying to sail eight other Albanians into the UK in an inflatable boat.
Brexit threatens life on the Irish border: in pictures

Show all 15
Afrim Xhekaliu, 41, made an emergency call in the early hours of 31 January as the rigid inflatable boat he was sailing got lost in the freezing English Channel after setting off from France.
The RNLI found him at the controls wearing a life jacket and wetsuit, while the seven other men and a woman on board were poorly dressed and suffering from hypothermia.
Smugglers' preferred transit method of lorries can also be life-threatening, with 68 people found crammed into lorries in the Essex port of Harwich in 2015 and the bodies of 71 asylum seekers from Iraq, Syria and Afghanistan found decomposing in a lorry in Austria that same year.
Mr Dowdall said Belgium was a "prevalent" exchange point for people smugglers loading up vehicles to send onwards to the UK, dodging surveillance at service stations before driving onwards to Calais.
"Some of the drivers are being duped but an increasing number are complicit," he added.
The NCA is working with French, Belgian and Dutch police to detect people smuggling across the English Channel and North Sea.
A Home Office spokesperson said the Garda National Immigration Bureau, Police Scotland and other authorities are tackling abuse of the common travel area with intelligence-led checks and enforcement operations.
"There is a high level of cooperation between the UK and Irish governments to disrupt organised crime groups and tackle organised immigration crime, modern slavery and human trafficking," he said.
"This includes joint investigations and operational activity and the sharing of best practice."
Register for free to continue reading
Registration is a free and easy way to support our truly independent journalism
By registering, you will also enjoy limited access to Premium articles, exclusive newsletters, commenting, and virtual events with our leading journalists
Already have an account? sign in