Autistic teenager who planned Isis-inspired terror attack in Cardiff jailed for life
Lloyd Gunton left a note declaring himself a 'soldier of the Islamic State' after researching potential targets including a Justin Bieber concert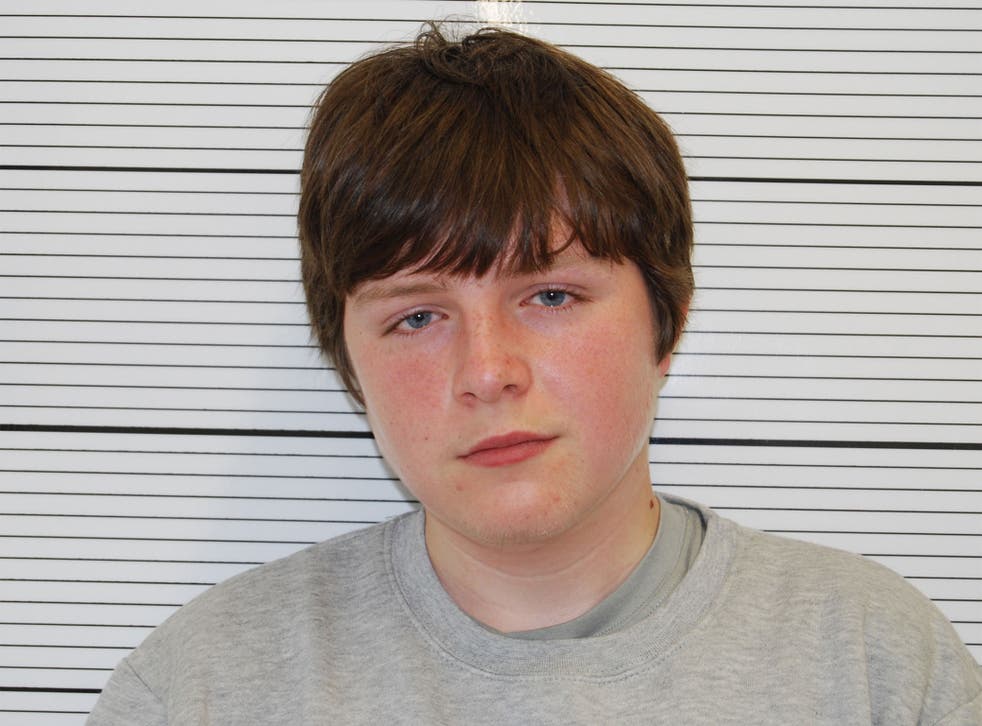 A teenage Isis supporter who was arrested hours before launching a planned terror attack in Cardiff has been jailed for life.
Lloyd Gunton, 17, declared himself a "soldier of the Islamic State" in a note intended to be read after he rammed a car into victims in the Welsh capital, before massacring as many people as possible with a knife and hammer.
He had researched a Justin Bieber concert to be held that night, which was among potential targets including the Castle Quarter, New Theatre, Capitol shopping centre and Central Library.
Birmingham Crown Court heard the Welsh teenager was autistic and had been heavily influenced by the Isis propaganda he consumed online.
Judge Mark Wall QC handed him an indeterminate life sentence with a minimum of 11 years, which would have been higher if not for his autism, age and previous good character.
"I sentence you on the basis that at the time of your arrest you were within hours of committing an act of atrocity on the streets of Cardiff", the judge said.
"You were committed to carrying out the attack throughout a protracted period, a commitment best demonstrated by your martyrdom letter and open support for Isis on Instagram.
"You were dedicated to the cause for approximately one year: this was no passing phase … You are at high risk of re-offending and if you do, you pose a high risk of causing the public serious harm."
Justice Wall said that autism had made Gunton "something of a loner and someone more easily impressed by the things you read on the internet".
"Yours is not a condition from which you will recover", he added.
"It is important that, having been tempted to commit a serious offence such as this, you are under some form of supervision for the rest of your life."
Gunton, who had a provisional driving licence, planned to steal a vehicle and drive it into a crowd of "non-believers" before inflicting as much damage as possible with a knife and hammer before being killed by police.
The plot repeats those carried out in Westminster and London Bridge and follows instructions sent out by Isis in online propaganda magazines translated into multiple languages and distributed around the world, which have advised fanatics on what vehicles and weapons to use to maximise bloodshed.
The terrorist group has been intensifying calls for lone-wolf terror attacks since huge territorial losses and security crackdowns made it harder for supporters to journey to Syria and Iraq to fight.
Security services have warned that "remote radicalisation" online has made plots quicker to develop and harder to detect, with would-be attackers like Gunton drawing up their plans without ever meeting another extremist in person.
Justice Wall said it was impossible to estimate how many people could have been killed but said Gunton's intent was "mass murder" with a total disregard for human life.
Police found a rucksack in the A-level student's bedroom that contained a knife, a hammer and martyrdom letter proclaiming his intentions.
"I am a soldier of the Islamic State and I have attacked Cardiff today because your Government keep [sic] on bombing targets in Syria and Iraq," said the handwritten note. "There will be more attacks in the future."
It featured bullet points including "run down the non-believers with a car" and "strike the infidels, who oppose Allah, in the neck" and ended with the words: "In the name of Allah, may terrorism greet your country. May there be more bomb and vehicle attacks with Allah's permission."
Gunton claimed he had spoken to a man on Instagram who "told him he needed to commit a terrorist act if he wanted to go to paradise".
The boy had downloaded two editions of an Isis propaganda magazine containing detailed instructions on stabbing attacks, including what knife to use, where to stab someone to cause the most harm, and how to carry out vehicle massacres.
His Instagram password was "truck attack", with the account including photos of terrorists, the black flag used by Isis and posts encouraging a terrorist attack in Cardiff.
"Cardiff, are you ready for our terror," one asked, while a promotional poster for Justin Bieber's concert at the Principality Stadium on 30 June was found on his computer, alongside a search for information the event and its security.
The court heard that Gunton's interest in violent extremism dated back to summer 2016, with his internet history including searches for "Isis beheading video", "Isis terrorist attacks", "police car UK armed response", "how to create a terror attack", "driving a lorry into a crowd of people" and "what does getting shot feel like".
He had also looked up information on the murder of Fusilier Lee Rigby, carried out by two Islamist extremists linked to Anjem Choudary, and the Isis-linked lorry attacks in Nice and Berlin.
Gunton denied intending to harm anyone but was convicted of preparing an act of terrorism and encouraging terrorism after being arrested in June 2017.
UK news in pictures

Show all 50
He was also found guilty of two counts of encouraging terrorism by posting extremist material on Instagram, and two charges of possessing Isis propaganda magazines after jury deliberations lasting for more than four hours.
The teenager was named for the first time following the sentencing hearing on Friday after the judge lifted the automatic anonymity granted to minors in court at the request of journalists.
MI5 and specialist counter-terrorism units in Wales and the West Midlands were involved in the investigation, which culminated in Gunton being detained at his family home near Llantrisant on 30 June.
Detective Superintendent Jim Hall, head of the Wales Extremism and Counter Terrorism Unit (Wectu), said he hoped the sentence would serve as a deterrent to other potential attackers.
"This case has highlighted the ongoing concerns with young people gaining access to extremist material on the internet and how quickly that can lead to radicalisation," he added.
"Wectu will continue to protect local communities by working with MI5, other partners and the CPS to pursue and prosecute all those who show support for illegal and extremist organisations or who seek to spread hate and terror."
Thousands of children have been referred to the Government's counter-extremism programme and the strategy is being reviewed in the wake of revelations that some of the terrorists who committed five attacks in the UK last year were known as potential threats.
A further 10 Islamist and four far-right plots have been foiled in the past year and security services have warned that the terror threat continues to rise.
Authorities are increasing efforts to remove online propaganda of the kind used in the Welsh case, which remains available as Isis continues to use the Telegram messaging app and shifting websites to spread its message.
Ministers have warned that terrorists are using online grooming to inspire potential terrorists, including children and vulnerable people, while the "remote radicalisation" has made plots faster to develop and harder to detect.
Additional reporting by PA
Register for free to continue reading
Registration is a free and easy way to support our truly independent journalism
By registering, you will also enjoy limited access to Premium articles, exclusive newsletters, commenting, and virtual events with our leading journalists
Already have an account? sign in
Register for free to continue reading
Registration is a free and easy way to support our truly independent journalism
By registering, you will also enjoy limited access to Premium articles, exclusive newsletters, commenting, and virtual events with our leading journalists
Already have an account? sign in