Jason Marshall: Double killer jailed for life after 'sadistic' murder of Peter Fasoli caught on camera
'I'm sure that you can have felt no remorse whatsoever for what you have done – on the contrary, you derived pleasure from it'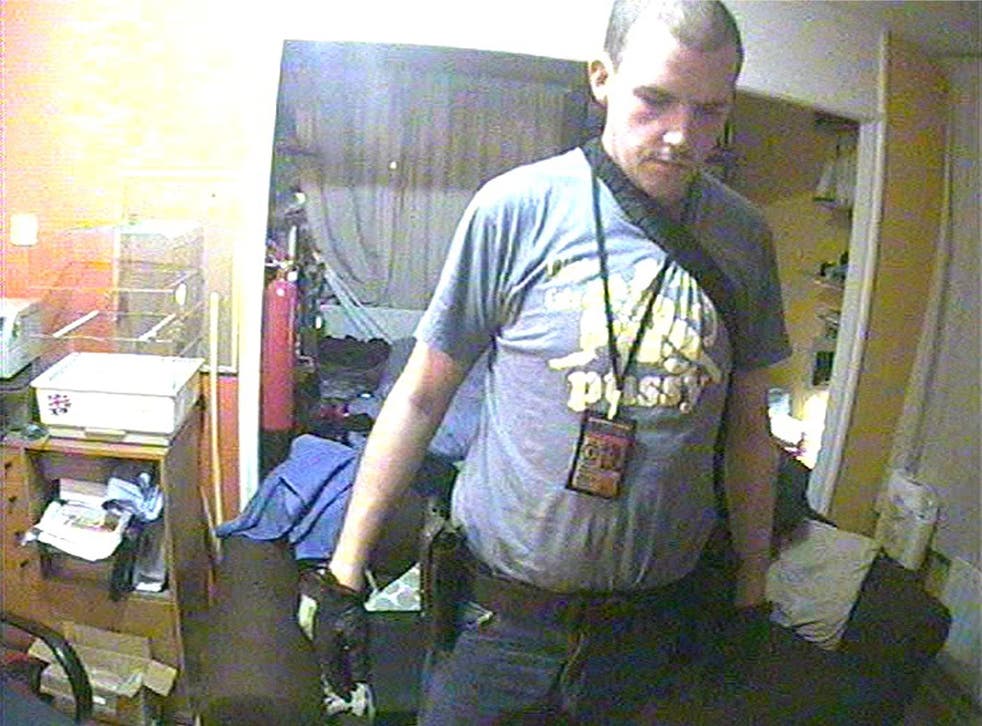 A "sadistic" killer who was caught on camera torturing a vulnerable gay man in his own home has been jailed for at least 39 years.
Jason Marshall, 29, posed as an MI5 agent then stripped, gagged, handcuffed and smothered 58-year-old Peter Fasoli with cling film. Fasoli begged for his life when Marshall threatened him with a knife before killing him.
He stole his bank cards and PIN numbers, and torched his flat to cover his tracks in January 2013. He then fled to Italy, where he killed again and attacked a third man before being caught.
Fasoli's death was put down as an accident until his nephew stumbled across harrowing webcam footage of his last hours on his uncle's computer hard drive.
Following a trial at the Old Bailey, Marshall was found guilty of murder and arson.
On Tuesday Judge Nicholas Hilliard QC sentenced him to life with a minimum of 39 years for the "sadistic" killing.
He said: "I am sure you were motivated by a desire to cause Fasoli pain without his consent, which would be a significantly greater source of pleasure or gratification to you. You tortured him for so long because you enjoyed it so much.
"I'm sure that you can have felt no remorse whatsoever for what you have done. On the contrary, you derived pleasure from it."
The defendant had met Fasoli on gay dating website Badoo and arranged to meet him at his bungalow in Northolt, west London, on the pretext of a bondage sex session but with the plan of robbing him.
He stole £780 in the days following Fasoli's death and used his bank card to buy a flight to Italy where he continued his violent spree in Rome.
Computer repairman Fasoli's murder went undiscovered for nearly two years until his nephew Christopher Murgatroyd found the footage while looking for family tree research on his fire-damaged hard drive.
Jurors were shown the footage in which Myleene Klass's Classic FM radio show can be heard playing in the background.
Marshall, from East Ham, east London, who is already serving 16 years for the attacks in Italy, claimed to be suffering from amnesia.
Mitigating, Tomas Quinn said his client had a "bizarre" history of impersonating police officers, ticket inspectors and special constables. But he was not sophisticated, deliberate, long-term targeted or focused in his crimes, he said.
Prosecutor Ed Brown QC told the court Fasoli's sister Ann Murgatroyd had come to court but her son Christopher was still too upset. He said: "Mrs Murgatroyd is here. The finding of the very distressing footage for her son, and nephew of the deceased, has plainly had a significant impact on both parties.
Her son has not felt able to come and he continues to be distressed by what he saw and therefore his part in this sorry affair."
Judge Hilliard had asked for more information about why the initial police investigation did not examine Fasoli's bank records or social media activity. He said: "I express the hope that someone who is in a position to do so, so far as the Metropolitan Police is concerned, will look at whether procedures for investigations are significantly comprehensive and robust in such circumstances."
Mr Brown told the court a Detective Superintendent had looked "very carefully" at what happened and found there was "no breach of any procedure".
Detective Inspector James Stevenson, of Scotland Yard, said he was "very pleased for the family" of Marshall's victim.
He said of the killer: "He is clearly a very sadistic individual. He has a psychopathic personality disorder but does not have a treatable mental illness."
PA
Register for free to continue reading
Registration is a free and easy way to support our truly independent journalism
By registering, you will also enjoy limited access to Premium articles, exclusive newsletters, commenting, and virtual events with our leading journalists
Already have an account? sign in
Register for free to continue reading
Registration is a free and easy way to support our truly independent journalism
By registering, you will also enjoy limited access to Premium articles, exclusive newsletters, commenting, and virtual events with our leading journalists
Already have an account? sign in