Former British soldier jailed for antisemitic speech where he incited supporters to 'free England from Jewish control'
Crown Prosecution Service initially decided against charging Jeremy Bedford-Turner but reversed decision following judicial review 
Lizzie Dearden
Home Affairs Correspondent
Tuesday 15 May 2018 16:31 BST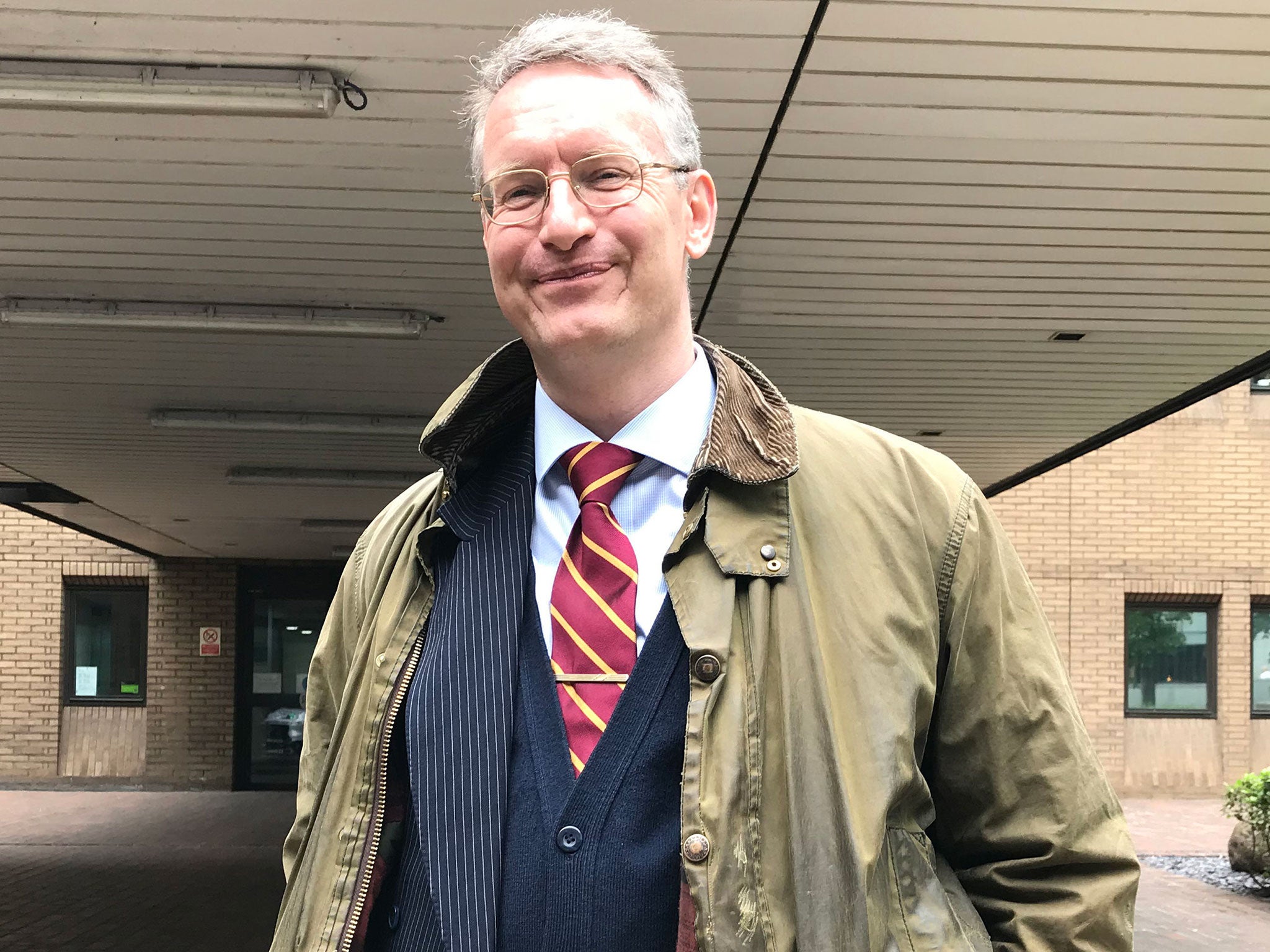 A former soldier has been jailed for a speech where he incited people to "free England from Jewish control".
The Crown Prosecution Service (CPS) initially decided against bringing charges against Jeremy Bedford-Turner, but reversed the decision after a judicial review was launched by the Campaign Against Antisemitism (CAA).
The 48-year-old, who is well-known for his involvement in extreme right-wing groups, gave the speech in central London in July 2015.
At the end of a protest which claimed to be against the Shomrim Jewish civilian patrol group, his rambling 15-minute tirade included a string of conspiracy theories about Jewish people.
"This is England, this is our land… We want our country back and we are going to take it back," Bedford-Turner said, before calling on a small group of supporters to "free England from Jewish control".
He added: "Listen soldiers, it's time we liberated our own country."
Most of his supporters were outflanked by counter-protesters, but he reached a wider audience after a video of his speech was uploaded to YouTube.
Bedford-Turner, of Lincoln was jailed for a year at Southwark Crown Court after a jury convicted him of stirring up racial hatred.
He bowed and saluted about 35 supporters including musician Alison Chabloz, who is also on trial, accused of writing and performing antisemitic songs.
Bedford-Turner, who served for 12 years in the Army, was given a standing ovation as he was led to the cells.
Under cross-examination during his two-day trial, he had admitted wanting all Jews including children to leave the UK.
Prosecutor Louis Mably QC said the defendant was "absolutely obsessed" with Jewish people and that he "despised" them.
Judge David Tomlinson described Bedford-Turner's speech as "sinister" and "poisonous", adding that he did intend to stir up racial hatred through his "comprehensive characterisation in a derogatory way of an entire race".
The Campaign Against Antisemitism said verdict was a "damning indictment" of the CPS and its outgoing head Alison Saunders.
"The real question is why the Director of Public Prosecutions and CPS got this so dismally wrong," said its chairman Gideon Falter.
"CAA had to battle the CPS in court since 2015 to force them to prosecute this case, but a speech that took us and a jury moments to understand as a clear-cut case of incitement was repeatedly and wrongly dismissed by the CPS as not only not an offence of incitement, but not even a lesser offence.
"This was always a matter of basic law and common sense."
Mr Falter said that British Jews were losing faith in the authorities to prosecute antisemitic hate crimes amid rising reports to police.
A CPS spokesman rejected the claims, and said the DPP had made tackling hate crime a "priority", pointing out that it prosecuted more than 12,000 offences that were racially or religiously-aggravated last year, with a conviction rate of 84 per cent.
"It is categorically untrue to claim the CPS does not take prosecuting anti-Semitic crime seriously," he added.
After campaigners reported Bedford-Turner's speech to the Metropolitan Police, they said he was interviewed by lawyers but senior CPS lawyers decided not to take the case forward because they believed there was no realistic prospect of conviction for racial or religious hatred.
The CAA issued judicial review proceedings at the High Court and on the eve of a hearing in March last year, the CPS agreed to quash the original decision and put a more senior lawyer on the case.
Bedford-Turner gloated about not being sent to prison and remaining "just within the law" at a London Forum event in January 2016.
But in February last year, he chaired another meeting of the group that was infiltrated by an undercover Independent reporter.
It saw Holocaust denier David Irving speak alongside other antisemitic conspiracy theorists who claimed Auschwitz was "like Disneyland" and that the Holocaust was "gossip", "propaganda" and a "rumour".
United Against Fascism said Bedford-Turner claims to have previously been involved with the National Front and the British National Party, and been thrown out of the Army after officers discovered he was a fascist.
Additional reporting by PA