Jimmy Savile hospital abuse: A 'sickening and prolific' reign of terror which spanned five decades
214 criminal offences, including 34 rapes, have so far been recorded against his name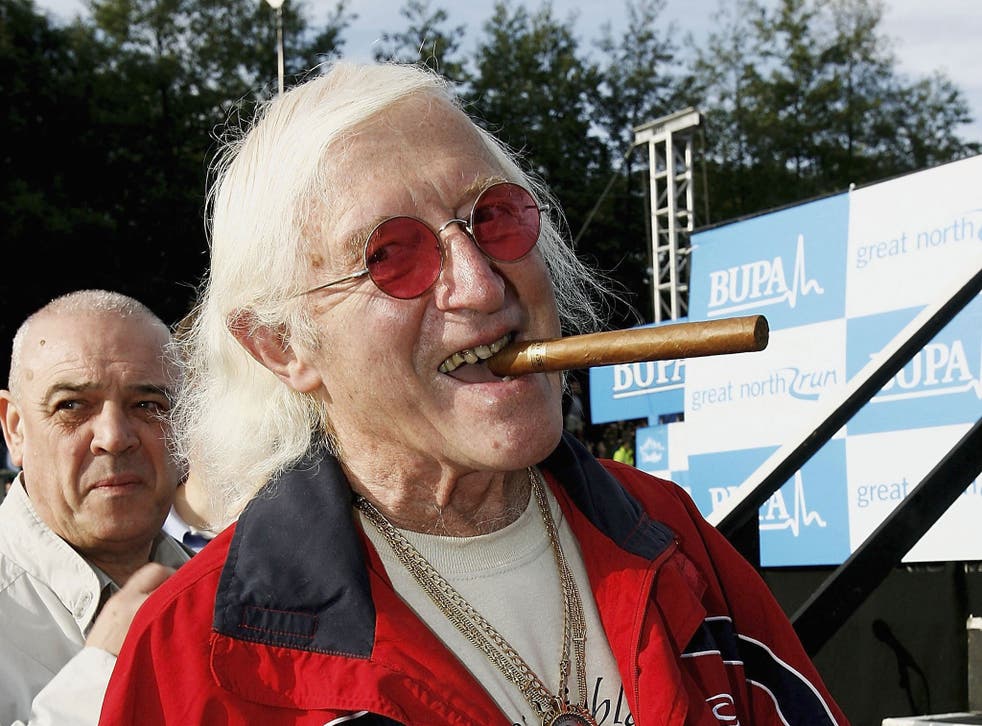 Jimmy Savile spared no one in the half a century he manipulated his way into hospitals abusing and raping staff, patients and visitors in wards, corridors and even offices that had been handed to him by NHS bosses blind to the scale of his depravity.
His victims – men and women, boys and girls – ranged in age from children as young as five to pensioners in their 70s as his horrific crimes went unchallenged until after his death aged 84 in 2011.
Several victims spoke out at the time, claiming they were assaulted, but all were ignored according to a wide-ranging investigation carried out at 28 NHS Trusts published today, that uncovered a catalogue of abuse at Broadmoor and Leeds General Infirmary, both of which Savile had close connections to. No individual was blamed for allowing the "opportunistic sexual predator" to thrive but the reports said hospital managers "didn't want to hear or believe" about Savile's activities.
Health Secretary Jeremy Hunt apologised on behalf of the Government and the NHS to all Savile's victims. Describing Savile as a "callous, opportunistic, wicked predator", he said systems had been "too weak" to deal with their complaints and that "little or no action" had been taken at the time.
At Leeds, where the former Top of the Pops presenter worked in the 1960s and 70s as a volunteer porter, 60 people told investigators they were abused – 33 of them patients, 19 of them children – including staff and several female victims who met him at the hospital. The attacks occurred between 1962 to as recently as 2009 when Savile was 82, although investigators said he was most prolific in the first 15 years he worked at the Infirmary.
Encounters, which ranged from lewd remarks to inappropriate touching, sexual assault and in three cases rape, took place on wards, in lifts, in corridors, in offices and off site in a local café – even in his mother's house and in his camper van, which he parked in the hospital car park, said the report.
Nine of his victims told a member of staff directly or indirectly via their parents about the assaults but the investigation found no evidence that managers were informed of any reports of abuse. A member of staff who complained of Savile's abuse in 2003 was dismissed by her line manager for making "silly comments".
Dr Sue Proctor, who led the Leeds investigation, said the manager had been dismissed before her inquiry began and described the encounter more than a decade ago as "a missed opportunity".
Far more disturbing behaviour concerned Savile's unrestricted access to the mortuary thanks to his friendship with the chief mortician. Savile often gave interviews declaring his fascination with dead bodies, including one where he revealed he slept next to his mother's corpse for five days.
Dr Proctor acknowledged his interest in the dead was "pretty unwholesome" and did not dismiss the "incredibly harrowing" claims that Savile committed sex acts on corpses though found no evidence to prove he did so.
A former nurse at Broadmoor also claimed Savile had said he used to pose male and female dead bodies together for photographs while two witnesses told investigators that Savile claimed to have had jewellery made from glass eyes taken from corpses. One asked Savile about the "bulbous ring" he was wearing. "It's made from the eyeball of a dead friend," Savile told the hospital employee.
His relationship with the Infirmary began in 1960 and continued until his death 51 years later. The report said: "Of the victims from the Leeds Teaching Hospitals NHS trust or its predecessor bodies, ages ranged from five years to 75 years. 19 children and 14 adults were patients at the time of their abuse. In addition 19 members of staff reported abusive or inappropriate encounters with Savile. The majority of Savile's victims were in their late teens or early 20s at the time of the encounter."
Peter Watt, national services director at the NSPCC, said: "To hear that some hospital staff may have actively facilitated Savile's abuse of children is sickening and takes the scandal of his crimes to yet another abhorrent level."
Savile's association with Broadmoor began in 1968 and lasted more than 30 years. He even took on a managerial role having been appointed to lead a task force set up to run the high security hospital in 1988. Investigators received descriptions of 11 allegations, two from males, of sexual abuse - six involving patients, two staff and three children.
Savile secured his own set of keys at Broadmoor allowing him to walk unannounced onto female wards bypassing all the necessary checks. The report described a culture were inappropriate sexual liaisons between staff and patients were tolerated and reporting abuse was strongly discouraged. It said: "All of this played into Savile's hands."
Until the late 1980s, female patients were obliged to strip in front of staff to change into nightwear or to bathe. Savile watched, and also looked through doorways at female patients bathing while making inappropriate comments.
The Broadmoor report said there was "lax" observance of procedures adding: "Savile could be charming and persuasive, at least to some, but at the same time he was grandiose, narcissistic, arrogant and lacking any empathy. He was also very manipulative and many staff were convinced that he had close connections in high places and had the power to have them dismissed".
The DJ used his Broadmoor accommodation and caravan "to entertain a regular stream of female visitors, none of whom were patients". His unfettered access only came to an end in 2004 with the introduction of a new security system.
Investigator Dr Bill Kirkup said his report's findings are "likely to represent an underestimate of the true picture". Broadmoor Chief Executive Steve Shrubb said that the hospital has been transformed since Savile's time, but for his countless victims the horror remains.
Mr Hunt told Parliament: "At the time the victims who spoke up were not believed and it is important today that we all publicly recognise the truth of what they have said. But it is a profoundly uncomfortable truth. In reality [Savile] was a sickening and prolific sexual abuser who repeatedly exploited the trust of a nation for his own vile purposes."
A joint review by the Metropolitan Police and NSPCC into the Savile allegations saw 214 criminal offences, including 34 rapes, recorded against his name across the UK between 1955 and 2009. Claims from the report that some of the abuse happened in hospital settings triggered the separate NHS investigations.
A key report into Savile's activities at Stoke Mandeville Hospital has been delayed after new information recently came to light while a "lessons learned" report on the Savile investigations for the Department of Health will be published in the autumn.
Register for free to continue reading
Registration is a free and easy way to support our truly independent journalism
By registering, you will also enjoy limited access to Premium articles, exclusive newsletters, commenting, and virtual events with our leading journalists
Already have an account? sign in
Register for free to continue reading
Registration is a free and easy way to support our truly independent journalism
By registering, you will also enjoy limited access to Premium articles, exclusive newsletters, commenting, and virtual events with our leading journalists
Already have an account? sign in