Jimmy Savile 'would run his lips up arms of young female assistants' while visiting St James's Palace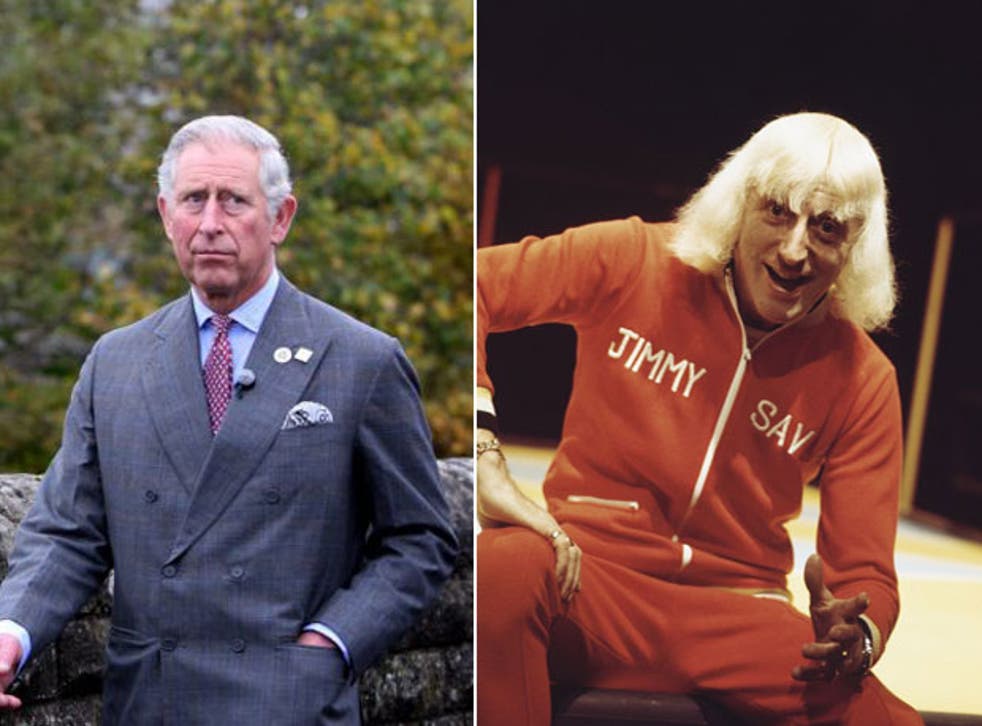 Jimmy Savile would greet young female staff members at St James's Palace by running his lips up their forearms, giving rise to "concern and suspicion" according to one former senior aide to the alleged paedophile's friend the Prince of Wales.
Dickie Arbiter, who dealt with the media on behalf of the Queen and the Prince, said he was unsure of Savile, who he called a "court jester".
"He would walk into the office and do the rounds of the young ladies taking their hands and rubbing his lips all the way up their arms if they were wearing short sleeves," said Mr Arbiter.
He added: "If it was summer [and the ladies' arms were bare] his bottom lip would curl out and he would run it up their arms. This was at St James's Palace. The women were in their mid to late 20s doing typing and secretarial work."
Mr Arbiter said that some of the women inside the Palace thought Mr Savile's behaviour "rather funny". He added that "there was a limit to what he could get away with in the royal household" and that his behaviour was a source of some worry.
"I looked at him as a court jester and told him so," said Arbiter. "I remember calling him an old reprobate and he said 'not so much of the old'."
The Prince and Mr Savile first met as they did charity work and became friends. Charles was reportedly a guest at Mr Savile's house in Scotland, which was recently daubed with graffiti including the words "Jimmy the Beast".
Charles is said to have sent Mr Savile a box of cigars and a pair of gold cufflinks on his 80th birthday, along with a note which read: "Nobody will ever know what you have done for this country Jimmy. This is to go some way in thanking you for that."
Greeting Prince Charles at his home, Mr Savile is believed to have asked three local women to dress up in pinafores bearing the letters HRH, prompting Charles to send him a Christmas card reading: "Jimmy, with affectionate greetings from Charles. Give my love to your ladies in Scotland."
A spokesman for the Prince said: "We have no record of anyone making a complaint. The Prince first met Savile through their shared interest in supporting disability charities [the Prince became patron of the British Wheelchair Sports Foundation in the late 1970s] and it was primarily because of this connection that they maintained a relationship in the years that followed."
Despite Mr Arbiter's concerns, the Prince's spokesman said that the Palace has "no record of anyone making a complaint".
Savile also asked Prince Charles to join him for a photo opportunity as he picked up his pension money at the local post office. "The post office photo opportunity was definitely him [Savile]," said Coleen Harris, Prince Charles's press secretary. "You always think that other people are getting more out of these things [than the Prince] but on the whole it is for a good reason, for the charities and it is a positive thing."
She added: "Personally, I always thought he was slightly eccentric, but beyond that I had no idea. He was a slightly odd bloke, but not in a cruel way."