Joss Stone: Apart from police saying someone was trying to kill me, it was a really nice day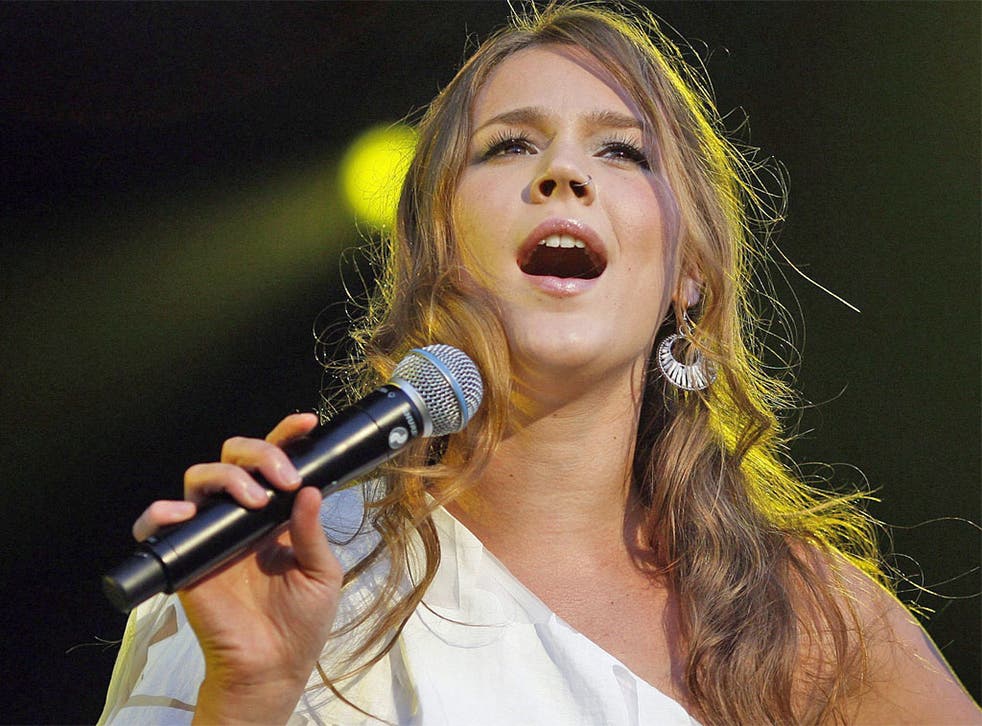 The singer Joss Stone today described to a court how "a really nice day" was spoilt by the arrival of a police officer at her Devon home to explain that two men had been arrested nearby on suspicion of plotting to rob and murder her.
The 25-year-old star told a jury that she had not been in the habit of securing her countryside home in mid-Devon and rarely switched on her alarm until after she was informed of the alleged attempt to kill her in June 2011 by Kevin Liverpool and Junior Bradshaw.
The pair were arrested shortly after breakfast on 13 June and found with an arsenal of weapons, including a samurai sword and a metal spike, in the boot of their Fiat Punto, along with gaffer tape and bin bags. The men, from Manchester, deny charges of conspiring to murder and rob Miss Stone.
The singer told Exeter Crown Court that she had been at home on the day the two men arrived to carry out their alleged plot but knew nothing until she was informed of the incident by police. She said: "Apart from someone coming around to say someone is trying kill me, it was a really nice day."
Describing the security arrangements at her home, accessible via narrow country lanes, Miss Stone, who was referred to in court by her real name, Jocelyn Stoker, said such measures had been kept to a minimum and she preferred to keep an "open house" for family, friends and her boyfriend of the time.
She said: "I've lived in Devon for a long time and nobody really shuts their door."
She added: "I had an alarm  but I did not really turn it on very much. I didn't really have a lock on my door... But I do now."
Notes found by police suggested that the two defendants had planned to decapitate the singer and dump her remains in a river. The documents also revealed an alleged hatred of the Royal Family, referring to the Queen as a "she-devil" and speculating on links with the singer.
Miss Stone was invited to the wedding of Prince William and Kate Middleton and has performed at concerts for royal charities attended by the Windsors.
One note read: "The Queen - she-devil. But she likes Joss Stone. Invited to Will's wedding by Queen. Where's the sense in that?"
Asked about her royal connections, the singer said: "I have sung for them a couple of times - once for the Princess Diana concert. After that there was another charity event for Harry. I guess they just invited me because they thought it was nice to invite me."
The court has heard that the two men allegedly researched their target with Liverpool, 35, using a computer at his local library to look up various celebrities before selecting Miss Stone. Prosecutors claimed the pair carried out a reconnaissance trip to the village where she lived two weeks before their arrest and were found with maps, body bags, helmets and a balaclava in their car on 13 June.
Asked what happened when police arrived at her home following the arrest of the men, the singer said: "That was strange - it was a surprise."
Jurors were told that there was no reason for her private tour diary, setting the schedule for when she was in and out of Britain, to be known beyond other musicians in her band, her tour crew and her parents.
The court was shown copies of the diary covering the time of the alleged plot, showing was due to be at her home between 9-20 June 2010.
Asked by Philip King QC, representing Liverpool, whether she had felt the need to "keep quiet" within the local community about where she lived, she said: "Everybody knows where everybody lives. I didn't really feel worried about it. I think I can say that for everybody who lives around there. Until now."
Register for free to continue reading
Registration is a free and easy way to support our truly independent journalism
By registering, you will also enjoy limited access to Premium articles, exclusive newsletters, commenting, and virtual events with our leading journalists
Already have an account? sign in