Judge dismayed at lack of medical help for paranoid-schizophrenic as Phillip Simelane admits manslaughter over Birmingham bus stabbing of schoolgirl Christina Edkins
23-year-old was ordered to be detained indefinitely under the Mental Health Act after random attack with 12-inch kitchen knife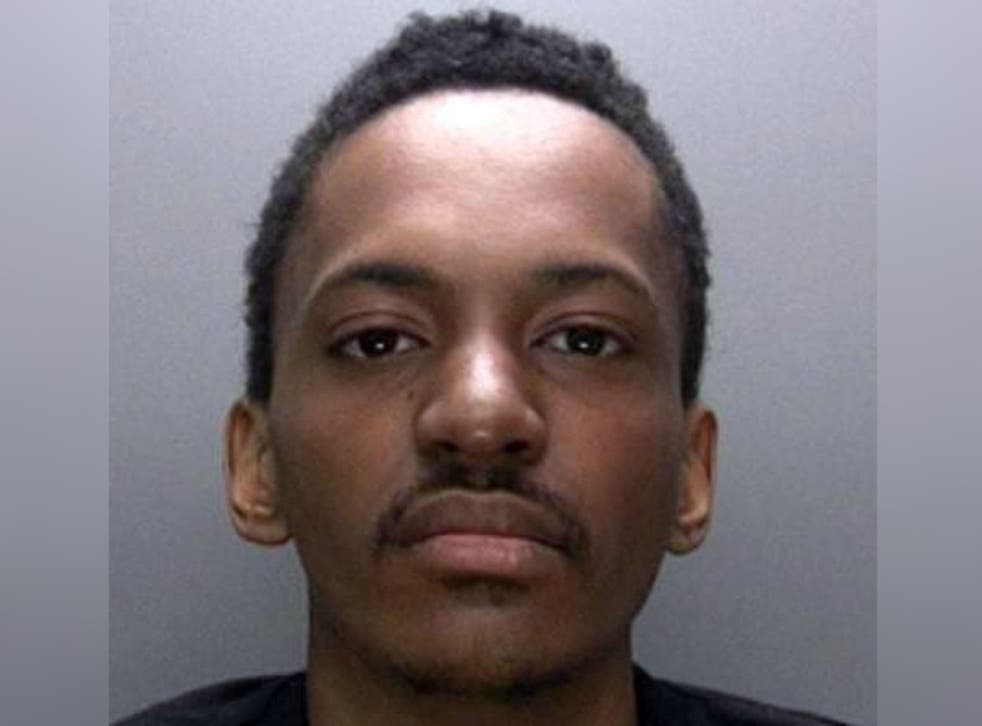 A judge expressed her dismay that a paranoid schizophrenic with a history of knife violence who stabbed a "caring and exciting" teenager to death as she travelled to school on a bus in a random attack was left to sleep rough with no medical help after being released from prison.
Phillip Simelane, 23, admitted the manslaughter of Christina Edkins – who had turned 16 just two weeks earlier - on the grounds of diminished responsibility at Birmingham Crown Court. He was ordered to be detained indefinitely under the Mental Health Act and is unlikely ever to be released.
Passing sentence Mrs Justice Thirlwall, raised concerns that despite a senior prison psychiatrist insisting at least twice that Simelane should receive in-patient treatment, none not been made available.
"Anyone who sat here and listened to the background to this case and read the many documents and statements will be disturbed to read that you were living in the community with an illness of that severity, living rough with no medical help or indeed any other help at all," she said.
The academically successful GCSE student hoped to become a nurse or a midwife but was stabbed in the chest with a 12-inch kitchen knife as she made her way to Leasowes High School in Halesowen in March.
Miss Edkins' family also questioned why her killer, who is believed to have been suffering undiagnosed from the condition since he was 13, was free to carry out the attack. A number of inquiries are now underway to find out what the authorities could have been done to prevent the tragedy.
Simelane, who was born in Swaziland, had been released from prison three months earlier after serving a 56-day jail term for vehicle and drugs offences. These were committed a week after completing a 101 day sentence for pointing a knife at his mother's stomach and punching a police officer.
But because his crimes were considered minor he was not provided with professional support despite mental health experts placing "markers" on his file, including on the police national computer, indicating he may be a risk to himself.
Prisoners who are sentenced to less than 12 months are not actively supervised by the Probation Service on their release.
His counsel said he wished to apologise to Christina's parents and was ashamed of killing her.
In a statement, Miss Edkins' family said they welcomed the passing of the sentence which they said would protect the public - but were bereft at their loss.
"The family are all innocent victims and must pay the penalty as we stand helplessly by and watch the lives of the people we love shattered like glass, knowing we can never put the fragile pieces back together," they said,
But they added: "However, he was allowed the freedom not only to take the life of an innocent child but, in doing so, to ensure the lives of the people whom she loved are forever affected as a result of his crime."
Miss Edkins had been travelling on the top deck of the number nine bus at around 7.30am on her way to a friend's house before a mock exam.
Simelane was aboard the same vehicle sleeping on the back seat since 5am. The knife was in a plastic bag. Within minutes of her getting on he approached and stabbed his victim once fatally in the chest before casually disembarking.
The attack was so swift that none of the other travellers realised what had happened until the teenager gasped for breath. Passengers attempted to resuscitate her but she died at the scene.
The judge said in his deluded state believed the girl posed a threat to him. "Those who gave statements - ordinary lay people - were of the view that you were mentally ill. The terrible reality is that Christina was the person who happened to be on the bus on the day you were overwhelmed by your illness," she said.
Simelane had come into contact with police 21 times since the age of 14. After his arrest it emerged he had been spotted approaching and making death threats to girls on a bus on the same route the previous year.
His mental health had gone into decline in his early teens but he was only diagnosed as a paranoid schizophrenic during his arraignment for stabbing the schoolgirl. As a youngster he had emigrated from Swaziland to England with his mother and siblings, leaving his natural father behind.
His mother started a new relationship with a British man with whom he clashed. The family moved to Walsall in the West Midlands, and although he attended school he was bullied and did not regularly attend classes.
His mother described how he became isolated, refusing to wash or leave his bedroom. He would not recognise he had a mental health problem and became increasingly aggressive towards his family. She had repeatedly asked for help for her son and was desperate for assistance, the judge said.
Separate reviews are now being completed by the police, the prison service and the Birmingham and Solihull Mental Health NHS Foundation Trust which was involved in his prison care. They are due to report at a later date.
Christina's parents Jason and Kathleen Edkins, said they had been proud to found out she had passed 11 GCSEs before her death.
But that happiness was overshadowed by the knowledge she was not there to open her own results letter, nor wear the lilac dress she bought for the school prom.
Students and teachers at Leasowes High School in Halesowen, West Midlands, paid their own tribute to Christina, dedicating the prom to her memory.