Julian Assange's fight to evade extradition to Sweden appears doomed despite stay of execution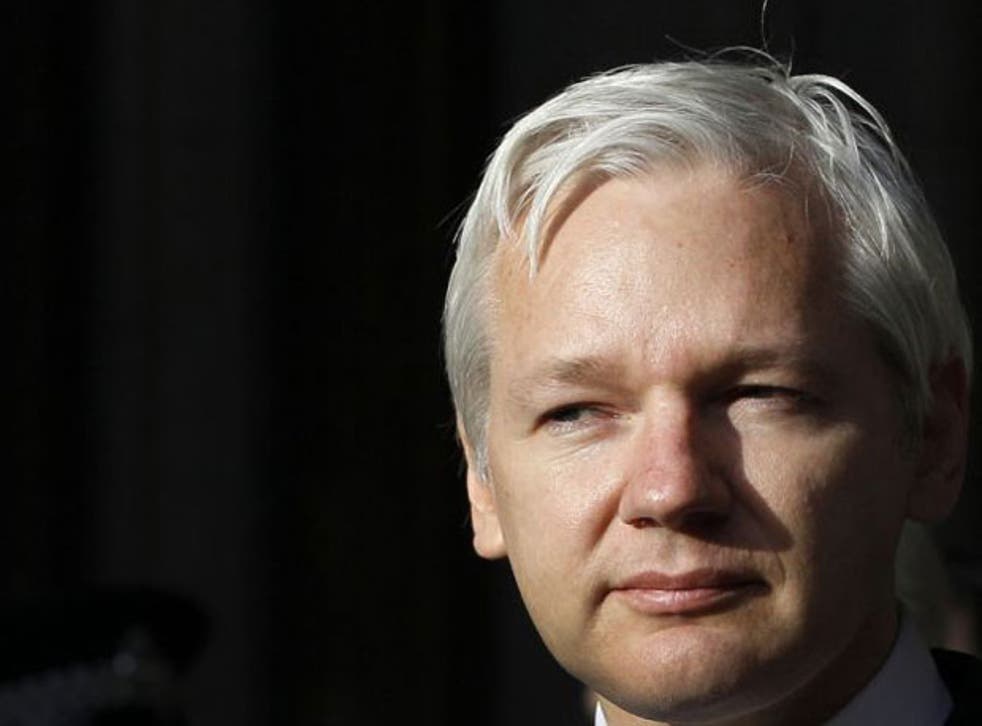 Julian Assange's fight to evade extradition to Sweden appeared doomed today though he was given a stay of execution by the highest court in the land.
His celebrity-endorsed legal battle trundled on without him as the self-proclaimed champion of truth and transparency remained stuck in London's notorious traffic, undoubtedly disappointing his legion of fans.
While vastly diminished in number from the early days of the furore surrounding the WikiLeaks founder, they were as vociferous as ever, penned in outside the Supreme Court yesterday, carrying megaphones, guitars and banners proclaiming "Free Assange" and "God Save Julian" for the sea of cameras brought in by the world's media.
Despite missing his day in court, Mr Assange imparted his disappointment at his failed appeal in suitable fashion by tweeting: "We got the news not hoped for."
The 40-year-old had argued that an European Extradition Warrant from Sweden to face allegations of rape and sexual molestation was invalid as the public prosecutor who issued it did not constitute a "judicial authority".
The Australian computer expert, who has achieved such public fame since downloading hundreds of thousands of leaked classified documents onto the web that he has had plays written about him and now hosts his own talk show on Russian television, has always insisted sex was consensual and the allegations are "politically motivated".
But yesterday the judges said that under the European Framework Decision as well as the UK's Extradition Act 2003, a prosecutor could be seen as a judicial authority. By a majority of five to two, they dismissed his appeal against an extradition order first granted in February 2011 and upheld by the High Court last November.
His case was partially trumped by the French translation "autorite judiciaire", which judges at the Supreme Court said carried a wider meaning that simply a judge or court. The court had heard that during parliamentary exchanges, ministerial assurances were given that a judicial authority should mean a court but President of the Supreme Court, Lord Phillips said that in a substantial number of countries it was the practice that public prosecutors had been issuing arrest warrants since 1957.
Nevertheless they granted his lawyers 14 days to apply to have the case re-opened after they insisted that they had not been given an opportunity to argue on the very legal points on which the judges had based their decision.
Outside court Mr Assange's supporters claimed the case proved that the British Government had been "misled" when it implemented the framework for the European Arrest Warrant.
They revealed that at the same time as applying to have the Supreme Court case re-opened they were preparing to try and challenge the extradition in the European Court of Human Rights
Mr Assange's solicitor Gareth Peirce described it as a "chaotic legal situation" and said that the divided opinion of the judges proved that this was an important issue that needed to be determined.
"Parliament was misled when it implemented the European framework on this basis," said Ms Peirce yesterday. "The way we understand it is that judicial authority is a court of judge. But the majority of judges have decided that practice effectively trumps parliament."
The acclaimed journalist John Pilger, a long term supporter of Mr Assange, who has been confined under bail conditions to Ellingham Hall country house in Norfolk, said: "In some respects it is a drawn out charade. If it was not Julian Assange, founder of WikiLeaks, we would not be standing here today, no doubt about that."
He continued: "It is not over. It is certainly not over. They are going to see if the European Court will consider it. Whether or not that freezes the extradition, we don't know."
Claes Borgstrom, the lawyer representing the two Swedish women who accuse Mr Assange of sex crimes, expressed relief at the Supreme Court's decision, but said the British judicial system should have dealt with the case more quickly.
"Now, finally, we have a decision," he told Associated Press, dismissing suggestions that the underlying motive behind the extradition was to hand Mr Assange over to the United States: "He is not at a greater risk of being handed over from Sweden than from Britain."