Madihah Taheer: Woman who fantasised about beheading Katie Hopkins convicted over terror plot
Woman supported husband's knife attack plot after sharing Isis propaganda 
Lizzie Dearden
Home Affairs Correspondent
Thursday 26 October 2017 13:08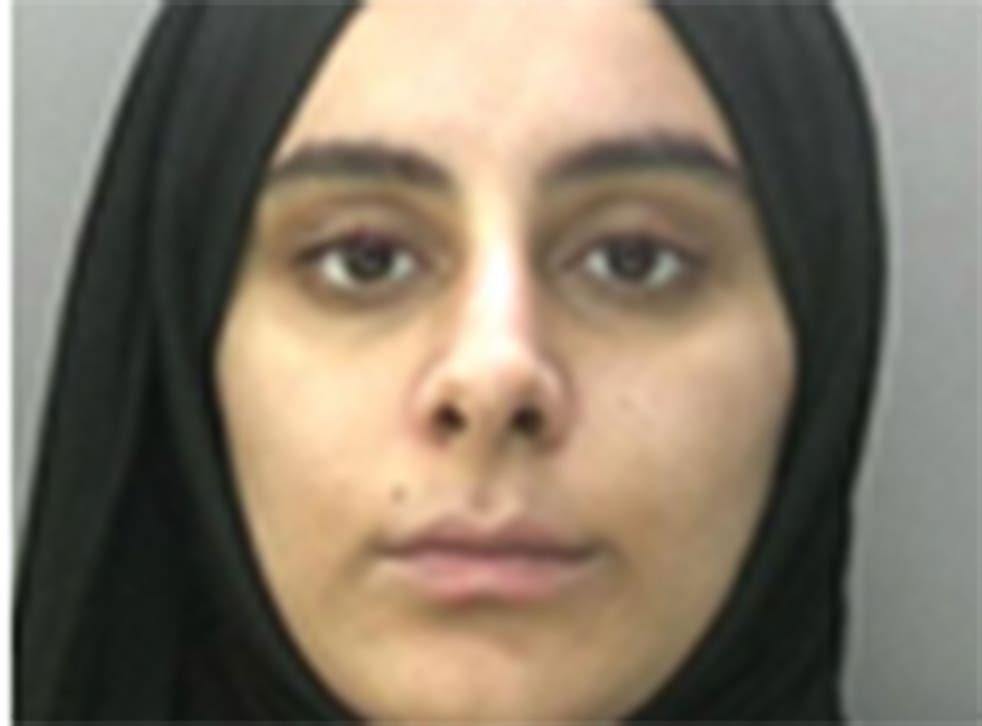 A woman who said she fantasised about beheading Katie Hopkins has been convicted for helping plot a terror attack.
Madihah Taheer, 21, was found guilty of preparing to commit terrorist acts after a court heard she had bought her husband a martial arts dummy so he could practice stabbing techniques.
Ummariyat Mirza previously pleaded guilty to planning a knife attack after being arrested by armed police in March, but his wife had denied knowledge of the plot.
​Woolwich Crown Court was told that Taheer, who was pregnant at the time, squabbled with her husband on WhatsApp about the cost of the knife he wanted to buy, telling him: "They all do the same thing."
Using her debit card, she purchased a combat knife for £121, the dummy for £275 and a plastic "training" knife for £9.60.
The dummy, depicting a white man's torso, was found in their home in Birmingham with slash marks on the forehead, across the throat and abdomen.
Mirza was arrested just days after the Westminster attack, but weeks before he also bought a cord to make a concealed harness for his knife and had researched potential targets.
The jury heard that the couple viewed and shared Isis propaganda and discussed extremist views before their marriage.
"Can we get married already ffs. I want u to kill ppl for me. I have a list," Taheer wrote in September 2015.
Mirza replied: "The day of nikkah [marriage] I'll kill em all. Give me the list. The only thing that stops me is we are not married. I will defo I'm not joking."
On that list was Hopkins, a commentator known for her controversial columns on Islam, terror and migration.
"I fantasise about Katie Hopkins' head," Taheer told her husband. "She's the biggest kuthi [bitch] of them all."
​Mirza, a former accountant, had named Paul Golding, the co-leader of far-right group Britain First, as one of his targets.
His sister, 23-year-old Zainub Mirza, previously admitted encouraging the plot by sharing graphic Isis videos and propaganda, including footage showing hostages being beheaded and drowned.
All three defendants will be sentenced at Woolwich Crown Court, with a provisional date set for 1 December.
Counterterrorism police swooped after an MI5 operation tracking Mirza, who had expressed a desire to travel to Isis territory in Syria alongside his wife.
Detective Chief Superintendent Matt Ward, head of the West Midlands Counter Terrorism Unit, said: "Mirza's plan was escalating quickly so the decision to carry out arrests in a busy Birmingham street at rush hour was not taken lightly.
"The planning had begun in 2015 but quickly gathered momentum in terms of the volume and especially the nature of the shared material with the majority of videos shared by Zainub Mirza to her brother."
UK news in pictures

Show all 50
Det Ch Supt Ward said seized mobile phones revealed a significant quantity of material showing the trio's "mindset", adding: "The communications between Mirza and his sister reveal that they shared extremist material and praised killings carried out by Daesh [Isis]."
A stockpile of air guns and replica firearms were also found at Mirza and Taheer's home, with his phone containing images of him posing with them.
Prosecutors said Taheer and Mirza were "inspired by Isis" but there was no indication of formal contact with the group in the case.
Sue Hemming, head of the Crown Prosecution Service's terror division, said: "There can be little doubt that Mirza had the knife so he could carry out a terrorist atrocity in the UK.
"The prosecution's case was that his wife was a willing accomplice who bought the knife knowing what he was planning to do.
"This couple posed a serious threat to the public in Britain and now face the prospect of time in prison where they will no longer be a danger."
They join several terrorists who have plotted action at home after being unable to join the physical "caliphate" – a phenomenon experts warn is driving an increased risk of terror in the UK.
Security services had braced for the potential return of hundreds of Isis fighters from the battlefields in Syria and Iraq, but the CPS said the vast majority of current terror cases involve homegrown extremists.
Isis recently issued its first formal call for women to carry out terror attacks and join fighting, having previously restricted female followers to supporting its fighters and indoctrinating children.
Register for free to continue reading
Registration is a free and easy way to support our truly independent journalism
By registering, you will also enjoy limited access to Premium articles, exclusive newsletters, commenting, and virtual events with our leading journalists
Already have an account? sign in
Register for free to continue reading
Registration is a free and easy way to support our truly independent journalism
By registering, you will also enjoy limited access to Premium articles, exclusive newsletters, commenting, and virtual events with our leading journalists
Already have an account? sign in