Kings Science Academy free school founder arrested over alleged fraud
Police say a 41-year-old man has been arrested in connection with their investigations into Bradford school's finances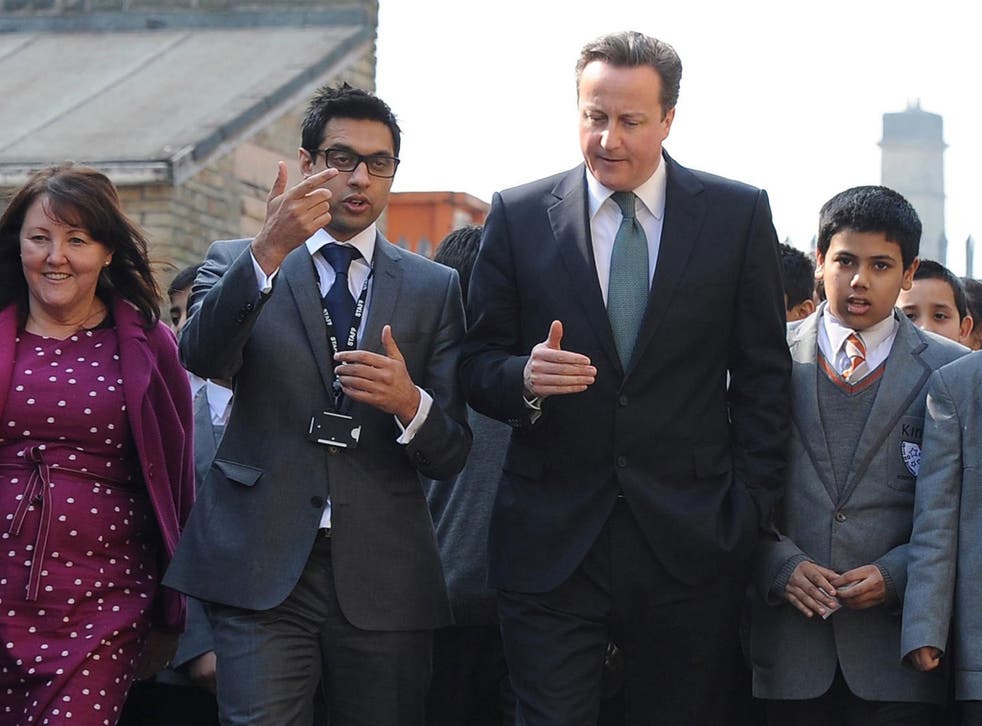 The founder and principal of a flagship free school praised by David Cameron has been arrested by police investigating an alleged fraud.
West Yorkshire police said a 41-year-old man who set up the Kings Science Academy in Bradford in 2011 had been arrested in connection with their investigations into the school's finances.
The school was amongst the first 24 in the country to be opened two and a half years ago under the Government's free school programme.
However, an investigation by the Education Funding Agency - which oversees free school funding – uncovered allegations the school had claimed tens of thousands of pounds in public money which was not used for its intended purposes. It concluded there had been "serious failings" in the financial management of the school.
The school was praised by the Prime Minister on a visit to the school in March 2012. On its website it also boasts a message from the Secretary of State for Education Michael Gove in which he says: "The Secretary of State believes Kings will become a 'flagship' school and will help to raise the standards of attainment in education".
Bradford East MP David Ward, a Liberal Democrat, welcomed Thursday's developments - which came 24 hours after he raised the issue of the school in the House of Commons.
He then asked Mr Gove what steps his department were taking over the school - to which Mr Gove replied that he had to be careful not to prejudice the police investigation.
Mr Ward said the reply was "disappointing", adding that the head of a local authority maintained school "would have been on his bike long ago".
Mr Ward and Labour's shadow schools spokesman Kevin Brennan also raised the position of Conservative vice-chairman Alan Lewis, who is an executive patron of the school and on whose land the school is built.
Mr Brennan said Mr Lewis was "not just a benefactor - he is a landlord who will receive £12 million in rent in years to come from the school" and asked whether Mr Lewis' position had anything to do "with the fact that the Secretary of State has refused to take any action whatsoever against anyone since this scandal broke".
Mr Gove replied: "It is important to place on the record the fact that Mr Lewis is receiving for the property an appropriately agreed guaranteed market rent - less than he was receiving for it beforehand."
He defended his department's handling of the case, adding: "The law must follow its case."
The Department for Education said it had initiated the police investigation by referring the academy to the UK's national fraud reporting centre, Action Fraud, after receiving allegations of wrongdoing.
A spokesman for the department added it had acted as soon as it received allegations of wrongdoing. "Separately we are recovering appropriate funds," he added.
"All free schools are held to rigorous account. The vast majority are performing well with three-quarters rated good or outstanding. But where there is failure we will not hesitate to intervene."
Detective Superintendent Lisa Griffin, head of crime for the Bradford district, said: "As part of West Yorkshire's ongoing investigations into matters at Kings Science Academy, Bradford, a 41-year-old man has today been arrested at premises in Bradford and is currently being questioned in relation to suspected fraud offences."
She later added that he had been bailed pending further inquiries.
Register for free to continue reading
Registration is a free and easy way to support our truly independent journalism
By registering, you will also enjoy limited access to Premium articles, exclusive newsletters, commenting, and virtual events with our leading journalists
Already have an account? sign in
Register for free to continue reading
Registration is a free and easy way to support our truly independent journalism
By registering, you will also enjoy limited access to Premium articles, exclusive newsletters, commenting, and virtual events with our leading journalists
Already have an account? sign in