Knife crime suspects could be banned from Facebook, Instagram and Twitter
Critics say proposals would criminalise children without addressing underlying causes of rising violence 
Lizzie Dearden
Home Affairs Correspondent
Thursday 31 January 2019 01:22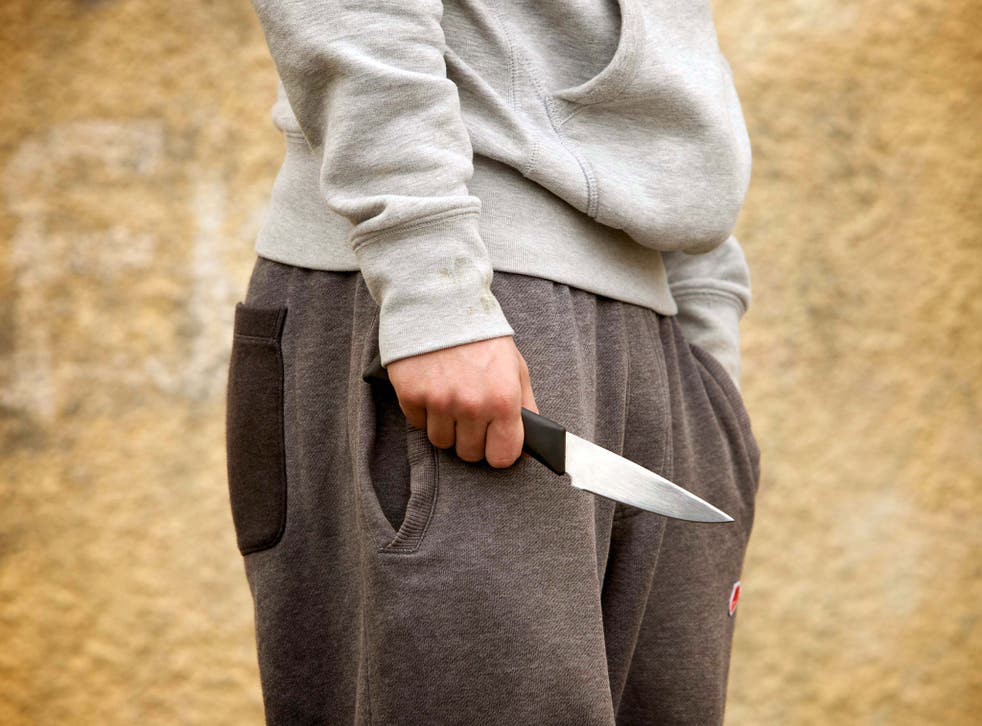 Children as young as 12 are to handed new Knife Crime Prevention Orders in a bid to prevent them from carrying weapons.
Home secretary Sajid Javid said the proposed Asbo-style powers would act as a deterrent to young people and stop them becoming involved in violence.
But critics argued that the orders would criminalise children, while doing nothing to address the underlying causes of rising knife crime.
The government plans to introduce Knife Crime Prevention Orders (KCPOs) by amending the Offensive Weapons Bill, which is currently being considered by the House of Lords.
They would be imposed on anyone aged 12 or over who police believe to be carrying a blade. People served with them could then be place under curfew or have restrictions placed on their movement and social media use.
The teenagers murdered in London in 2018

Show all 21
Although the orders are a civil measure, a breach would be a criminal offence punishable by a two-year prison sentence.
"I have been clear that I will do everything in my power to tackle the senseless violence that is traumatising communities and claiming too many young lives," Mr Javid said. "It is vital we continue to focus on improving the law enforcement response while at the same time steering young people away from criminal activity in the first place."
The home secretary unveiled the orders days after new statistics showed crimes involving knives or sharp weapons hitting an eight-year high in England and Wales, amid a 19 per cent rise in violence and 14 per cent in homicide.
Mr Javid also revealed a new £500,000 fund to help Trading Standards prosecute retailers who repeatedly sell knives to under-18s, and announced the launch of a new #Knifefree campaign in spring.
The National Police Chiefs' Council lead for knife crime, said KCPOs would bolster police powers amid increased patrols and stop and search.
"However, knife and violent crime is not something that can be solved by policing alone," said Deputy Assistant Commissioner Duncan Ball. "We are working with schools, charities and community schemes to educate young people and explain why carrying a knife is never the right choice."
The Police Federation of England and Wales said more police officers were needed to tackle the issue, following the loss of neighbourhood police, liaison officers, proactive squads and detectives in years of cuts.
Chair John Apter said: "How the home secretary thinks we have the officers available to monitor teenagers' social media use or check they are at home at 10pm when we are struggling to answer 999 calls is beyond me."
Police investigate scene after 14-year-old stabbed to death in north-east London street
Sarah Jones MP, chair of the All-Party Parliamentary Group on Knife Crime, said jailing children for breaching KCPOs would be "completely disproportionate".
She said: "It risks criminalising a generation of young people who have grown up unsupported and who often turn to carrying weapons out of fear. The APPG has been pushing for some time for the government to prevent proven knife offenders from using social media to incite violence, but this should not apply to young people if they haven't committed a crime."
Diane Abbott, Labour's shadow home secretary, accused the Conservatives of failing to tackle violent crime.
"The Tories' approach of more laws without the police to enforce them is pointless politicking," she said. "This government has cut 21,000 officers and undermined the fight against all crime. What we need is police officers to tackle crime of all types, and Labour is committed to recruiting the police that we need."
The debate comes amid continued public concern over rising violence, following a spate of bloody street attacks.
The killing of 14-year-old Jayden Moodie in London sparked national calls for action this month, and police have warned of a rising number of children carrying knives in the belief it will protect them.
Senior officials have said a "lost generation" is being created by austerity, violence and "county lines" drug gangs that exploit teenagers as mules and dealers.
Register for free to continue reading
Registration is a free and easy way to support our truly independent journalism
By registering, you will also enjoy limited access to Premium articles, exclusive newsletters, commenting, and virtual events with our leading journalists
Already have an account? sign in