Knife crime rises to new record of 44,000 offences in England and Wales
Calls for urgent action to stop 'spiral of violence' as increase continues despite new government strategy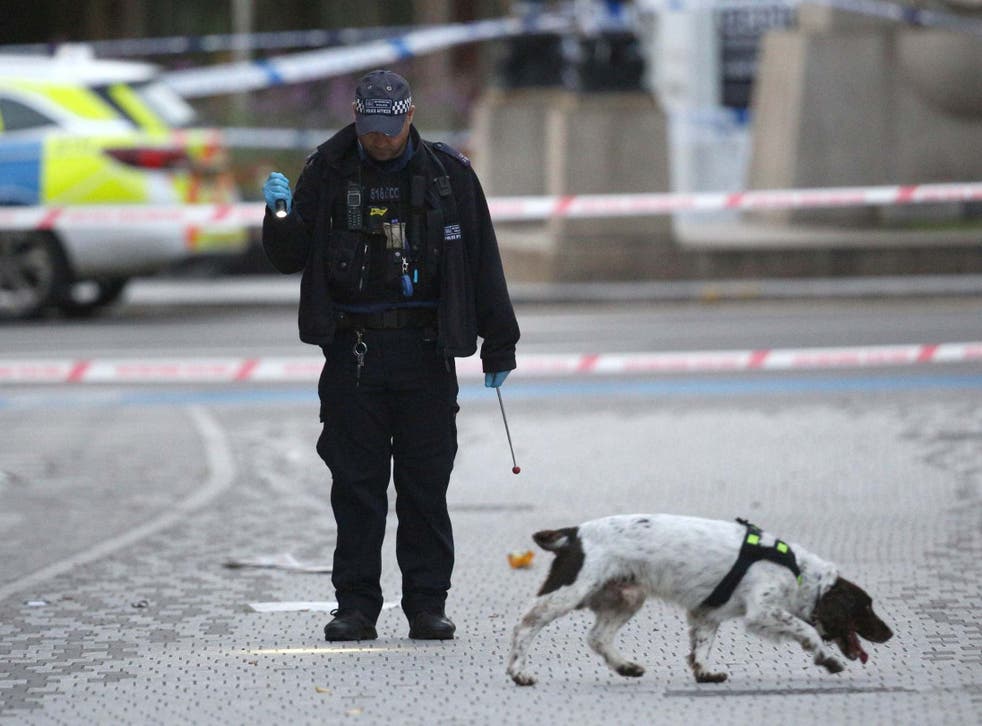 Knife crime has risen to a new record in England and Wales, sparking calls for authorities to "break the spiral of violence".
Police recorded more than 44,000 offences involving a knife or sharp instrument in the 12 months to June, up 7 per cent on the previous year.
Almost half were stabbings, 43 per cent were robberies, and offences also included rape and sexual assault.
There were 235 knife murders in the year, and 412 attempted murders.
The Office for National Statistics (ONS) said the number of crimes involving knives was the highest recorded since 2010-11, when comparable data began.
The teenagers murdered in London in 2018

Show all 21
Joe Traynor, from the ONS Centre for Crime and Justice, said: "While overall levels of violence have remained steady, the number of offences involving a knife has continued to increase across England and Wales.
"However, the number of homicides where a knife or sharp instrument was involved decreased, driven by falls in London.
"There is a mixed picture in the total number of knife crime offences across police forces with the Metropolitan Police recording little change in the last year."
Knife crime had been increasing for the past five years, with the rate also rising from 577 per million population in 2010-11 to 783.
Police leaders have blamed the government for fuelling increases by slashing budgets and causing the number of police officers in England and Wales to plummet by 20,000 since 2010.
Campaigners have also accused the Conservatives of worsening the root causes of violence by cutting youth service budgets, mental health provision and other preventative services.
The Barnardo's children's charity said knife crime was a symptom of a "much wider, complex problem".
Chief executive Javed Khan added: "Too many young people are suffering a 'poverty of hope', and facing a future with no qualifications, no job prospects, and no role models, making them vulnerable to criminal gangs who force them to deliver drugs and carry knives.
"Urgent action must be taken to break the spiral of violence."
The figures released on Thursday showed there was a 5 per cent decrease in homicides in the year, falling from 719 to 681, while fatal stabbings were down from 287 to 248.
But there was an increase in offences involving guns, which rose by 4 per cent to more than 6,700.
The ONS said violence "tends to be concentrated in metropolitan areas such as London, the West Midlands, West Yorkshire and Greater Manchester".
There was also a 3 per cent rise in vehicle offences recorded by police, including a 7 per cent increase in stealing vehicles, and an 11 per cent rise in robbery.
Yvette Cooper MP, chair of the Home Affairs Committee, said the figures showed the government has "not yet got a grip on this crisis that is devastating families and communities in cities and towns across the country".
"The Home Affairs Committee has repeatedly warned that without significant investment in policing and youth services, the epidemic of violent crime will only get worse and there will be dire consequences for public safety," she added.
"Early intervention and youth prevention must be prioritised to keep kids off the street and away from violence.
"There is an urgent need for a more comprehensive strategy from the government to help the police and communities prevent this terrible violence."
The government launched its first-ever "serious violence strategy" in April 2018 and introduced automatic jail sentences for people caught carrying a knife twice.
Boris Johnson has pledged to increase police officer numbers by 20,000 in three years, although critics have said the target cannot be met by his deadline and will not solve all issues.
Cressida Dick: Stabbings of young people 'tragic and worrying phenomenon'
New proposals in the Queen's Speech included a controversial legal duty on public bodies "to prevent and reduce serious violence".
Diane Abbott, the shadow home secretary, said the Conservatives had "allowed serious and violent crime to surge on their watch".
"The Tory claim that they are tough on crime in no way reflects the impact of ten years of cuts and chaos, which all the current government ministers supported," she added.
The Police Federation, which represents rank-and-file officers in England and Wales, said they were "struggling to deliver the basics in policing" because of cuts and rising demand.
"Chiefs are having to make some difficult decisions over which services need to be reined back," chair John Apter said.
"With almost 22,000 fewer officers since 2010 there are simply not enough officers to go around and my colleagues are being stretched to their limits.
"On top of this, officers are still picking up the pieces of the broken mental health and social services."
Mr Apter said that although the pledge of 20,000 new officers was welcome, "the benefits won't be felt for some time" as police take years to fully train.
The National Police Chiefs' Council said tackling knife crime was a priority for forces across the country.
Chief Constable Andy Cooke, said figures showed the increase was "slowing" following targeted patrols, stop and search and work to disrupt gangs.
"In the past few years cuts to policing have meant we've become more reactive to crime," he added.
Kit Malthouse, the policing minister, said he was "deeply concerned" with the crime rises.
"With 20,000 more police officers in the pipeline and urgent action on a number of fronts, not least drug dealing county lines, we are making progress," he added. "But there is a lot more to do and we have to get smarter and more focused.
"It's also vital that we divert young people away from committing crime in the first place, which is why we are investing over £220m into early intervention projects and placing a duty on public bodies to work together to tackle youth violence."