Knife and gun crime rockets across England and Wales – as police numbers hit historic lows
Offences 'disproportionately concentrated' in London and other cities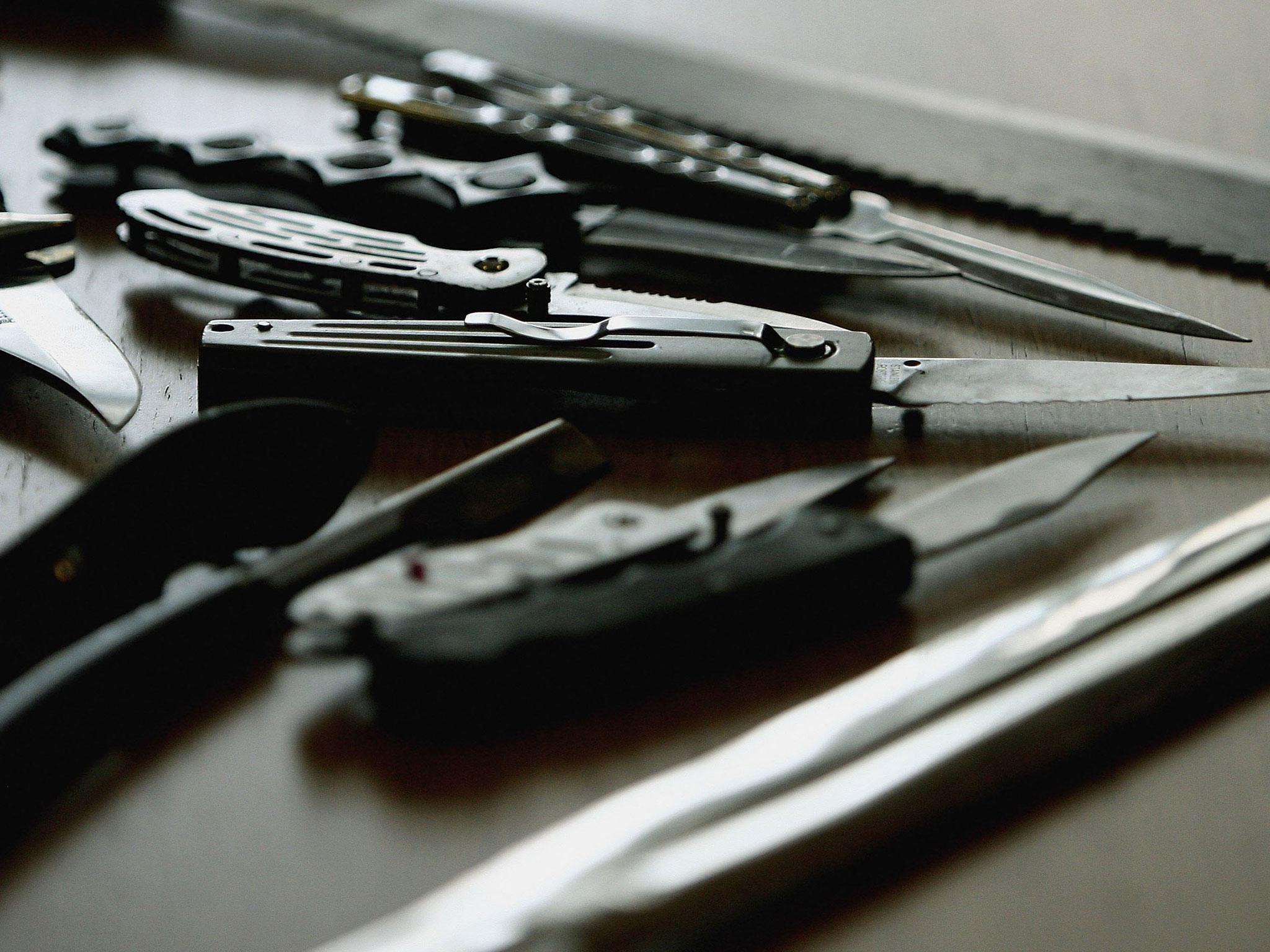 Reported knife crime has seen a 21 per cent year-on-year spike across England and Wales, new figures show.
Gun crime has also seen a 20 per cent rise amid a surge in incidents being reported to police.
Forces registered 37,443 offences involving a knife or sharp instrument in the year ending September 2017 – the highest tally since comparable records started in the 12 months to March 2011. Gun crime saw 6,694 recorded offences.
The "shocking" statistics came as police numbers over the same 12 months hit historic lows.
In a statement, the Police Federation of England and Wales said falling officer numbers has a "direct influence" on crime numbers.
Forces in England and Wales logged a total of 5.3 million crimes in the 12 months up to September 2017 – a 14 per cent increase compared with the previous year.
Statisticians said the data shows continuing rises in the number of "higher-harm" violent offences, which were most evident in knife and gun crime categories.
Met Police Chief: Police will use stop-and-search powers "properly" over knife crime
The Office for National Statistics (ONS) said knife and gun offences were "disproportionately concentrated" in London and other metropolitan areas.
"While it is possible that improved recording and more proactive policing has contributed to this rise, it is our judgment that there have also been genuine increases," it said.
Vicky Foxcroft, a Labour MP who chairs the Youth Violence Commission, said it was time for the Government to accept its strategy to fight knife crime was failing.
"Enough is enough," she said. "We need an urgent, united and societal response to address this rising epidemic and it is time that the Government wake up to its failing knife crime strategy."
The statistics showed forces logged a total of almost 1.3 million "violence against the person offences", a year-on-year rise of 20 per cent. This is a broad category including murder, assault, harassment and stalking.
"While these figures are useful in giving an insight into the caseload of the police and how this is changing, they are not believed to provide a reliable measure of trends in violent crime," the ONS report said.
The ONS said that police-registered crime must be interpreted with caution, attributing much of the rise to changes in recording practices and increased confidence of victims in coming forward.
Its preferred measure, the Crime Survey for England and Wales, gave a total of 10.6 million incidents, which was a fall of 10 per cent.
A brush with death: Why Britain's coolest art and fashion names have rallied around a victim of random knife crime
Show all 6
ONS statistician Mark Bangs said: "These latest figures indicate that levels of crime have continued to fall compared with the previous year, but this picture varied across different types of crime and not all offence types showed falls.
"While overall levels of violent crime were not increasing, there is evidence of rises having occurred in some of the low incidence but more harmful categories such as knife and gun crime."
Andy Fittes, the Police Federation's general secretary, said the claim that crime was falling was "just smoke and mirrors".
"When you look at the police recorded figures – which represents the reality of what our members deal with day to day - there have been significant and worrying increases in the majority of crime types," he said.
"To say it has fallen is smoke and mirrors. Frontline officers are under increasing pressure and dealing with larger caseloads than ever before. This worrying rise in crime will only add to this pressure.
"The reality is there are around 21,000 fewer officers than there were in 2010 and they are having to deal with an ever-increasing number of crimes. This is on top of the numerous other roles they undertake as they serve the public."
Louise Haigh, Labour's shadow policing minister, said: "These shocking figures reveal that the Tories have lost control in the fight against crime. The truth is, the public are now being forced to pay the price for the reckless risk the Tories took with public safety by cutting thousands of officers."
"Police numbers have hit a historic low, recorded crime is rising faster than ever before and more and more criminals are walking free. It just shows you simply cannot trust the Tories to keep our communities safe."
Additional reporting by PA