Labour antisemitism: Three former party members arrested over alleged hate crimes
Two men and women arrested for allegedly 'publishing or distributing material likely to stir up racial hatred'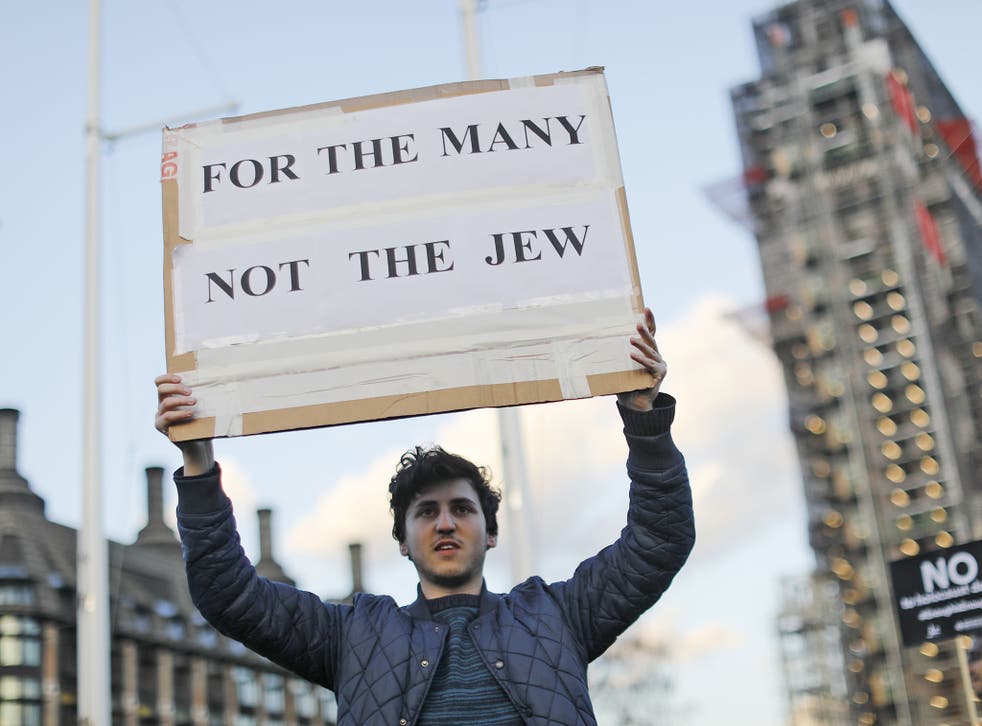 Three former Labour Party members have been arrested over alleged antisemitic hate crimes.
The Metropolitan Police said two men and a woman had been arrested on suspicion of "publishing or distributing material likely to stir up racial hatred".
Investigators had examined a dossier handed to commissioner Cressida Dick, which contained cases of alleged antisemitism by Labour activists and members.
"It is alleged that the documentation included evidence of antisemitic hate crimes," a spokesperson for Scotland Yard said.
"The contents have been examined by specialist officers. A criminal investigation has commenced into some of the allegations within the documentation.
Protests against Labour antisemitism

Show all 14
"Advice regarding these allegations was received from the Crown Prosecution Service and has been considered."
The suspects are a man in his fifties who was arrested on 7 March in Birmingham, a second man, also in his fifties, who was arrested on 14 March in Tunbridge Wells, and a woman in her seventies who was arrested on 21 March in Wandsworth, London.
They were all interviewed under caution and released under investigation.
The Independent understands that the three suspects have been subject to disciplinary action by the Labour Party and are no longer members.
A Labour Party spokesperson said: "We welcome the police investigating these individuals' alleged crimes. Antisemitism has no place in our society and we are committed to challenging and campaigning against it in all its forms."
The arrests come after police statistics showed increasing reports of religiously-motivated hate crime in England and Wales.
Ms Dick was handed the dossier following a radio interview with LBC Radio in September.
In November, she said that her officers were not investigating the Labour Party itself, but individual allegations that could amount to criminal offences.
Labour MP Chris Williamson filmed telling activists party is too 'apologetic' about antisemitism
"We would always want institutions and political parties and similar to be able to regulate themselves," the Metropolitan Police commissioner added.
"However, if somebody passes us material which they say amounts to a crime we have a duty to look at that and not just dismiss it."
Jeremy Corbyn has asked Labour general secretary Jennie Formby to make rooting out prejudice her priority. However, Jewish groups have accused the party of failing to take action quickly enough.
The Board of Deputies of British Jews has accused Mr Corbyn of failing to address a "deeply embedded culture of antisemitism in parts of the Labour party".
The party has been embroiled in a long-running row over antisemitism within its ranks and launched a probe in 2016.
Baroness Chakrabarti's investigation concluded Labour was "not overrun" by antisemitism, Islamophobia or other forms of racism but made a number of recommendations to confront "ignorant attitudes" among some party members.
Last year there was a lengthy struggle over the adoption of the full internationally recognised definition of antisemitism.
Last March, major Jewish community groups held a joint demonstration outside parliament to demand Labour do more to tackle anti-Jewish hatred.
Some of Mr Corbyn's supporters have claimed the furore is an attempt to smear the party and damage its electoral prospects.
Register for free to continue reading
Registration is a free and easy way to support our truly independent journalism
By registering, you will also enjoy limited access to Premium articles, exclusive newsletters, commenting, and virtual events with our leading journalists
Already have an account? sign in
Register for free to continue reading
Registration is a free and easy way to support our truly independent journalism
By registering, you will also enjoy limited access to Premium articles, exclusive newsletters, commenting, and virtual events with our leading journalists
Already have an account? sign in