Lee Rigby killers to be sentenced later this month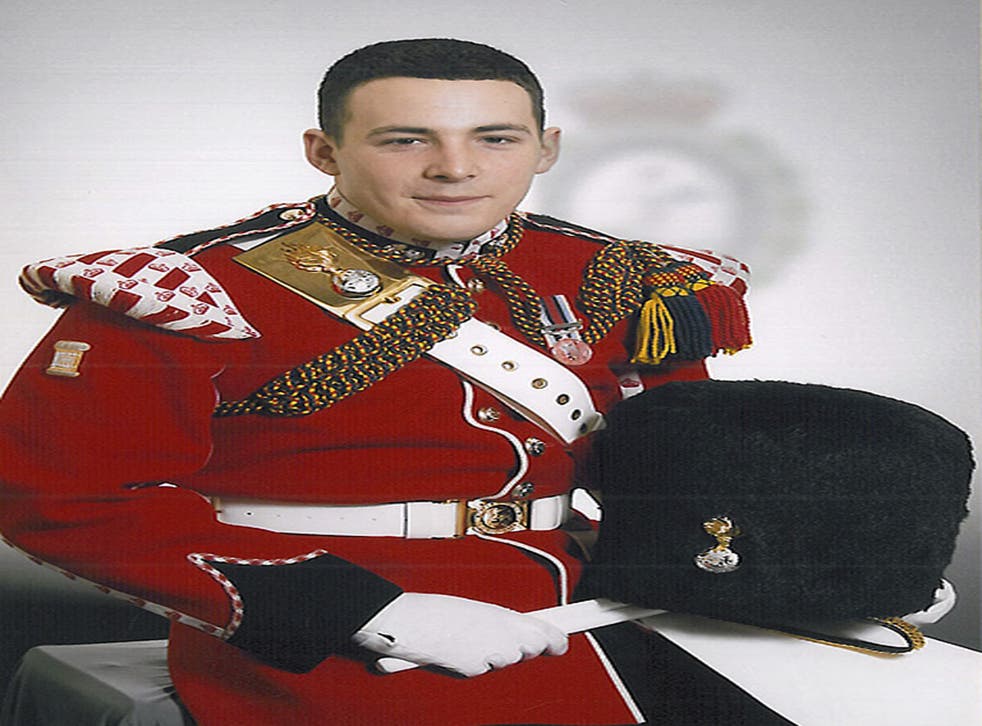 The two men who murdered Lee Rigby are due to be sentenced later this month after a key ruling over the use of whole life jail terms.
Michael Adebolajo, 29, and Michael Adebowale, 22, will learn how long they face behind bars at the Old Bailey on 20 February.
The pair are due to be sentenced by Mr Justice Sweeney, who said when they were found guilty of the horrific killing that he would wait for a key decision by appeal court judges over whole life tariffs.
Fusilier Rigby, 25, was run over and then butchered by the pair in front of horrified onlookers in Woolwich, south east London on 22 May last year.
The men, who declared they were soldiers of Allah, targeted him because he was wearing a Help for Heroes hooded top and they assumed he was a serviceman.
A panel of five judges, headed by the Lord Chief Justice Lord Thomas, heard argument at the Court of Appeal on 24 January on behalf of Attorney General Dominic Grieve, that tariffs which mean criminals have to spend the rest of their days behind bars are not "manifestly excessive or wrong in principle".
The Attorney General referred the case of Ian McLoughlin to the court on the grounds that it was "unduly lenient" and should be increased.
Mr Justice Sweeney gave triple killer McLoughlin a life sentence with a minimum term of 40 years for the murder of "Good Samaritan" pensioner Graham Buck in Little Gaddesden, Hertfordshire, in July last year.
Mr Buck, 66, suffered fatal stab wounds when he responded to cries from the home of 86-year-old Francis Cory-Wright, a convicted paedophile, who was being robbed in the village near Berkhamsted.
McLoughlin was serving a life term for the murder of Brighton barman Peter Halls, whom he stabbed multiple times in 1992, and was on day release from HMP Spring Hill when he killed Mr Buck.
He had previously been jailed for the manslaughter of Len Delgatty, 49, in 1984, whom he hit over the head with a hammer after a row, before leaving his body in a cupboard.
Passing sentence at the Old Bailey, Mr Justice Sweeney said: "The implementation of a whole-life order within the current legislative framework in this country is in breach at the time of passing of sentence of article three of the European Convention.
"It is not appropriate to impose a whole-life term. However, even for a man of 55 years of age, the minimum term of years must be a very long one indeed."
The appeal court judges were also asked to rule on a sentence challenge by Lee Newell, who is currently facing dying behind bars for murdering child killer Subhan Anwar in prison.
He was already serving a life sentence for a previous murder committed in 1988.
Those currently serving whole-life terms in England and Wales include Moors Murderer Ian Brady, who tortured and murdered children along with accomplice Myra Hindley, serial killer Rosemary West and Mark Bridger, who murdered five-year-old April Jones.
The sentences were deemed a breach of human rights following a successful appeal to the European Court of Human Rights (ECHR) by murderers Jeremy Bamber, Douglas Vinter and Peter Moore.
But the UK Government has insisted that whole-life tariffs are "wholly justified in the most heinous cases".
PA
Register for free to continue reading
Registration is a free and easy way to support our truly independent journalism
By registering, you will also enjoy limited access to Premium articles, exclusive newsletters, commenting, and virtual events with our leading journalists
Already have an account? sign in
Register for free to continue reading
Registration is a free and easy way to support our truly independent journalism
By registering, you will also enjoy limited access to Premium articles, exclusive newsletters, commenting, and virtual events with our leading journalists
Already have an account? sign in