Lee Rigby murder: How killers Michael Adebolajo and Michael Adebowale became ultra-violent radicals
Young men used holy war as a justification for the murder of Lee Rigby in Woolwich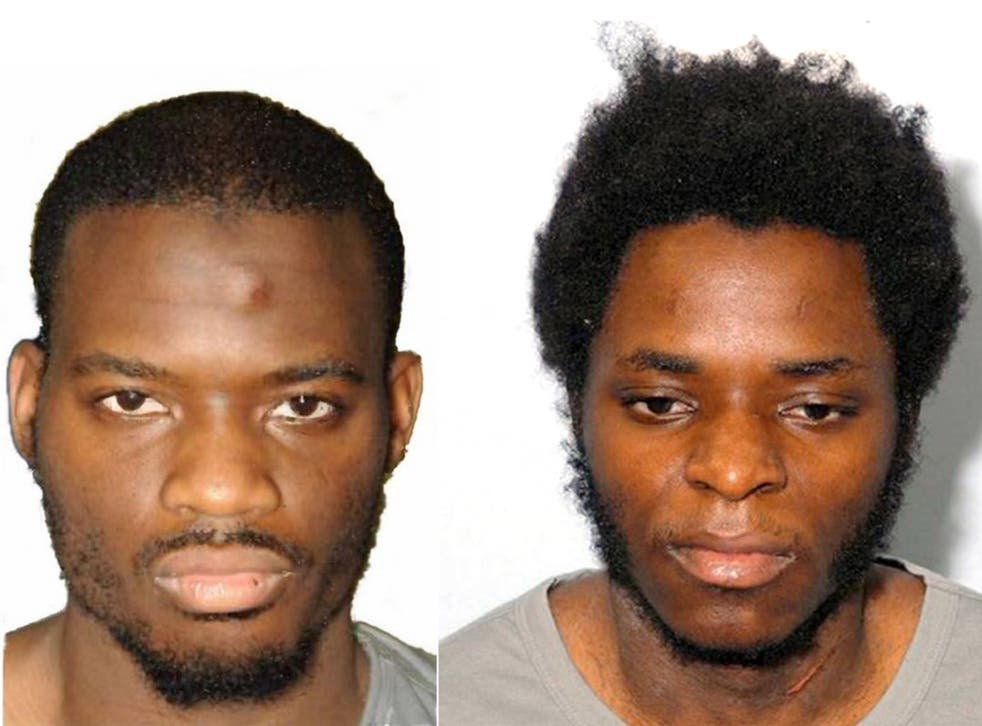 One was set on the path to murder by a deluded belief that 9/11 was a Western conspiracy. The other told of his disgust at watching television in 2003 as Western missiles rained down on Baghdad to try to remove Saddam Hussein from power.
One was set on the path to murder by a deluded belief that 9/11 was a Western conspiracy. The other told of his disgust at watching television in 2003 as Western missiles rained down on Baghdad in the battle to remove Saddam Hussein from power.
It was a fateful coming together, the charismatic extremist bent on violent jihad and his damaged, impressionable partner - two men who sought to justify the murder of a defenceless British soldier as an act of war driven by their birth country's foreign policy.
The convictions of Michael Adebolajo and Michael Adebowale - two young men from similar backgrounds - raised questions last night about the ability of government and communities to combat attacks by young men with a world view fuelled by hate speeches, resentment and alienation.
Both men grew up within Nigerian Christian families before converting to Islam. They both dabbled in small-time crime, spent time in jail and were radicalised to reject hardline doctrines of fringe extremist groups in favour of something even more violent.
The younger man, Adebowale, 22, had a history of mental illness, claiming to hear the voices of spirits in prison. He suffered a breakdown after seeing a fellow teenage drug-dealer cut to pieces by a paranoid crack addict who claimed his victim was an al-Qa'ida terrorist bent on blowing up the Bluewater shopping centre in Kent.
Adebolajo, 29, had been on police and security-service radar for nearly a decade during a long process of violent radicalisation, which took him from his family home in the outer suburbs of east London via the heat of East Africa to Woolwich, to murder a soldier with a cleaver and a set of knives from Argos.
Michael Adebolajo was born at King's College Hospital in London on 10 December 1984, the eldest son of a social worker and nurse from a hard-working Nigerian family. He was brought up reading passages from the Bible by candlelight.
At his trial Adebolajo spoke of his influences during his childhood: a teacher he thought was Jewish and a Jehovah's Witness called Ron who gave him special Bible study classes at home on a Saturday.
Adebolajo grew up in Romford and studied at Marshalls Park School and later Havering Sixth Form College. His school friends included a boy who later became a soldier and died while serving in Iraq.
But Adebolajo started dabbling in drugs and became known to police for involvement in violent crime. Former friends said he was part of a group that stole mobile phones and threatened people with knives. His family were so concerned that they moved away, to Lincolnshire. But he returned to south-east London, and went to Greenwich University in 2003.
Late in his first year of a building-surveying degree, he converted to Islam. Student Rights, which monitors extremism at universities, said there was little evidence to suggest his radicalisation was fuelled by extreme preachers on campus. Adebolajo left the course before his third year.
He was already attending off-campus demonstrations organised by the now-banned group al-Muhajiroun, which had railed against the military in its rhetoric. Adebolajo told the Old Bailey that he attended some five of these protests.
He was arrested whilst demonstrating outside the Old Bailey trial of Mizanur Rahman. Rahman had been sentenced to four years in jail for inciting racial hatred by calling for "another 9/11" during a protest at the UK's Danish Embassy over cartoons depicting the Prophet Mohamed.
Adebolajo was jailed for 51 days for attacking two police officers, including punching one in the face, on 1 November 2006. Conflicts in Afghanistan and Iraq appear to have provided him with his justification for the attacks. The founder of al-Muhajiroun - the cleric Omar Bakri Muhammed - said that Adebolajo was a "quiet boy" who started coming to the group when "there was a lot of anger about the Iraq war and the war on terror".
In 2007, footage emerged of Mr Bakri Muhammed, banned from Britain because of extremist activities, exhorting his followers to slice the necks of Westerners.
Adebolajo was filmed in 2007 demonstrating outside Paddington Green police station in west London holding a placard denouncing a "Crusade against Muslims". Two years later he spoke at an anti-English Defence League protest urging those present to adopt Islam.
Then, in 2010, Adebolajo joined dozens with links to al-Muhajiroun in travelling abroad to serve the purposes of jihad. He travelled to Kenya where he was arrested with six local men under suspicion of being at the centre of an al-Qa'ida-inspired plot.
He was seeking to link up with an Islamist group in Kenya which had links with Samantha Lewthwaite, the so-called "White Widow", and fellow British jihadist Habib Saleh Ghani.
The group had been accused of carrying out attacks in Kenya as well as smuggling foreign volunteers to join al-Shabaab, the al-Qa'ida affiliated insurgents in Somalia. Adebolajo told the Old Bailey that he wanted to live under sharia, or Islamic law.
The Mombasa-based organisation's spiritual leader was Sheikh Aboud Rogo, whose son-in-law, Swaleh Abdulmajid, appeared alongside Adebolajo when he appeared in the dock of a Nairobi court after his arrest.
Sheikh Rogo was assassinated in Mombasa in the summer of 2012 amid conflicting claims that he was the victim of internecine strife among Islamists and the target of extra-judicial killing by the Kenyan military. The cleric was on a US sanctions list for terrorism related activities.
Lewthwaite, the widow of 7/7 suicide bomber Jermaine Lindsay, fled Mombasa after being implicated in a plot to bomb tourist hotels in December 2011 along with Ghani, also known as Osama al-Britani. According to some reports the pair married while on the run.
Jermaine Grant, an associate of Lewthwaite, is on trial in Kenya on bombing charges, which he denies. He is in jail with Sheikh Sharif Abubakar, a lieutenant of Sheikh Rogo, who is believed to have met Adebolajo in Mombasa.
At a court hearing in Nairobi, the vocal Adebolajo denied any role: "These people are mistreating us and we are innocent, believe me."
Friends claim that he was threatened with sexual violence before he was released and returned to Britain after being told by UK officials that he was not deemed to be a serious terrorist threat. They add that he may have been tipped over the edge by his treatment in Kenya.
Adebolajo, a married father of six, soon became of renewed interest to MI5 - now desperately seeking to build informant networks within the radical Islamist communities in the wake of the 2005 bus and London Underground bombings which had revealed a woeful lack of intelligence.
In the weeks leading up to the murder of Fusilier Rigby,  Adebolajo was spotted in Woolwich preaching in the high street in increasingly aggressive tones over the war in Syria and the continuing conflict in Afghanistan. It remains unclear how he met Adebowale, but the latter grew up in Greenwich and also converted to Islam while he was a teenager.  Police say the pair are likely to have mutual acquaintances.
They attended a number of places of worship, believed to include mosques in Greenwich and Lewisham, where the cleric, Shakeel Begg, was recorded urging students to wage jihad against Israel.
Adebowale had a troubled childhood - he had been missing from home on several occasions - and his mother called for help from Richard Taylor, father of murdered schoolboy Damilola Taylor. Adebowale appeared to have been connected to the Woolwich Boys, a largely Somali gang based in London's suburbs, and began dealing drugs for them.
His mother and father, Adeniyi, an official at the Nigerian High Commission in London, separated early in his life and the gang could have provided the teenager with a sense of belonging, according to youth workers. The gang was certainly well-organised. The Independent joined a police raid earlier this year which broke up a ring using public transport to courier drugs from south-east London for sale in the Medway Towns in Kent.
At 16, Adebowale was seriously affected by the murder of a fellow gang member who was "cut to pieces" when he was attacked by a bare-knuckle fighter, Lee James, in a drug-induced psychotic episode at a crack den in Erith, Kent. Adebowale was stabbed twice in the 2008 attack.
He was diagnosed with post-traumatic stress disorder and had counselling with a psychiatrist but failed to respond to treatment. Following his arrest for the murder of Lee Rigby, he told psychiatrists that he believed he had seen James in Belmarsh prison and was reluctant to go through doors there.
The year after the murder of his friend, he converted to Islam and adopted the name Ismael, and, in 2009, was sentenced to 15 months behind bars for drugs offences.
After his release, Adebowale adopted full Islamic dress, to the surprise of those who had known him as a drug-dealing teen at Kidbrooke School.
Adebowale was known to have attended a protest outside the US embassy in September 2012, organised by Anjem Choudary, the former senior figure within al-Muhajiroun, in which protesters marched towards the embassy with a banner reading: "The followers of Muhammed will conquer America." The protest was part of worldwide demonstrations against a video filmed in the US that portrayed the Prophet engaged in offensive behaviour.
In conversations with psychiatrists, after his arrest for the murder of Lee Rigby, he said he believed the West could have stopped the 9/11 attacks on the US, but chose not to. "I felt I had been brainwashed by society from an early age," he told Dr Philip Joseph, a consultant forensic psychiatrist. The murder trial was delayed after he claimed to have been possessed, and was hearing voices.
"He hears them speaking in a Nigerian accent. They tell him what he is going to do next, such as: 'He's going to brush his teeth.' This is annoying to him," said Dr Neal Boast, consultant forensic psychiatrist at the John Howard Centre.
Lee Rigby murder

Show all 8