Lee Rigby murder trial: Michael Adebolajo and Michael Adebowale found guilty of murdering soldier by hacking him to death
At least one of the killers had been 'on radar' of security services and police for years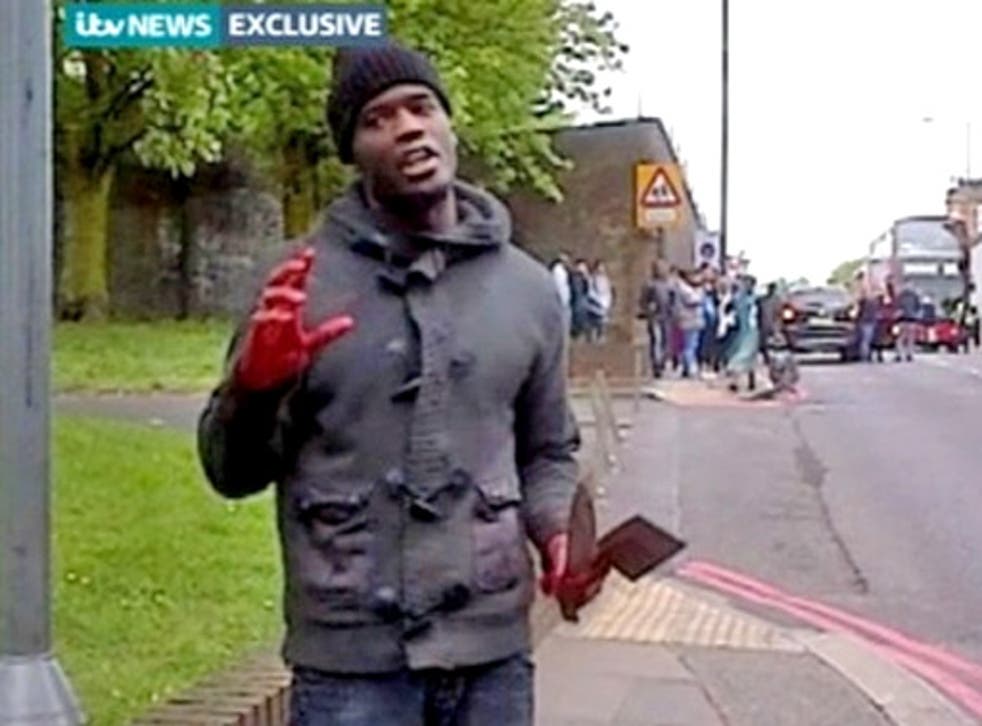 For three weeks they suffered with dignity through the harrowing details of Fusilier Lee Rigby's murder on a high street in south-east London. Today it was finally all over. To the sound of choked sobbing from his family, his two killers were convicted of a murder that, in the words of the Prime Minister, united the country in condemnation.
Michael Adebolajo, the man who led the assault armed with a meat cleaver, glanced up once to the crowded seats of the Old Bailey courtroom and kissed his Koran as he was led down the stairs to the cells. "No one should have to go through what we have been through as a family," said Fusilier Rigby's family in a statement read by a police officer as they clutched each other and wept. His mother Lyn said: "Justice has been served, but no amount of justice will ever bring Lee back."
David Cameron pledged that the Government would "redouble our efforts to confront the poisonous narrative of extremism and violence that lay behind this", following what the Home Secretary Theresa May said was a "sickening and barbaric" act.
Yet while the family's tears streamed, MI5 was already facing difficult questions about whether it could have prevented the murder, following claims that the security service had visited Adebolajo's home just months before he and his partner-in-crime Michael Adebowale killed and attempted to dismember the soldier.
Adebolajo had been on the radar of police and security services for years but was considered a low risk among the several thousand Islamist extremists that see British people as a legitimate target.
The 29-year-old had considered joining up to fight in Syria's civil war – the primary destination for British Muslims seeking jihad abroad, it emerged. Adebolajo had spoken to more than one recruiter for the rebels fighting against Bashar al-Assad's regime. But he eventually decided against going ahead because his aim was to strike a direct blow against the British state.
One person who was aware of his interest in Syria recalled: "We were told he also thought Syria was too dangerous, which was odd because at Woolwich he tried to be a shahid [a martyr]".
The pair carried out their plot when they drove at the soldier in their car, breaking his back, before attempting to behead him. They had claimed to have been "soldiers of Allah" fighting a war in retaliation for British foreign policy. It can be revealed that Adebolajo had tried to call William Hague, the Foreign Secretary, as a witness to back his claims at the trial that he was a soldier in a war because of the presence of British troops in Afghanistan.
The dossier on the case is being passed to a parliamentary committee charged with investigating whether more could have been done to prevent the attack. It is expected to report back next year. The investigation followed controversy over what MI5 knew about Mohammad Sadique Khan, the ringleader of the 2005 London transport suicide bombers, who was photo- graphed at a training camp.
Adebolajo's family and friends claimed he was approached by the security service to recruit him after he was sent back to Britain following an attempt to meet with an Islamist group in Kenya.
Warning: Video contains footage some may find disturbing
British intelligence first knew that Adebolajo was in Kenya trying to get to Somalia when he was arrested by the Kenyan police. He had not been identified as he passed through Heathrow, according to BBC's Panorama. "If the authorities hadn't registered it then that's clearly a missed opportunity," former Scotland Yard anti-terror chief Bob Quick told the programme.
On his return to the country, Adebolajo was not prosecuted, subjected to terrorist orders and surveillance nor put on to the Government's deradicalisation programme, Channel. He was, however, known to an organisation which specialised in deradicalising young black converts but it lost its funding in 2011.
"This is really quite baffling," said Alyas Karmani, a director of the group, Street UK. "This was a major failure of monitoring."
Assistant Commissioner Cressida Dick, the head of counter-terrorism at New Scotland Yard, said decisions at the time appeared "proportional, reasonable and sensible" but added: "If Lee Rigby's family were owed an apology by one of the agencies, I'm sure they absolutely should and absolutely would get it."
Earlier this year, the head of MI5 Andrew Parker said that the idea the country could focus on several thousand targets was "fanciful". "The reality of intelligence work is that we only focus the most intrusive attention on a small number of cases," he said.
Scotland Yard said that it was investigating a high number of cases involving suspected extremists who have returned from civil war in Syria intent on attacking targets in Britain. Senior officers believe hundreds of young men have travelled to the country to train.
Jeremiah Adebolajo, the brother of the convicted man, claimed that there would be similar attacks. "It won't be the last, simply because of the tactics of the British secret service and foreign policy... For every violent action, is a violent reaction," he told Al Jazeera. Al-Shabaab has since used the murder of Lee Rigby within a recruitment video: "Woolwich attack: it's an eye for an eye".
Lee Rigby murder

Show all 8
Register for free to continue reading
Registration is a free and easy way to support our truly independent journalism
By registering, you will also enjoy limited access to Premium articles, exclusive newsletters, commenting, and virtual events with our leading journalists
Already have an account? sign in
Register for free to continue reading
Registration is a free and easy way to support our truly independent journalism
By registering, you will also enjoy limited access to Premium articles, exclusive newsletters, commenting, and virtual events with our leading journalists
Already have an account? sign in