Leytonstone stabbing treated as terror incident after attacker 'shouts this is for Syria'
Police Tasered the suspect after three people were injured, one seriously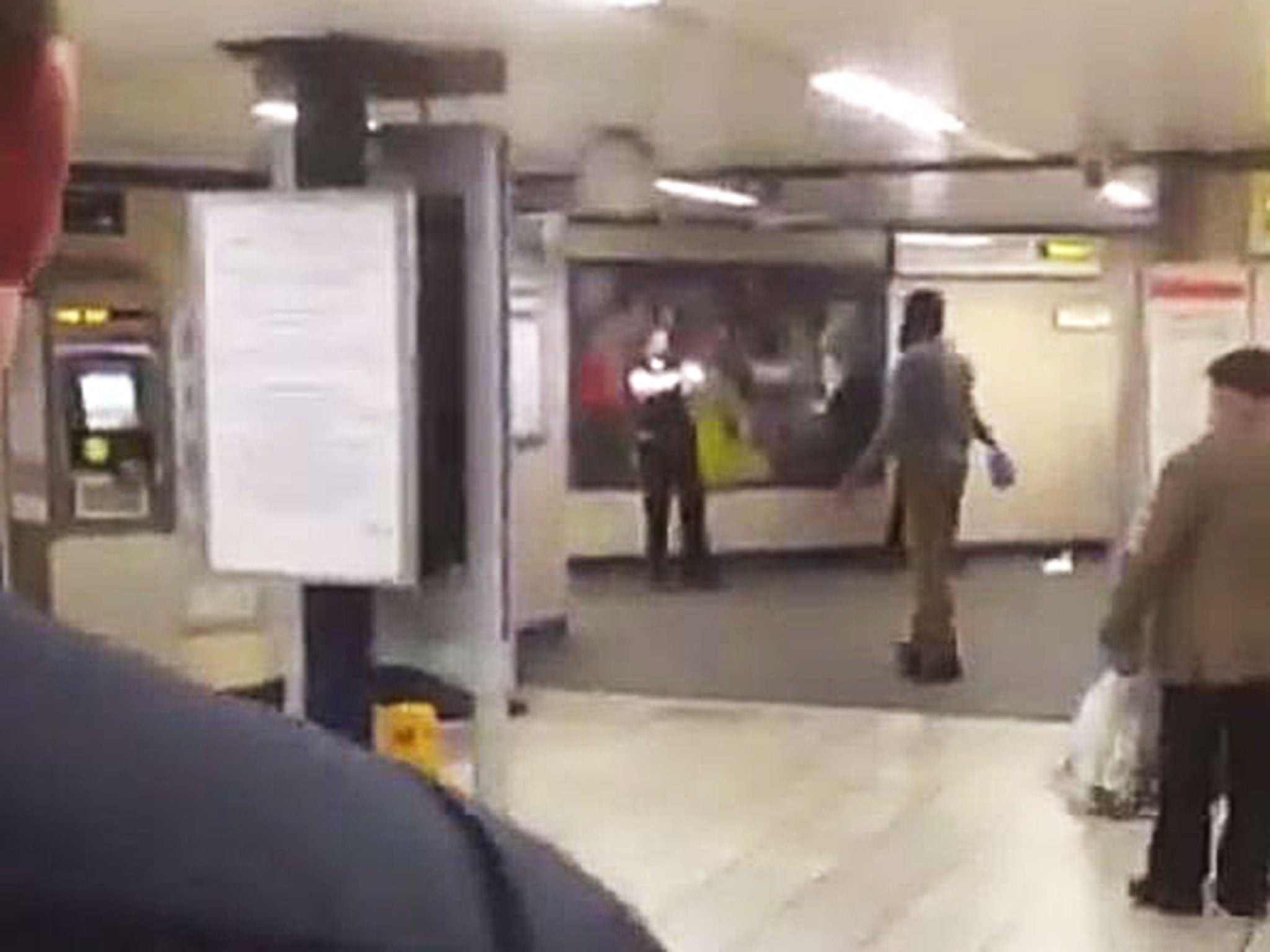 The Metropolitan police has confirmed it is treating a stabbing at an underground station as a terrorist incident after arresting a man who reportedly shouted 'this is for Syria' during the attack.
At least one man was seriously injured, with a slashed throat, after Tube users at Leytonstone in east London were threatened with a large knife and attacked as they left the station. Two others are believed to have been hurt.
Video shows police taser Leytonstone suspect
Police restrained the suspect after discharging a Taser gun several times at around 7.15pm.
British Transport Police officers were initially dealing with the investigation, but it has now been passed to detectives working in the counter terrorism unit.
It confirmed that one man was being held in custody at a police station in east London.
Warning: Video below contains graphic content
Commander Richard Walton, who leads the Met's Counter Terrorism Command, said: "We are treating this as a terrorist incident. I would urge the public to remain calm, but alert and vigilant. The threat from terrorism remains at severe, which means that a terrorist attack is highly likely."
A police spokesman added: "One man has sustained serious knife injuries; these are not believed at this stage to be life-threatening. Two other people have sustained minor injuries."
Witnesses at Leytonstone station reported how the man restrained by police had shouted 'this is for Syria' and 'all your blood will be spilled' as he challenged people as they came up the escalators or tried to leave the ticket hall.
Video shows Leytonstone suspect arrested
Video clips on social media showed a large pool of blood near the barriers and a stand-off between the suspect and police in the ticket hall. Officers can be heard shouting "drop it, drop it". The man refused to give up his weapon, according to reports from within the station, leading the Taser being used.
In the footage, taken on mobile phones, people can be seen running away as panic sets in. Other onlookers are ordered to stand back as the man is restrained on the floor of the station. One shouts: "You're not a Muslim" as the suspect is being handcuffed by police officers. Initial accounts suggested the knifeman had armed himself with a machete, although in the video footage the weapon appeared to be more like a large knife.
A London Ambulance Service spokeswoman said: "We sent a number of resources, including our joint response unit, an incident response officer, an ambulance crew and London's Air Ambulance to the scene. We treated a man for stab wounds. He was taken as a priority to hospital escorted by the doctor from London's Air Ambulance."
The incident comes days after MPs voted in favour of extending air strikes to Isis targets in Syria following a 10-hour debate in the House of Commons. RAF jets almost immediately began attacking targets such as oil fields controlled by the group.
Labour London mayoral candidate Sadiq Khan was among the first politicians to respond, tweeting: "My thoughts are with the victim of the horrific stabbing in Leytonstone. Police were quickly on the scene and have arrested a man."
Later, in a statement circulated by the Metropolitan Police, Commander Walton added: "I would appeal to anyone who was in the vicinity of Leytonstone Underground station earlier this evening, at around 7pm, who saw anything suspicious to call the anti-terror hotline on 0800 789 321. Anyone who may have captured video or photographic footage of the incident is also urged to make contact with the Counter Terrorism Command via the Anti-Terror hotline".