Leytonstone stabbing witnesses describe horror of 'terror attack' on streets of London
The victim shouted 'somebody help, somebody help' but was left to fend off the attacker on his own, according to the station shopkeeper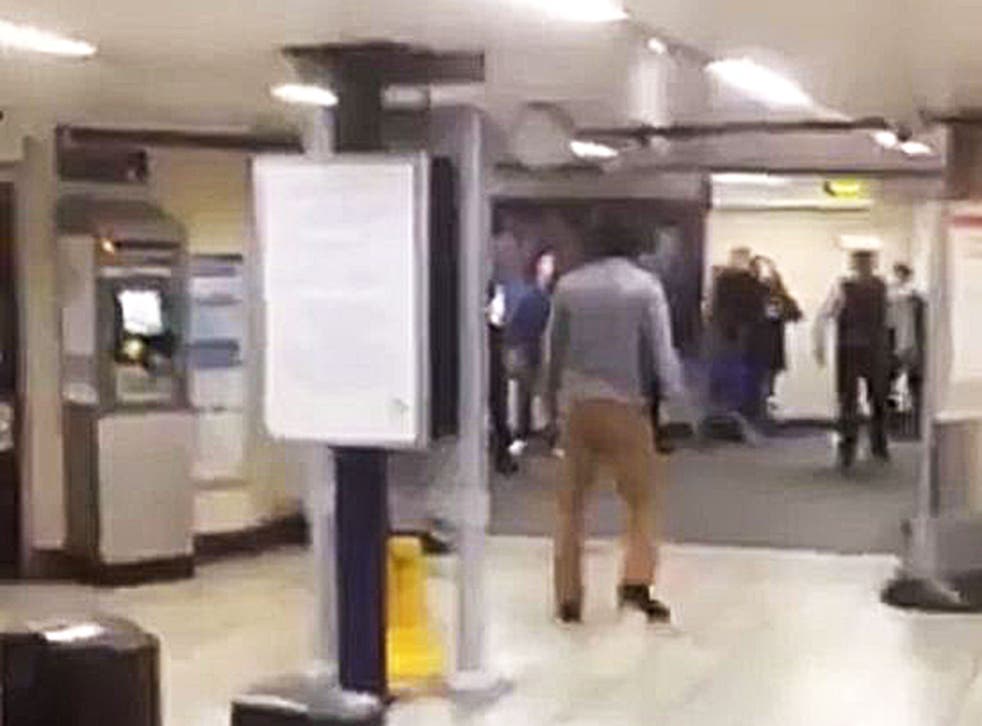 Witnesses to a knife attack in a London tube station have described their horror as a man began punching and stabbing travellers shouting: "This is for Syria!"
Police said they were investigating the incident just after 7pm on Saturday in Leytonstone as a terrorist attack. One suspect was arrested after a man was seriously injured and two others hurt.
A number of videos of the incident have since emerged on social media, with one showing the bleeding victim slumped on the ground and another taken while the attacker is still lashing out at Tube passengers before he was restrained by police using Tasers.
Speaking to LBC Radio, the Tube station shopkeeper Salim said the attacker's worst victim, who appeared to have had his throat slashed and was taken to in hospital with serious injuries, was left to try and fend off the taller man on his own.
"I just hear the screaming and shouting and I thought, usually drunken people do that, but the victim was shouting 'Somebody help, somebody help'," Salim said.
"The tall man was punching him so hard and when they fall on the floor he started kicking him and then I called the police.
He added: "When he started stabbing or cutting something on his body, everybody ran away and only three of us were here in the concourse.
"It was scary and it was empty, nobody was there. Everybody was saying 'Leave him, leave him' and shouting from a distance."
Warning: Video contains graphic content
Michael Garcia, 24, a financial analyst from Leytonstone, told BBC News he was entering the station from an underground passage when he saw people running outside and realised there was something "more sinister" than a fight going on.
"[There was] a guy, an adult, lying on the floor with a guy standing next to him brandishing a knife of about three inches... maybe a hobby knife," he said.
"He was screaming 'go on, then, run' to everyone else. He was pacing back and forth next to the guy on the floor. He came up to the barriers."
Laurynas Godvisa told the Mail she was on her way to a Christmas dinner and saw people running but "ignored it and kept walking to get [her ] train".
"Suddenly I couldn't believe my eyes – I saw I guy with a knife and a guy on the floor," she said.
"I was so scared I ran for my life. After a good ten to 15 minutes police came and got the guy and arrested him. And as he was coming out, he said, 'This is what happens when you f*** with mother Syria. All of your blood will be spilled'."
Another witness, who identified himself only as Khayam, told BBC Radio 5 live he saw the aftermath of the incident after a man had been arrested.
"I saw pedestrians shouting at him, one tried to throw a bottle and the police officers said 'back off' and took him to the police van," he said.
"I saw a victim come out on a vertical stretcher with ambulance staff and several minutes later police closed off the station and evacuated everyone from the area."
Officials said a man believed to be aged 56 had suffered serious knife wounds and was being treated in hospital, though his condition was not thought to be life-threatening. Two others were described as sustaining "minor" injuries.
Downing Street has issued a statement saying it is "monitoring the situation closely", citing an ongoing police investigation.
Commander Richard Walton, who leads the Met's Counter Terrorism Command, said: "We are treating this as a terrorist incident. I would urge the public to remain calm, but alert and vigilant.
"The threat from terrorism remains at severe, which means that a terrorist attack is highly likely."
Mr Walton appealed to anyone near Leytonstone Underground station at around 7pm who saw anything suspicious, as well as anyone who captured video of photographic evidence of the attack, to call the anti-terror hotline on 0800 789 321.
Register for free to continue reading
Registration is a free and easy way to support our truly independent journalism
By registering, you will also enjoy limited access to Premium articles, exclusive newsletters, commenting, and virtual events with our leading journalists
Already have an account? sign in
Register for free to continue reading
Registration is a free and easy way to support our truly independent journalism
By registering, you will also enjoy limited access to Premium articles, exclusive newsletters, commenting, and virtual events with our leading journalists
Already have an account? sign in