Liam Lyburd: Bitter teenager amassed weapons and planned mass murder at former college, court hears
Teenager 'just hours from blowing up his college before police raided family home'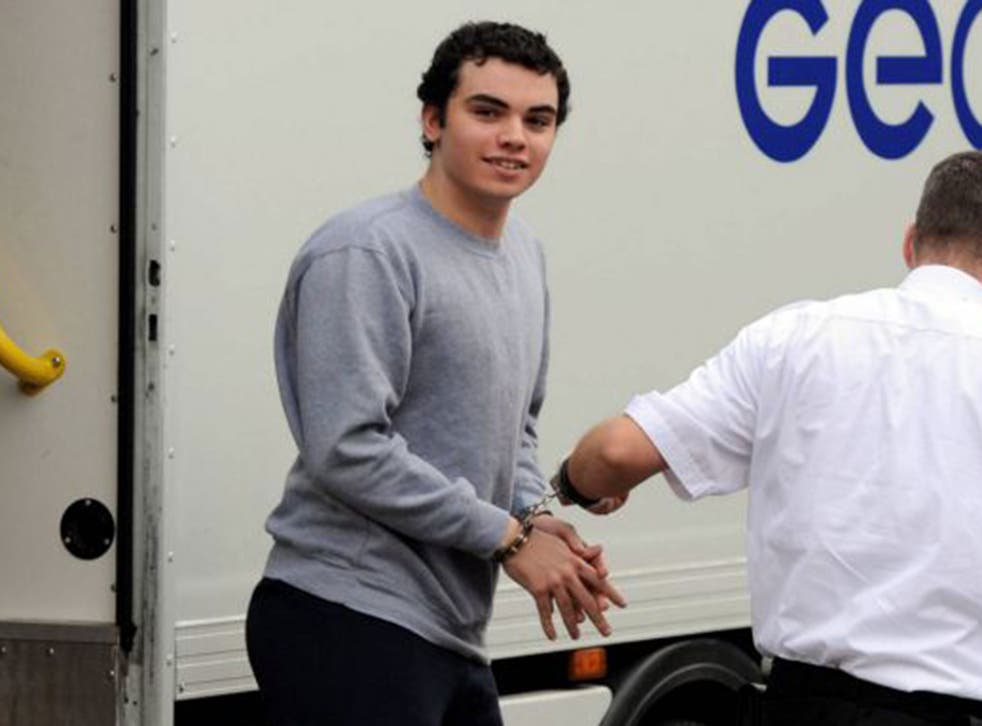 An "embittered" teenager planned mass murder at his former college after amassing a collection of weapons and explosives, a court has heard.
Liam Lyburd, 19, pleaded guilty to nine charges related to making five pipe bombs, two home-made explosive devices, possessing a 9mm Luger Calibre Glock gun, 94 jacketed hollow point expanding bullets and CS gas.
But he denied eight charges of possessing those items with an intent to endanger life at Newcastle College.
Prosecutor Nick Dry told Newcastle Crown Court that following concern raised about posts he had made on Facebook in November, under the name Felix Burns, police went to the house where he lived with his mother and sister.
His mother took police upstairs where in his room they found a black handgun, along with knives, canisters of CS gas and a number of what appeared to be explosive devices.
Mr Dry said: "He then stated that he had intended to carry out a mass murder at Newcastle College that very day and that the officers had saved lives, preventing what would have otherwise been a massacre at the college.
"He repeated to them that it had been his intention to blow up the college and, as he put it, 'to shoot a bunch of people', laughing as he was transported to the police station and speculating that he would get four years for it."
Officers also found a black "kill bag" in his bedroom in the house on Hamilton Place, Newcastle, which contained a balaclava, safety glasses, elbow and knee pads and a number of pipe bombs with nails taped around them.
The jury heard that after being arrested, he told detectives the idea of blowing up his college had been a fantasy that he had no intention of carrying out. But Mr Dry said investigations by the police revealed "a process of weapon, explosive and accessories acquisition over a period of months".
They found images taken of himself dressed for combat, armed with a Glock and brandishing a knife with "Bitch Kill" written on the wall.
His YouTube account revealed numerous videos demonstrating how to load and shoot a Glock pistol along with others concerning a rampage killing spree.
A note was also found that said: "You people ruined my whole life don't expect me to show mercy today. No one disrespects me and gets away with it. I'll teach you people a little lesson on respect with my 9mm jacketed hollow points. It's time for extreme civil disobedience.
"Fantasy will become reality today for sure. Where the mind goes the body will follow and yes people will die there's no question about that."
Through conversations on Skype with a girl in Iceland, he spoke of his desire to kill and had referenced the Anders Breivik massacre in Norway and the Jaylen Fryberg college attack in the United States.
He also discussed shooting commuters on the Newcastle Metro system.
The jury heard his hatred for the college had been born out of the time he had spent there as a student in 2012, when he attended for just five weeks.
Records from the college show he had been "disruptive in class and had a very poor attendance record" and had been kicked out for "shocking" behaviour.
Investigations showed Facebook conversations on 2 November in which he confirmed he was planning an attack the next day, only to later to post: "I'm not going to do it today, I just can't."
Mr Dry said: "This was no improbable fantasy of a naive daydreamer divorced from reality, but a carefully planned revenge attack, constructed and resourced by an embittered yet highly skilled and savvy computer hacker."
The case continues.
British boy, 15, admits inciting anzac day attack
A 15-year-old British boy has admitted encouraging an Isis-inspired terror attack targeting police officers at an Anzac Day parade in Australia.
Over a 10-day period, the youngster from Lancashire sent thousands of instant messages to 18-year-old Sevdet Besim, who shared his admiration for the Islamic terror group, the Old Bailey heard. Police examined his mobile phone and uncovered the exchanges after he was arrested on 2 April in the Blackburn area. In one message on 18 March, the boy, who was 14 at the time, said: "Suggest you break into someone's house and get your first taste of beheading". Mr Besim replied that it seemed "a little risky".
The smartly dressed, bespectacled British youngster pleaded guilty to inciting terrorism, via videolink from Manchester Crown Court.
The charge states that between 15 March and 26 March 2015 he "incited a person to commit an act of terrorism wholly or partly outside the UK, namely the murder of police officers during an attack on a parade to commemorate Anzac Day in Australia".
A second charge of inciting terrorism overseas in relation to beheading a person in Australia was dropped by the prosecution. Mr Justice Saunders ordered pre-sentence reports to find out if there was any "indoctrination" as he adjourned the case for sentencing at Manchester Crown Court on 3 September.
He said: "Dealing with someone of this age is an extremely difficult sentencing process and I will need all the help I can get."
The boy, who wore a grey shirt and tie, is being held in an unidentified youth detention centre in the North-west of England.
PA