London attack: New suspect arrested as new details emerge around Khuram Butt's radicalisation
Ringleader watched hate preachers' videos online, relative says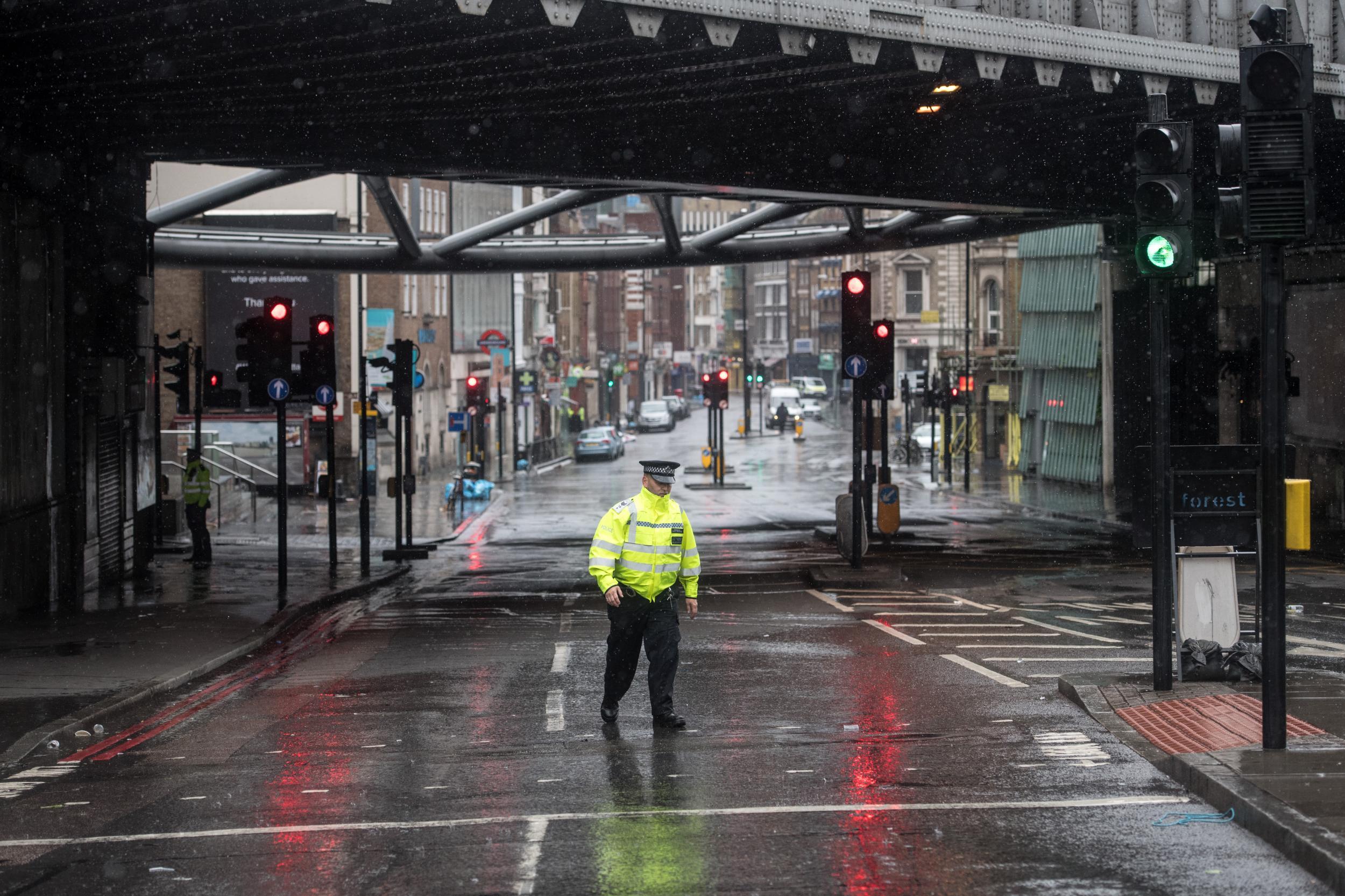 A new suspect linked to the London Bridge attack has been arrested as investigations into how the terrorists planned their massacre continue.
At 2am a 28-year-old man was detained by armed police in Barking on suspicion of being concerned in the preparation of acts of terrorism.
Searches of the residential address where he was arrested continue.
The suspect is one of seven people who remain in custody almost a week after the atrocity, which left eight people dead and dozens injured.
Twelve people held in the initial stages of the probe were released without charge earlier this week, while a man arrested in Ilford on suspicion of drugs offences has been bailed.
Police continue to appeal on information on the attackers and their movements, following revelations that they held a midnight meeting at a gym in Ilford five days before launching the attack.
Relatives of suspected ringleader Khuram Butt said he was partly radicalised by extremist videos he watched on YouTube.
Fahad Khan, 36, the cousin of Butt's wife, claimed his relative watched hate preachers' sermons and openly supported Isis.
CCTV footage police shows police open fire on London Bridge attackers
"Khuram, I know he was inspired by one of the sheikhs who was giving lectures on YouTube, and he belonged to one specific sector of Islam which had very rigid and strict views," he added.
"Videos about fighting non-Muslims for no reasons, innocent non-Muslims."
Among Butt's suspected influence is American-born Ahmad Musa Jibril, who lives in Dearborn, Michigan. His lectures remain online.
Mr Khan added that Butt wanted to join Isis in Syria as a foreign fighter but was dissuaded by his family.
British intelligence services have come under scrutiny over revelations he had already been cautioned over an extremist assault and was known for associating with Anjem Choudary's network of Islamists.
Butt appeared alongside Choudary, who has since been jailed for inviting support for Isis, and openly associated with his successors in a television documentary that saw him praying towards a black flag associated with jihadi groups in a London park.
He lived with his wife and children in Barking near fellow attacker Rachid Redouane, while the third attacker Youssef Zaghba lived in Ilford.
London Bridge Terror Attack
Show all 16
The district of east London has become a focus of inquiries after it was revealed that the attackers met at the Ummah Fitness Centre on 29 May.
They were caught on CCTV laughing and embracing after disappearing off-camera, leaving a phone behind in behaviour suggesting they were wary of surveillance while planning the atrocity.
The Ummah Fitness Centre admitted Butt "occasionally trained" at the segregated gym but could not be reached to confirm locals' claims he taught mixed marital arts classes.
A man who works near the Ummah Fitness Centre told The Independent a man unrelated to the London Bridge attack showed him videos of lessons.
"The martial arts that were being taught were aggressive-looking and they were doing weapons training," said Wilson Chowdhry, chairman of the British Pakistani Christian Association.
"The man told me he was providing jihadi training to people at a gym in Ilford.
"He was joking that you should join us [Muslims], you'll be safer this way. It was very intimidating."
Mr Chowdhry said the man showed him the videos two years ago and he reported the incident to the police, although he did not know where the footage was taken at the time.
The Ummah Fitness Centre could not be reached for comment, with its Facebook page and website having been taken down.
In a notice posted on the door of the closed gym, which operates a gender-segregated timetable and remains open until 3am for fasting Muslims during the holy month of Ramadan, managers said they were "shocked and saddened" by the London Bridge attack.
"While Mr Butt did occasionally train here at UFC gym we do not know him well nor did we see anything of concern, we will of course help the police in any way we can," it continued.
A member of the Ummah Fitness Centre said Butt had enrolled him three weeks ago looked troubled in the lead-up to the attack.
The man said Butt, who previously worked on the Tube and at KFC, would normally be friendly, greeting him when he arrived for sessions, but increasingly appeared "blank".
Neighbours told The Independent Butt hired the van used to mow down pedestrians on London Bridge on Saturday, seeing it speeding the wrong way down his residential street hours before the attack.
How he met his two fellow attackers remain unclear, but a European intelligence official told the New York Times Zaghba was introduced to Butt by an Italian faction of Al-Muhajiroun
Italian police said they had alerted European partners after the 22-year-old was prevented from travelling to join Isis in Syria last year, telling officers at Bologna airport he "wanted to be a terrorist".
Redouane, a 30-year-old man who claimed to be Moroccan and Libyan, was not known to authorities but had been denied asylum in the UK before gaining residency through his marriage to a woman in Dublin.
Isis hailed the trio as "soldiers of the Islamic State" in claim of responsibility for the attack, having released detailed instructions on how to carry out massacres using vehicles and knives.
All eight people killed have been identified, including three Frenchmen, two Australian women, one Canadian woman, one Spanish man and one British man.
NHS England has revealed that all victims who made it to hospital with their injuries survived, following tireless efforts by surgeons, doctors, nurses and staff.
More than 20 injured patients were initially in a critical condition, but 10 now remain in critical care.
Borough Market has launched a fund-raising drive to help businesses suffering financial losses as the area remains locked down following Saturday's massacre.
The popular market's trust is aiming to raise £50,000 to support companies unable to make money while police maintain strict cordons around their premises.