London Bridge attack: 30-year-old Ilford man arrested on terror offences after early morning police raid
Scotland Yard under growing pressure over monitoring of three men who launched fatal knife assault on Saturday night
Wednesday 07 June 2017 08:39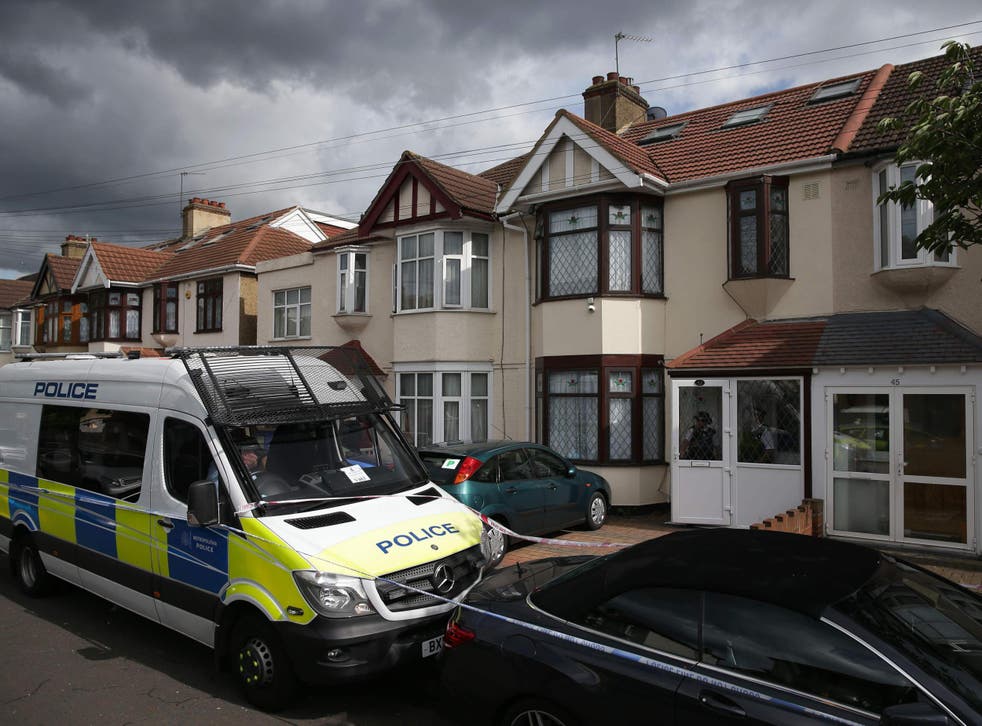 A man has been arrested on suspicion of terror offences by detectives investigating the London Bridge attack following an early morning raid at an address in east London.
The 30-year-old was held on suspicion of the commission, preparation or instigation of terrorist acts during a search of a property in Ilford and taken for questioning at a south London police station, Scotland Yard said.
The arrest comes as security services face growing questions over their monitoring of the three attackers in the lead up to the attack.
A Metropolitan Police spokesman said: "Detectives investigating the London Bridge terror attack have carried out a search warrant at an address in east London in the early hours of Wednesday June 7.
"Officers from the Met's Counter Terrorism Command, supported by officers from the Territorial Support Group, entered the address in Ilford at around 1.30am.
"A 30-year-old man was arrested on suspicion of the commission, preparation or instigation of terrorist acts (contrary to section 5 Terrorism Act 2006) and has been taken into custody at a south London police station under the Terrorism Act 2000.
"A search of the address is ongoing."
On Tuesday the third attacker was named as Youssef Zaghba, an Italian national of Moroccan descent, who was living in east London.
Zaghba, Pakistan-born British citizen Khuram Shazad Butt, 27, and Rachid Redouane, 30, who claimed to be Moroccan-Libyan, launched a murderous rampage around London Bridge and Borough Market on Saturday night.
According to the mother of 22-year-old Zaghba, he became radicalised online, echoing concerns raised by Prime Minister Theresa May that the internet can be fertile ground for breeding extremism.
"We have always been checking his friendships and verifying that he was not trusting the wrong people, but he had the internet and from there he got everything," Valeria Khadija Collina told L'Espresso in Bologna.
Zaghba was stopped at Bologna's airport trying to fly to Turkey in March last year over concerns he was intending to travel on to Syria, according to reports.
The youngest of Saturday's attackers is said to have told Italian authorities "I'm going to be a terrorist", while officers reportedly found Islamic State-related material on his mobile phone when they intercepted him.
Counter-terror agencies are already facing intense scrutiny after it was revealed Butt had been known to security services.
In other developments:
There were fears for missing French national Xavier Thomas, 45, who police said could have been thrown into the River Thames after being struck by the van.
The Metropolitan Police said all of the 15 victims currently in critical care had been identified, as public appeals continued for several people who have not been located since the attack.
Detectives arrested a 27-year-old man under the Terrorism Act at an address in Barking, east London, shortly after 8am on Tuesday, while search warrants were also executed at addresses in Barking and Ilford.
A man in his 30s was arrested by Irish police in Wexford county, south of Dublin, and questioned over documentation connected to Redouane.
The arrest took the total number held as part of the investigation to 15, with 12 released without charge.
Claims emerged that Butt was reported to counter-terrorism authorities almost a year before the deadly attack after a "violent scuffle" with a member of an anti-extremism organisation.
Borough High Street and the roads and area east of the high street reopened to the public, although Borough Market and a small surrounding area remain closed.
Zaghba was said to have been placed on a watch list by Italian authorities and flagged to their Moroccan and British counterparts, but a lack of evidence about his intentions meant his phone and passport were returned, Italian media reported.
There has been no official comment on the reports from UK authorities, but Scotland Yard said Zaghba was not a police or MI5 "subject of interest".
Butt was investigated by officers in 2015 but they found no evidence he was planning an attack and he was "prioritised in the lower echelons of our investigative work", police said.
The disclosure means perpetrators in all three of the terrorist outrages to hit Britain this year had at some point appeared on the radar of security agencies.
Theresa May said a review had been launched after the Manchester bombing last month and she expected the same process following Saturday's rampage.
The Prime Minister told Sky News: "MI5 and the police have already said they would be reviewing how they dealt with Manchester and I would expect them to do exactly the same in relation to London Bridge."
Butt, a father-of-two who appeared on Channel 4 documentary The Jihadis Next Door, was also reported to the anti-terror hotline in 2015 for showing signs of "extremism or radicalisation".
Lord Carlile, a former counter-terror laws watchdog, told the Press Association: "In my view, we need to review what happened in his case, and learn the lessons so that the methodology of the response to known suspicions is improved."
Butt and Redouane, who also used the name Rachid Elkhdar, lived in Barking, while Zaghba is reported to have worked at a restaurant in London.
Seven victims were killed and dozens injured in the spree, which ended when armed police shot dead the knife-wielding extremists just eight minutes after the first emergency call.
The Islamic State terror group has claimed responsibility for the massacre, which sparked fears that Britain is in the grip of a wave of copycat incidents.
Authorities say the threat is unprecedented, with 500 active investigations involving 3,000 individuals in addition to 20,000 former subjects of interest.
Eighteen plots have been stopped since 2013, including five since the Westminster attack.
London Bridge Terror Attack

Show all 16
Labour leader Jeremy Corbyn expressed concern that the police and security services lacked the resources they needed to deal with the terrorist threat.
"Obviously, we're all worried that this could happen again. That does require obviously vigilance but it does require proper resources and therefore cutting police numbers and not funding sufficiently those that are involved in security is a problem," he said.
Press Association
Register for free to continue reading
Registration is a free and easy way to support our truly independent journalism
By registering, you will also enjoy limited access to Premium articles, exclusive newsletters, commenting, and virtual events with our leading journalists
Already have an account? sign in
Register for free to continue reading
Registration is a free and easy way to support our truly independent journalism
By registering, you will also enjoy limited access to Premium articles, exclusive newsletters, commenting, and virtual events with our leading journalists
Already have an account? sign in