London Bridge terror victims 'had wounds that hit major organs', inquest hears
Both victims of Fishmongers' Hall atack died from blood loss after suffering devastating knife wounds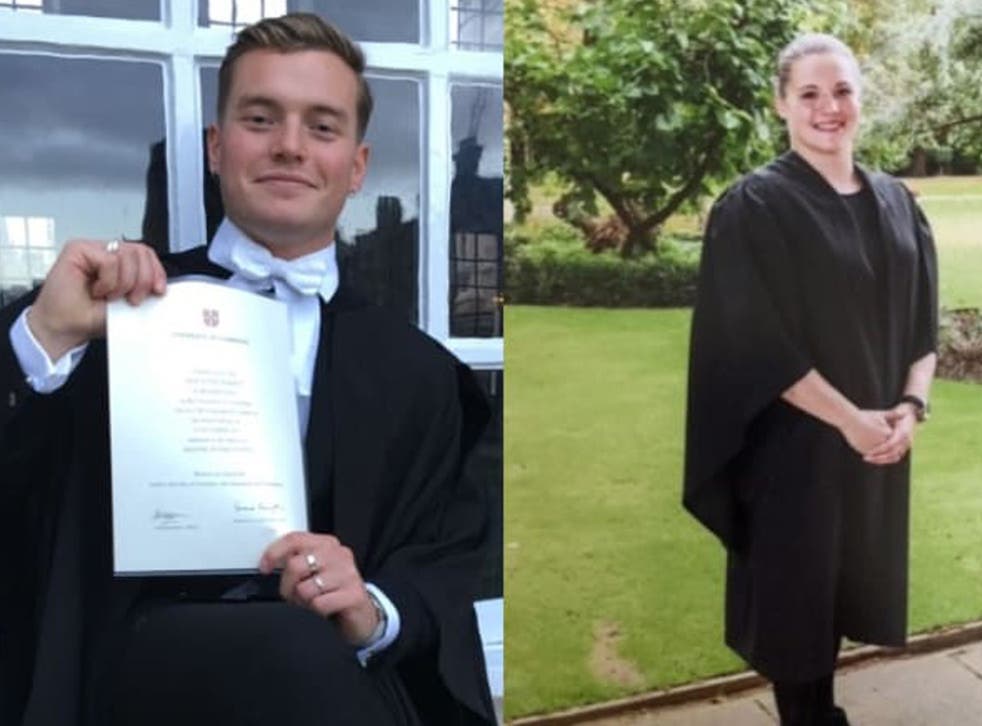 Saskia Jones and Jack Merritt, the two people killed by Fishmongers' Hall terrorist Usman Khan both suffered deep and ultimately fatal knife wounds which sliced through major organs, an inquest has heard.
Khan, 28, attacked the pair with two knives taped to his hands during a conference on rehabilitation of offenders at Fishmongers' Hall in central London in November 2019.
Both Ms Jones, 23, and Mr Merritt, 25, were University of Cambridge graduates who had been working with the prisoner education initiative Learning Together.
Khan had taken part in Learning Together projects after his conviction in 2012 of involvement in an Al Qaeda-inspired terrorist plot.
Ashley Fegan-Earl, a forensic pathologist, told the inquest both graduates bled to death after they were stabbed several times by Khan inside Fishmongers' Hall.
Mr Merritt suffered 15 such injuries during the attack, Dr Fegan-Earl told the jury at City of London's Guildhall on Monday.
He said this included a 7.2cm wide horizontal stab wound to his right upper chest, which cut through a rib, passed down to his diaphragm and liver, and would have led to "torrential haemorrhage and death", despite emergency medical treatment at the scene.
Mr Merritt also suffered a large slash to his right upper arm, roughly 18cm wide and 17cm deep, which would have bled "freely and copiously", he said.
The tip of the little finger on his right hand was also sliced off, the pathologist said.
Dr Fegan-Earl added: "It was clear that Mr Merritt had sustained multiple stab and slash wounds, which in my view were indicative of a dynamic assault with significant defensive posturing.
"What I mean by that is, an individual who is assaulted with a knife, if they are capable of anticipating a blow, the natural reaction is to raise the arm to defend themselves."
Ms Jones had one injury, a stab wound just above the collarbone on her right-hand side, measuring 2in (5cm) wide and 4in (10cm) deep, which passed through the upper lobe of her right lung.
The pathologist gave the cause of death for both victims as shock - the organs not being supplied with blood and oxygen - and haemorrhage.
After launching his knife attack inside the conference venue – where he wounded three others as well as killing Mr Merritt and Ms Jones – Mr Khan was forced out onto London Bridge others who pursued him wielding improvised weapons including a narwhal tusk and a fire extinguisher.
He was pinned to the ground by members of the public on the bridge, but when armed police arrived minutes later they shot and killed the convicted terrorist. He was wearing a fake suicide belt at the time of the attack.
Mr Merritt's father David described him in tributes paid after his death as a "beautiful spirit who always took the side of the underdog".
"Cambridge has lost a proud son and a champion for underdogs everywhere, but especially those dealt a losing hand by life, who ended up in the prison system," he said.
Ms Jones's family said their daughter was a "funny, kind, positive influence at the centre of many people's lives".
"She was intent on living life to the full and had a wonderful thirst for knowledge, enabling her to be the best she could be.
"Saskia had a great passion for providing invaluable support to victims of criminal injustice, which led her to the point of recently applying for the police graduate recruitment programme, wishing to specialise in victim support."
Register for free to continue reading
Registration is a free and easy way to support our truly independent journalism
By registering, you will also enjoy limited access to Premium articles, exclusive newsletters, commenting, and virtual events with our leading journalists
Already have an account? sign in