Police bullet fired at London Bridge terrorist may have ricocheted through entire top deck of bus, pictures suggest
Independent Office for Police Conduct confirm 'cause of the damage would be a line of enquiry for us'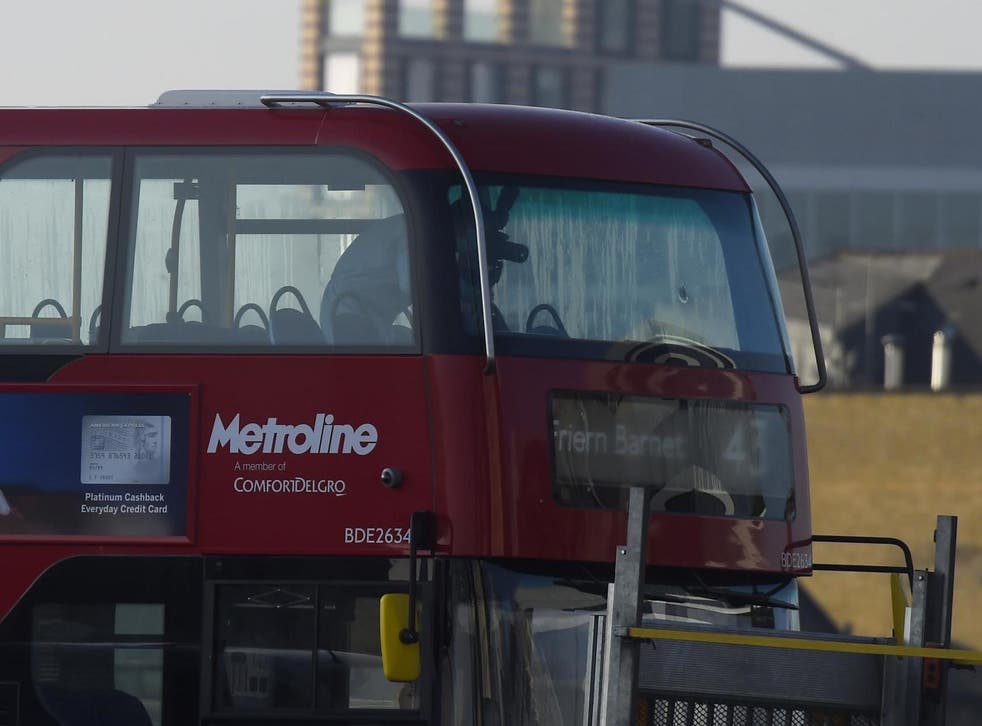 A police bullet fired to stop the London Bridge terrorist may have ricocheted and passed through the entire top deck of a bus, narrowly missing passengers, pictures appear to show.
Armed police shot and killed Usman Khan, 23, after he stabbed Saskia Jones, 23, and Jack Merritt, 25, to death at a prison rehabilitation event at Fishmongers' Hall in London last month.
A photograph taken by a witness showed a nearby bus with a shattered rear window with what looks like a bullet hole in it.
Other photos taken from the scene show forensic officers investigating what appears to be a bullet hole in the front window of the bus.
The witness who took the photo told the BBC they were on the upper deck of a bus when the rear window of the bus in front shattered.
London Bridge attack: Terror police shoot man after stabbing

Show all 29
They told the broadcaster they immediately dived to the floor, adding: "We are talking about a split-second of noise. In no more than a half-a-second I was on the floor."
The Independent Office for Police Conduct confirmed they were investigating damage to the bus.
"We can confirm that establishing the cause of the damage would be a line of enquiry for us," a spokesperson said.
Dr Rachel Bolton-King, associate professor of forensic science at Staffordshire University, told the BBC it was possible for a ricocheted bullet to "pass through one window, through the length of the bus and out the window at the opposite end of the bus".
She said such bullets "are often unstable" and could be deflected sideways or into other angles after hitting their target.
Philip Boyce, of forensic company Forensic Equity, said the bullet could have entered the bus through the front window before glancing off the ceiling and travelling out of the rear window.
He said ricochets could carry on for hundreds of yards, well within the distance between the bus and the location the convicted terrorist was shot.
Ms Bolton-King said investigators would be able to examine the front and back surfaces of the windows to determine which direction the bullet had been travelling in.
It comes after a reformed ex-offender who helped take down Khan said he was prepared to lay down his life.
John Crilly, who was jailed for murder in a burglary that went wrong, told the BBC he did not know the suicide vest worn by Khan was fake when he confronted him.
He said: "I was just screaming at him to blow it, saying 'blow it then if you're going to blow it' ... I was screaming at him, like calling his bluff sort of thing, has he got the bottle to blow it?
"I was prepared to probably lose my life."
Register for free to continue reading
Registration is a free and easy way to support our truly independent journalism
By registering, you will also enjoy limited access to Premium articles, exclusive newsletters, commenting, and virtual events with our leading journalists
Already have an account? sign in