London homophobic bus attack: We're sexual objects to men, say victims
'In the first place they came towards us because we were seen as sexual objects,' says Melania Geymonat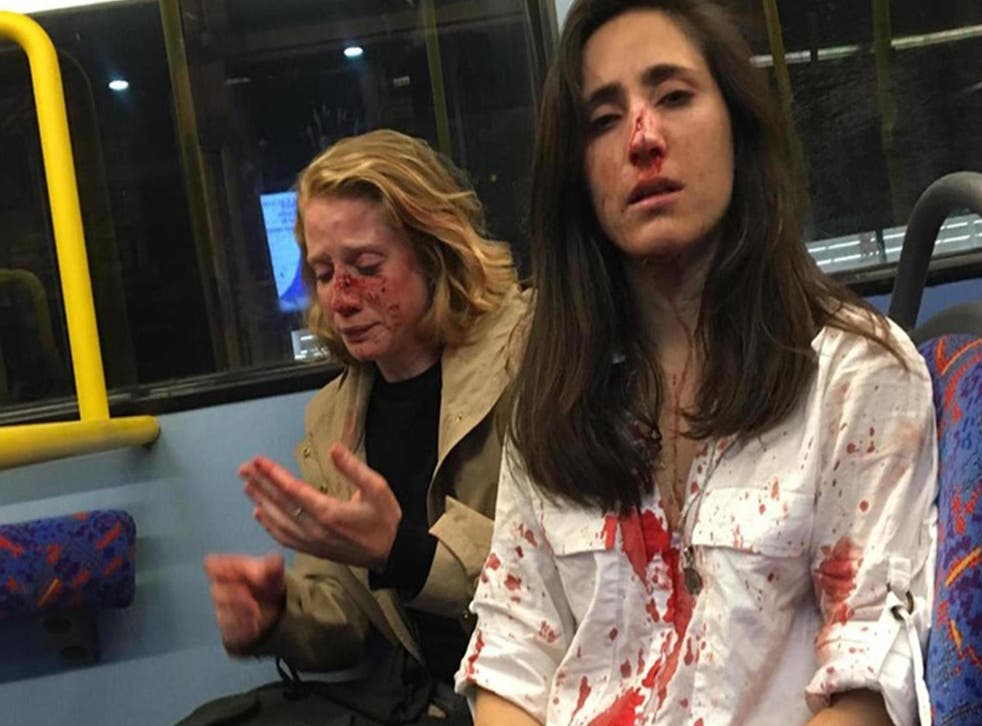 One of two women who were violently attacked on a London night bus by a group of young men who demanded the couple kiss, has said she is sick of being asked to perform by men who treat women like "sexual objects".
Melania Geymonat, a 28-year-old doctor from Uruguay who is training to become a surgeon, was on a date with her girlfriend Chris, a 29-year-old American, when the attack took place when the pair were surrounded by a group of five men in the early hours of 30 May, when they were followed by the group of five men.
"We climbed upstairs and took the front seats," Dr Geymonat said in a Facebook post. "We must have kissed or something because these guys came after us. I don't remember if they were already there or if they got on after us."
A photograph of the couple's bloodied faces immediately after they were punched by the men has raised awareness of the level of homophobic abuse gay people are still subjected to.
Dr Geymonat has had surgery to reset bones in her nose, and Chris suffered a fractured jaw.
UK news in pictures

Show all 51
After the men hit them, they robbed them of a smartphone and a wallet.
"In the first place they came towards us because we were seen as sexual objects," Dr Geymonat told The Times. "It's not the first time this happens to me that I'm with a girlfriend or on a date and men tend to be excited by watching. That's one of the things that really annoyed me. I'm 28 so it has been 10 years that I've seen this. We are not performing."
She added that it felt "really humiliating" to be treated that way.
Discussing the role of pornography in how men view women, Dr Geymonat said: "I do think that, of course, porn plays its own part in contributing, in treating women as objects that are there for the male gaze."
She said every woman has experienced the sudden anxiety in certain situations when "you see one man, and you have to cross the street, you have to hide your phone, you have to take care of yourself. And that's everywhere."
Dr Geymonat's original Facebook post including the photograph of the pair just after the attack has been shared more than 15,000 times.
Five males aged between 15- and 18-years-old were arrested in relation to the incident.
They have been charged with robbery and aggravated grievous bodily harm. All five have been bailed until July.